American Trade, Hampstead Theatre
Published:

Thursday, June 09, 2011 13:13

| Review by:

Ronke Lawal

|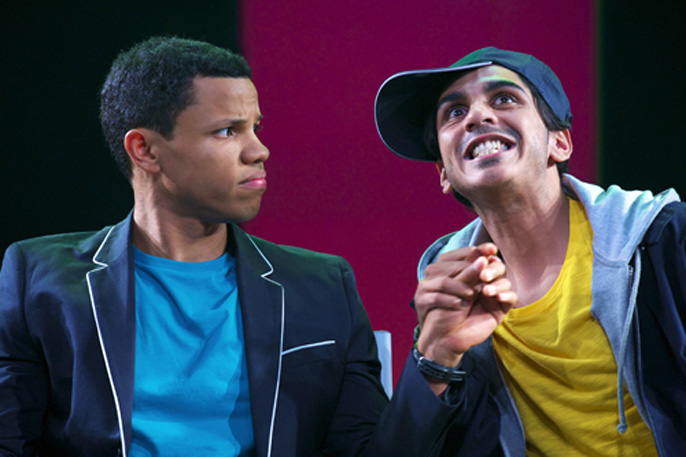 I am going to keep this review short, sweet and concise like the play. I was so excited to learn that I would be going to see this play; in retrospect I have no idea why I was excited I just was. Perhaps it's because I has heard so much about Tarell Alvin McCraney's incredible skills as a playwright or maybe the long-standing quality of work from the RSC that would enthuse any theatre lover to want to see American Trade.

I am not going to spoil the plot by going into great depth either. Why? Because you all deserve to be delighted and entertained by this rare treat of contemporary performance and energetic direction and I do not wish to spoil the surprise so to speak. The comedic script is as lively as the stage backdrop with its bright neon colours and graffiti panels. From the start, the play is daring and obdurate in its raw essence; to the point that one finds it difficult to concentrate on what is being said by the actors as one focuses on what is being done (and worn) by them. That is not to say that what is said throughout the play is not important; in fact many of the messages that are expressed throughout the play are crucial to the social dynamic of communities. From tackling the complexities of sexuality, racial identity and corporate ambition to family nuances, celebrity culture and cultural differences. This short play deals with every issue in a compact and digestible manner. Our "hero" Pharus, played spectacularly by Tunji Kasim, is the central character of this story whose need to escape from one bustling Metropolis, New York, to another, London brings about a series of comical and at times touching scenes.

There are many reasons to applaud this play; not least for its ability to clearly express the diversity of human relationships but because it is entertainment at its best. I particularly enjoyed the characters of Lord Fairway/Senator Atwater (Geoffrey Freshwater), Aunt Marian (Sheila Reid), Val (Sophie Russell) and Girl Wonder (Debbie Korley) who all brought to life the short but high impact nature of the story. There were moments when one could argue that perhaps there were too many characters; but indeed one often finds that art reflects life and the number of characters was merely a reflection of the many people we interact with in our everyday lives. There were certain sub-plots that were not necessary; particularly when one wanted to see more character development in certain aspects of the play.

At times there is simply too much going on but as the play celebrates; that's life. American Trade is a thoroughly enjoyable and engaging piece of work. I urge you all to see it before it's too late.
---
Related Links
The RSC's American Trade is at Hampstead Theatre until June 18, 2011
Afridiziak Theatre News interview with Tarell Alvin McCraney, American Trade
Afridiziak Theatre News interview with Tunji Kasim, The Winter's Tale