Welcome to Thebes, National Theatre
Published:

Friday, June 25, 2010 11:43

| Review by:

Ekua Ekumah

|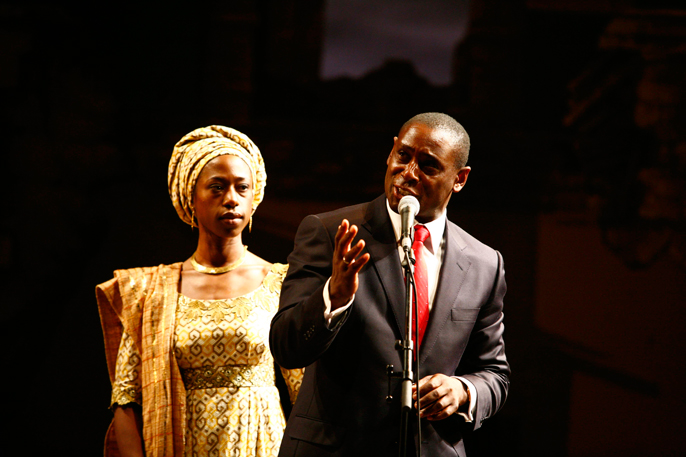 I do not know where to start.

This was an epic theatrical experience that left me in awe.

Inspired by the Liberian women's prayer meeting group, who were fed up with the savagery of war and as a result protested and put their lives on the line until their men signed a peace treaty to end the war; very reminiscent of the Greek myth of Lysistrata, who asks the women of Greece to refuse sex to their husbands until a peace treaty has been signed to end the Peloponnesian War; Welcome to Thebes is epic in its ability to tell a modern and necessary tale framed within a mythical world. The play is set in the present and draws inspiration from Greek myth. Moira Buffini the writer states her reason as

"I wanted ancient Greek mythology to meet modern West African politics head-on". The union is a powerful one that allows for the passionate, dramatic and highly descriptive language of mythical Greece to coexist with the colloquial language of today.

Tim Hatley's design of ancient Greece in ruins prepares the mind for a journey into Greek mythology. However, the sudden ambush at the start of the play with Theban soldiers, Megaera (Madeline Appiah), Sergeant Miletus (Michael Wildman) and Junior Lieutenant Scud (Omar Brown) arrests our attention as they bark commands at us to switch off mobile phones and stop reading programmes, and retorts like "anyone who wants the toilet, I don't care. You missed your chance" from Mageara, brings us instantly into the 21st century.

The gun-wielding soldiers represent the casualties of this war that turn young girls into violated, hardened, unfeeling machines, boys into confused soldiers who are unsure who the enemy is, and men into animals.

Thebes has won the civil war, a democratic election has shown the winner to be Eurydice, (Nikki Amuka-Bird) the first female president. She promises peace, freedom and democracy and in order for this poor, raped nation to stand on her feet once more, the powerful and richer nation of Athens must come to her aid and join forces. The leader of Athens, Theseus (David Harewood) has arrived in Thebes, in an extravagant display of its power, in the guise of modern technology and aides, to witness the new president's inauguration and offer his support, which everyone is clearly aware, must be in monetary terms.

The premise is simple enough but the realities of democracy, politics and war show just how complicated these areas are depending on which side you stand, if you are male or female, if you are in power, have taken power or have power given to you.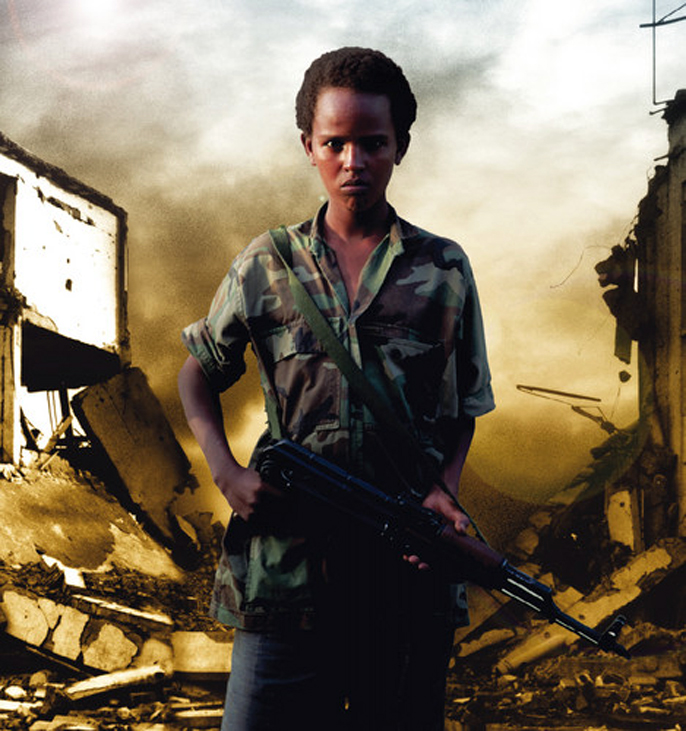 Welcome to Thebes shows the complexities of humans faced with universal tragedy and war and the lengths one will go to get what they want.

The ensemble that told this story gave magnificent performances, lead by Nikki Amuka-Bird as the modest, honest and passionate Eurydice and David Harewood, the charmingly arrogant celebrity status Theseus. The female ministers who now make up the new government are powerful, intelligent and witty women, who together with Theseus carry a lot of the humour within this play. Of special mention is the character Talthybia, a diplomat from Athens, played superbly by Jacqueline Defferary. The love triangle between Ismene, (Tracy Ifeachor) Antigone (Vinette Robinson) (the children of Oedipus)and Haemon (Simon Manyonda) is played out touchingly in this production.

The immoral partnership between Prince Tydeus (Chuk Iwuji) and Pargeia(Rakia Ayola) whose husband Polynices's body is left unburied to make a political statement, represent a sexually and spiritually charged opposition to Eurydice. The asexual seer Tiresias (Bruce Myers) tells the foreboding future in riddles, with unexpected outcomes.

The parallels are many, the experience is unique, It is a must see, and with Travelex £10 tickets promotion attached to this production, there is no excuse not to see it.
---
Related Links
Welcome to Thebes is at the National Theatre from 15 June to 18 August, 2010
Afridiziak Theatre News interview with Nikki Amaku-Bird
Afridiziak Theatre News interview with David Harewood, The Mountaintop
Afridiziak Theatre News interview with Chuk Iwuji, The Observer at the National Theatre
Afridiziak Theatre News interview with Alexia Khadime, Wicked