Sucker Punch, Royal Court Theatre, London
Published:

Wednesday, June 23, 2010 6:30

| Review by:

Donna McBain

|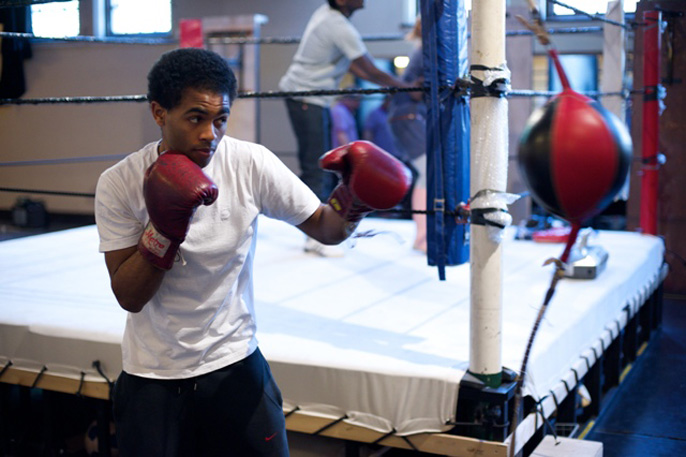 The Royal Court Theatre has undergone radical construction works for the opening of this unique production by Roy Williams this month. Sucker Punch comes to life the moment the audience take their seats to watch the action taking place inside of a real life boxing ring.

This surreal experience of being a boxing spectator makes the theatre feel no more like a theatre, and is a clever and imaginative way of capturing the story's mood which is based on opposition.

Set in Great Britain in the 1980s, during an era that marked the Brixton riots, two black school boys, Leon Davidson and Troy Augustus, want nothing more than equality suffering constant, racial hostility from white members within society. But given their rough experiences with the police, they have learnt how to fight like champions, and professional boxing, it seems, offers them the chance to have a better life.

However, one thing is for sure, battling for a title in the ring does not stop the battles going on around them. No matter how hard they fight, they are still being controlled by the tyranny of leadership and taunted because of the colour of their skin.

Leon, who becomes a famous European boxing champion, successfully epitomises what it was like to be black in the Eighties, and the battles that had to be fought. His biggest test is taking on his former friend in the ring, showing that he must betray his roots in order to earn the respect of his white trainer, who plays a key figure of authority to the talented youngster.

Williams has written a gripping show that cannot be faulted for its realism combined with energy and wit. He even offers a glimmer of hope for black youths living in the period, with his British-born character Troy, who leaves London for the United States and returns as a respectable boxer, having been trained by his black, American coach.

Managing to captivate an audience until the very end for all the right reasons, this show is without a doubt British theatre at its very best.
---
Related Links
Sucker Punch is at the Royal Court Theatre until 24 July 2010
Afridiziak Theatre News interview with Jason Maza and Anthony Welsh, Sucker Punch
Follow Jason Maza on Twitter
Afridiziak Theatre News annual theatre talk – with Roy Williams and Che Walker
Roy Williams' Guardian feature on black theatre
ATN interview with Jimmy Akingbola, Category B, Not Black and White Season
ATN review of Category B, Not Black and White Season