12 Very Angry Women, The Landor
Published:

Thursday, June 24, 2010 14:18

| Review by:

Abiola Lawal

|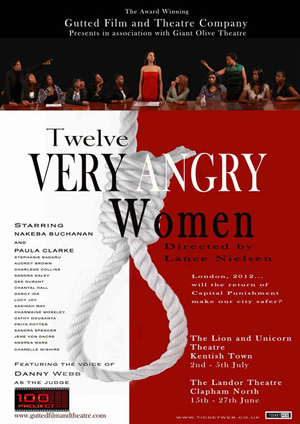 In this enigmatic production London 2012 has arrived and in a radical attempt to crush crime rates Capital Punishment has been reinstated. A young Polish girl stands trial for murdering her black foster mother and if found guilty she faces the death penalty.

12 women sit on the jury for this case; 11 of them are ready to send her to death. Only one dissenting voice stands alone, can this girl's life be saved?

12 Very Angry Women focuses on the female strong jury battling to a decision of guilty or not guilty. Save for one it is a pre-dominantly African-Caribbean cast, but any preconceptions you may have when faced with a large group of very angry black women does not come to fruition.

The cast gel well together onstage, personalities and voices bouncing off of each other in witty dialogue and passionate performances that keep the stage vibrant, thus keeping the audience riveted. I found myself being drawn to some of the women, finding a personal connection with their opinions and experiences of life in London.

Writer, Lance Nielsen, manages to keep the events of the case constantly onstage so we never forget that a girl's life, and not just her freedom, is at stake. This is why it so imperative that the jury come to a fair decision, this girl won't just be getting jail time.

A strong performance with an unexpected end, 12 Very Angry Women is a play that reveals social prejudices regardless of colour, the fierce patriotism of London's inhabitants regardless of their heritage and also has the exciting magnetism of a worthy whodunit. Definitely worth catching this summer in London.
---
Related Links