Another Biafra, Cockpit theatre
Published:

Sunday, July 25, 2010 9:58

| Review by:

Monique Needham

|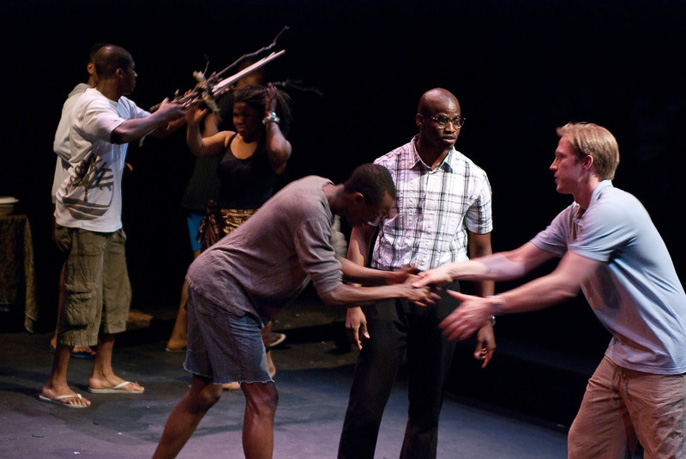 The Cockpit Theatre was buzzing with talent this July. With an intelligent script combined with an impressive cast made Another Biafra a must see.

Set in the Niger Delta this play tackles the issues surrounding politics, corruption and the greed of the Nigerian government. You can easily pick up a text book and find online sources to learn about what happened in Biafra, about the relationships between Nigeria and the Europeans in extracting oil from the land but this play will give you an insight and tell you a story about the real people of Biafra. You will be taken on a journey to Warri, Nigeria to allow you to experience first hand, just a fraction of what it was really like to live in a land where tomorrow is never certain.

Anthony Abuah not only wrote a compelling script but also played the part of Apori, one of the central characters of the play. Such a moving performance Abuah conveyed Apori's passion and love for his country. It is his heart and he will do absolutely anything it takes to save it from the oppressive ways of the Nigerian government. This being Abuah's first play he has created a memorable theatrical experience. Minimal props and spotlight lighting worked best for this production as it allowed the audience to focus and follow the intense journey of each of the characters.

With its serious tone the unique writing and the delivery of each line by all of the actors allowed the audience to find humour underneath the emotional piece. Owa played by Marlene Nwoye brought a sense of authenticity and humour to her characters without distracting the audience from her Owa emotional rollercoaster. Stephen Mcleod and Kristina Epenetos who played Eric Roberts and Karen Washington were significant characters. They brought in the attitudes and of 'the west' and helped to give the performance a well rounded perspective from all those involved.

Such an educational intense yet thoroughly entertaining piece needs more than three days in the theatre. Every single character had a significant relevance to the story and was such a entertaining yet thought provoking piece. Mr Abuah bring it back to the stage please!
---
Related Links
Another Biafra was at the Cockpit Theatre from 12 to 14 July 2010
www.talesfromthemotherland.com