The Stripper - review
St James Theatre
Published:

Tuesday, July 26, 2016 12:27 PM

| Review by: Gillian Fisher |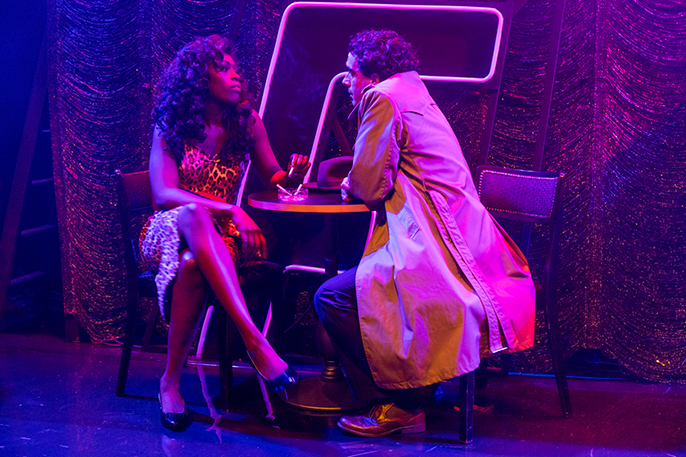 As a truly immersive piece of theatre, this absolutely dazzled. - great music, an engaging story and plenty of smutty innuendo. I couldn't ask for anything more.
St James Theatre's new offering combines west end pizazz with fringe eccentricity in a torrid tale of crime, betrayal and lust. In the year 1961, wide eyed country girl Patty Keller meets her maker after plummeting to the Californian sidewalk below. But did she jump, was she pushed or did she fall? Lieutenant Al Wheeler is on the case. On his travels our sleuth hero encounters sinister matchmakers, shady florists and dodgy club owners. But most of all he meets Deadpan Dolores, Patty's only relative who's earning a crust at the sleazy Boom Boom Joint. As garments are shed, secrets are revealed and our cop gets more than he bargained for.
Based on a Carter Brown novel, this production revels in its own satire. Mournful sax rifts, witty tropes and tense interludes perfectly evoke the sleuth genre. But this production differs from a classic whodunit in its playful self-awareness and deliberate hyperbole. Sebastien Torkia is every inch the showman as Wheeler in his trench coat and trilby. His direct addresses to the audiences, cinematically styled as freeze frames are delivered with superb timing. Benji Sperring's direction enhances the comedic elements and is often exaggerated for great effect.
The live jazz band are a character in themselves, skilfully belting out Jazz rhythms, Du Wop and showtunes. As a musical, the vocal talents of the cast are incredibly strong. Gloria Onitiri's (read interview) syrupy tones fit sombre Deadpan Deadpan Dolores perfectly. But she also hits some incredible long notes in numbers such as Planning My Big Exit and delivers the most ingenious burlesque routine I've seen yet. With only five cast members, three of the actors play multiple parts. Mark Pickering excels as neurotic florist Howard Stern and is menacing as smooth criminal Miles Rovak. Fellow butterfly Michael Steedon is wonderfully bizarre as emasculated matchmaker, Jacob Arkwright and suitably bullish as a rented heavy. As the score is written by Rocky Horror team Richard O' Brien and Richard Hartley, there are some rather risqué lyrics to delight the audience. Torkia is explosive as he serenades his date with the chorus "Baby, you give me a hard on!!!"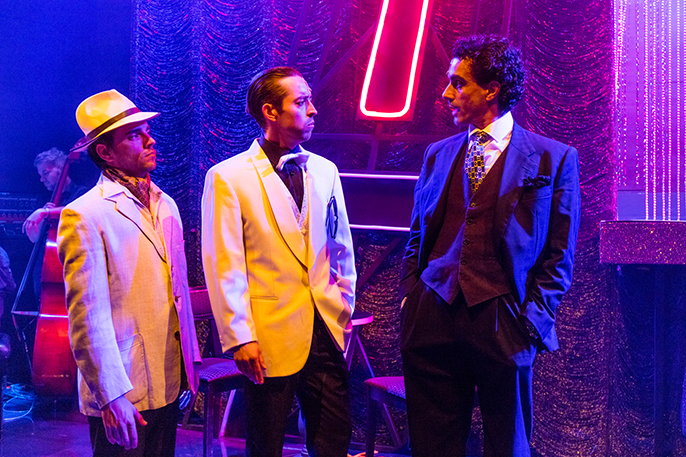 The Stripper adheres to the genre with its slow developing plot, gradual uncovering of clues and revelations of identity. But its musical style and witty parody make it a unique production. The caricatured roles are stupendously fun to watch, and none are so multifarious as those played by Hannah Grover. Southern secretary, Spanish temptress or unhinged dowager, Grover plays them all with finesse. She also has a lilting, operatic voice which is put to excellent use. The inspired decision to style the studio space as a jazz bar makes the solo numbers feel like cabaret acts. There is also great attention to detail, from the blood spattered on the mortician's apron to the Keller's Kiss cocktail being served at the bar.
There are some outrageous moments. I've never encountered a musical number where a corpse is utilised as a life size puppet. On the other hand, there are touches of pathos and genuine emotion. As a truly immersive piece of theatre, this absolutely dazzled. Great music, an engaging story and plenty of smutty innuendo. I couldn't ask for anything more.