To Kill a Mockingbird – review
Barbican Theatre
Published:

Tuesday, July 14, 2015 9:59 AM

| Review by: Adeola Idowu |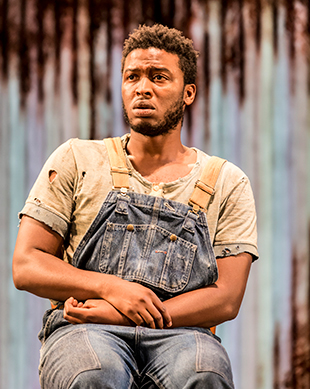 To Kill a Mockingbird, as many of us know is the classic novel originally written by Harper Lee. This is a famous story that has become a hallmark within English and American Literary, and notably a significant part of many secondary school English Curriculums.
This particular production by Regent's Park Theatre, Fiery Angel, Adam Spiegel and William village in my humble opinion was just fantastic. I walked into the Barbican Theatre not really knowing what to expect. I sat down amidst the audience, eager to see how the famous story will be brought to life. Then suddenly, without the need of theatrical dimmed lights or melodramatic music we all fell silent. The cast seamlessly emerged on stage quietly, one by one ready to immerse into character. Once they were in their places, without a fuss, in a very simple formation, our attention commanded, you could hear a pin drop; somehow we all knew it was time to zip it, just listen and watch.
From beginning I was captivated. Where can I start? Perhaps it was the flawless music and vocals from composer and musician Phil King; I could listen to his soothing voice and guitar all day. The music was simple and effortless. Or maybe it was the children 'Scout', 'Jem' and 'Dill'; they were like fireworks in the play. They literally shone brightly in this production. Yes they are central characters in the story, so they have to be good, but honestly, we as an audience fell in love with the young actors in the play.
This stage adaptation of 'To Kill a Mockingbird' at London's Barbican was enchanting and thoughtful.


The cast included a selection of fine actors, such as Robert Sean Leonard (Atticus Finch) Christopher Akrill (Boo Radley), Zackary Momoh (Tom Robinson), Geoff Aymer (Reverend Sykes), Ryan Pope (Bob Ewell), Victoria Bewick (Mayella Ewell), Susan Lawson-Reynolds (Calpurnia) and many others.
This production has a very creative set and there was an original inclusion of quirky art and props. The set up allows you to visualise and use your imagination beyond what you see on stage. At most it was visually stunning.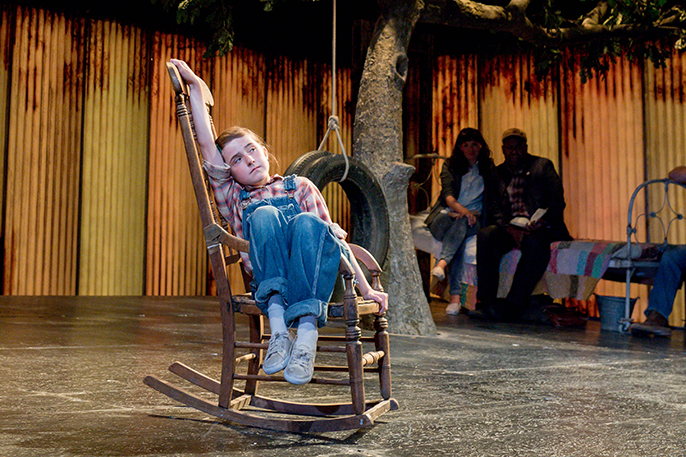 I was so drawn in at one point, I found myself having to lean in, because it was so tense. This was especially the case when we reached the 'courtroom scene'. If anyone knows the story fairly well, you would know that this is one of the most poignant sections of the story. This emotional scene sums up the general and contextual themes of the play, namely; racial inequality, US struggle for Civil rights, segregation, hatred, racism and prejudice within southern America of the 1930s; all the tribulations that were severely prevalent in the era of which the play is set.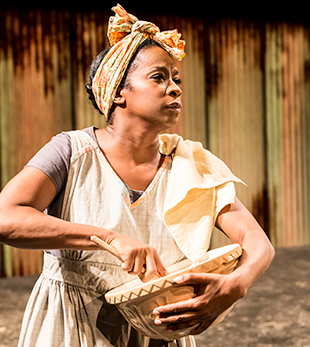 Another interesting point I noted down was the way in which the play was narrated. I was just about to explain the clever way the director chose to do this, but I thought it is probably best not to spoil it for anyone reading this review, as to be sincere you just have to see it for yourself.
After watching this particular production of 'To Kill a Mockingbird' I will now run at the next available chance to see another production of this timeless story, just so I can compare and contrast. It was that good. I also cannot wait for the release of the Harper Lee's supposed sequel, 'Go Set a Watchman' later this month, which according to critics is set to be very controversial.
Overall this stage adaptation of 'To Kill a Mockingbird' at London's Barbican was enchanting and thoughtful. Even though it contained strong themes, harsh racial comments and slurs, this production handled them all in a decent, clever and carefully thought out manner. It was obvious that the director and his team had given special thought to every last detail, down to the lighting, costumes, props and sound. This plays takes you on a journey, as any good play should, it was not at all melodramatic, cheesy or awkward, it was just enough.
Info: To Kill a Mockingbird is at the Barbican until July 25, 2015 | Book tickets