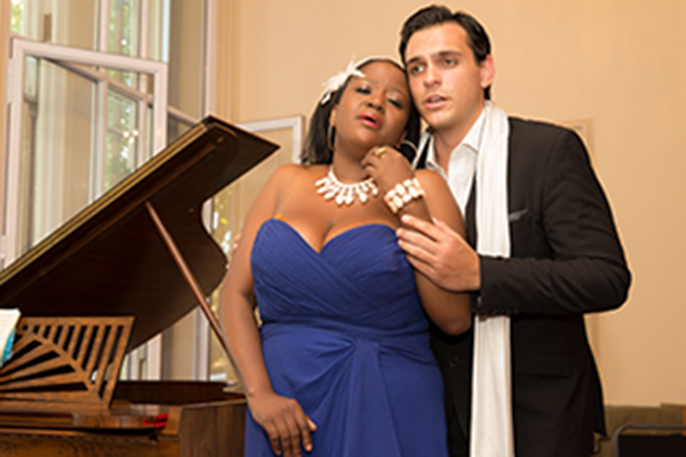 The production uses humour, physical-theatre, audience interaction, and formation dancing in its irreverent post-modern reading.



There was a time when the idea of a non-white (or mixed) cast singing 'Don Giovanni' – or any opera for that matter - would have been treated with skepticism, if not down right hostility. Thankfully, the passage of time - and the remarkable talents of artists such as Leontyne Price, Paul Robeson, Jessye Norman, Kathleen Battle, and Willard White (to name but a few) – have put paid to the more obvious artistic restrictions.
However, some still remain; not, least the fact that – in the performance I witnessed – there were only five black people present to witness it (as far as I could see). Of course, a case can be made that the attending audience in opera is heavily weighted towards a particular class and age demographic, but a question still remains: 'To survive, strive and, indeed, thrive in an art-form that historically marginalises the 'black' artist and -by extension – the 'black' audience, does the aforementioned artist's creative choice(s) deepen his/her voice (elevate), or – in the absence of a representative audience – cheapen it (assimilate)?
This modern adaptation of Mozart's tragicomedy – on tour from South Africa – features an ethnically-mixed cast (four black performers, four white). There are no 'new Robesons', or 'Battles'; hell, there's no new 'Colm Wilkinson' or 'Mariah Callas' either.
What we have are seven talented performers collaborating in a playful, 'stripped-down' version of the famous opera, accompanied by a solitary pianist; nothing more, nothing less.
The piece starts simply with seven empty chairs in the middle of the stage as the pianist enters, soon to be followed by the actor/singers.
Our narrator, 'Leporello' (played with charm and enthusiasm by Raimondo van Staden) introduces us to the other players, and ably sings the first song.
We get to see (and hear) that Don Giovanni is an amoral philanderer with passion enough for countless ladies ('1003 in Spain alone'), but compassion for neither man nor woman. We also learn that he is both a rapist and, most probably, a murderer as well.
The remaining cast is made up of those that The Don has either wronged, or is intending to; needless to say, it doesn't end well for him.
This adaptation of the 1787 tragi-comedy dispenses with the long musical recitatives that make opera seem quite dense and laborious. Instead it uses 'everyday speech' to fill the narrative gaps.
The production also uses humour, physical-theatre, audience interaction, and formation dancing in its irreverent post-modern reading (one 'slo-mo' chase section is a particular highlight). This approach - instead of trying to mask the lack of props and on-stage set – seeks to highlight them, in order to appear fresh.
We have seven talented performers collaborating in a playful, version of the famous opera.



For the most part, it works.
Dr Lisa Enlebrecht deserves enormous credit as musical director, and the sole musical accompanist for the full 90 minute performance; a tremendous feat.
The quality of the voices was good, but a special mention must go to Maudee Montiere ('Donna Anna') for her proficient mezzo delivery, and both Martin Mhkize ('Masetto' / 'Commendatore') and Goitsemang Lehobye ('Donna Elvira') for their emotional consistency, tone, and technique.
Elsewhere, the rest of the cast – especially Johannes Slabbert's 'Giovanni' - had their moments, but the piece is let down by inconsistent acting.
Despite – and oftentimes because of - the cast's energy, it felt like a broad-comedy with a minimal set… and no subtitles.
The lighting is simple but unobtrusive; it only draws attention to itself near the end, as it convincingly highlights Don Giovanni's demise. The sound is also effective, and we are able to hear the piano and all the voices clearly throughout.
The overall sense is of a job well done (enthusiastic applause without the need for bouquets).
And so, we go back to the question of audience-inclusion.
In order to make so-called 'high-art' accessible – especially where the stories are so far-removed from modern society's (if not current audiences') sensibilities – presumably one needs to use certain shortcuts ('dumbing down to mark up').
And so, in this age of world-wide-austerity, this approach allows such a company to perform in many diverse settings, presumably to educate and spread the word – not just about the opera – but about the spirit of cooperation between (South African) 'creatives' from different ethnic backgrounds.
Certainly, if this production can help bring about as much racial diversity off-stage as on – it will have proved worthwhile.
Related links
Afridiziak offer – 30% off tickets to see Don Giovanni (£22 tickets for £15)