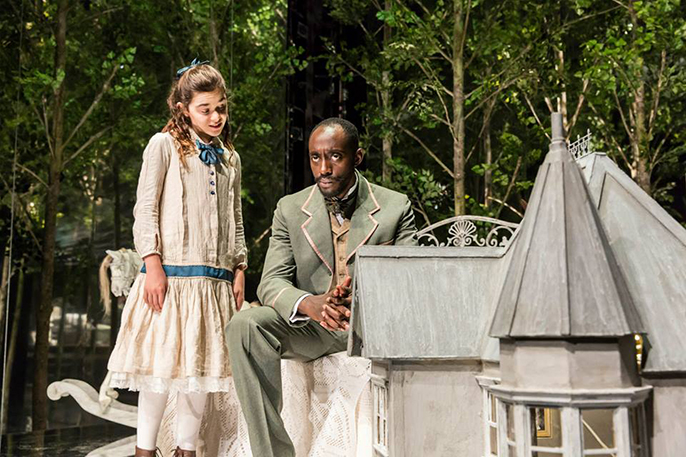 In Jennifer Haley's play, set in the (near) future, people spend an inordinate amount of time in The Nether, a 'virtual reality' playground where one can (in lieu of going to the theatre, perhaps?) log on, choose an identity, and experience total sensory immersion for, presumably, as long as one wants. Sound familiar? Then, at the risk of courting irony, read on.
We start off in a sparse interrogation room (just a table and two chairs on stage); the only backdrop is, what appears to be, a montage of distorted surveillance images. Here we witness 'Sims', a businessman, being interrogated by female detective 'Morris'. She claims he has gone outside the accepted (state sanctioned?) 'Nether' protocols by creating his own virtual world ('The Hideway'). This is a place where he (under the alias 'Poppa'), not only indulges and enacts his own sadistic, paedophiliac urges for up to eight hours a day, but also invites others to sample its delights(!) One of the 'others' is Doyle, a soon-to-be-retired school teacher. Morris, desperate to get incriminating evidence on Sims, questions him about his activities in 'The Hideaway'.
The (understandably) exposition-heavy early exchanges make it seem, initially, as if the piece might be a cold, academic treatise on ethics, free will, and government interference. This all changes in the next scene when, aided by computerised graphics, the set opens up beautifully to reveal 'The Hideway'. The brightness and apparent opulence are in stark contrast to the miserable dystopia seen (and alluded to) previously.
Here, we see Poppa swinging a young girl ('Iris') around in apparent domestic bliss. Yeah, right(!) Iris is, in fact, one of many identical avatars that the guests can either inhabit or 'visit' within 'The Hideaway'. House rules dictate that neither the 'girls', nor the 'visitor' can divulge information about themselves.
The 'little girls' are used sexually (and in other sadistic ways) to, not only satisfy Poppa's fetishes, but to justify them to himself through the participation of others. Also, although on the face of it the guests (or 'Poppa') are engaging with little girls, in 'reality' the avatars could be controlled by anyone! Confusing? Scary?
Enter 'Woodnut', a detective sent in by Morris to infiltrate 'The Hideaway'; he comes in as a guest, befriends Iris, and the whole 'house of cards' come crashing down. It becomes clear that Morris is following her own agenda, and soon the delicate balances that both Sims and Doyle (respectively) have tried to maintain, are destroyed. 'The Nether' deals with many interesting and highly charged ideas; for example, it comments on The West's love/hate relationship with technology, and how we use aspects of it (immersive gaming, the internet, Facebook, etc.) to create our own bespoke entertainment in order to block off the outside world (has it not always been thus?)
It also brings up notions about the nature of social imprinting; is 'love' contextual, aesthetic, or just a romantic figment of our imaginations? Also, does engaging with illicit and/or depraved media pacify our more deviant impulses, or does it fuel the desire to act upon them? More to the point, can (or should) this be legislated for? Just how much jurisdiction should The State have, to be able to encroach upon (and regulate) the public's innermost thoughts?
To achieve this level of clarity and narrative sophistication on stage is a testament, not only to the direction and staging, but to the acting. Although, at times, Amanda Hale (as 'Morris') seemed a little too consistently 'heightened', she dealt admirably with a great deal of expository dialogue. And while Ivanno Jeremiah and David Beames (as 'Woodnut' and 'Doyle') were good in difficult roles, it was Stanley Townsend as 'Sims', and Zoe Brough as 'Iris' who had 'the goods'!
'Sims' is a narcissist, a megalomaniac, and a polemicist; he is also a self-regulating peadophile! Mister Townsend made a detestable character, if not likeable, then certainly… human! He does not court our sympathy, nor does he desire it, but he engages our empathy; a good job, sir!
Special mention must be made for the pretty, young Zoe Brough as 'Iris' (a 'reference to 'Taxi driver, maybe?). Her portrayal of the 'Lolita'-like character / avatar is sincere, innocent, playful, self-aware, naive, manipulative, and knowing; a grown up in a 10-year old's body (figuratively and artistically speaking, that is). What could very easily have been an uncomfortable watch, was executed with a maturity and intelligence that tied the play together. Bringing to mind Natalie Portman in the film 'Leon', Miss Brough is surely a star in the making. Jeremy Herrin's direction is good, as is Luke Hall's video design, but it's Es Devlin's amazing set design that deserves to be seen.
Like all good sci-fi, the play paints a particularly plausible picture of the world; it's a story that is, at once, 'alien' and yet, strangely familiar. Although, not a perfect (or particularly comfortable) experience, 'The Nether' is certainly worth investigating… a bit like the real world, really!
P.S; "If a man is considered guilty for what goes on in his mind, then give me an electric chair for all my future crimes, oh." - Prince ('Electric chair').
Info: The Nether is at the Royal Court until August 9th, 2014 | book tickets