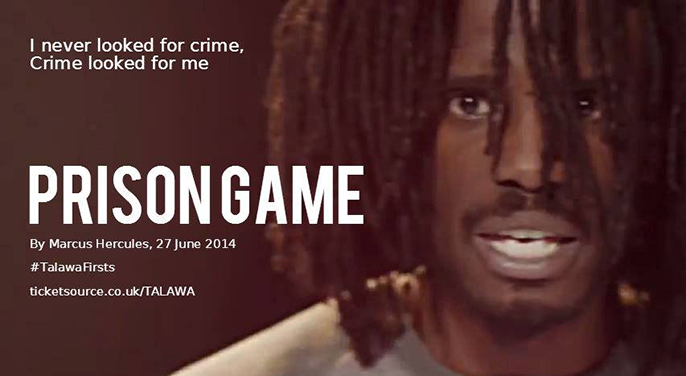 Rounding off Talawa Theatre Company's 'Talawa Firsts 2014' season, 'Prison Games' made for an arresting final piece (pun intended). It is written, performed, and directed by Marcus Hercules, and can best be described as a rich, intensely focussed, solo 'tour-de-force' ; 'Breaking Bad in Bradford', if you will(!)
Using minimal lighting, music, sound-effects, and songs, Hercules narrates (and enacts) the story of 'Mike', a third-generation black Briton. Having carefully set up the grandmother's backstory (she having arrived on these shores in 1952), it seems a shame to have her so summarily discarded. However, jettisoned she is as attention shifts to Mike and we are introduced to a selection of characters and situations from his life. These include his mother, older brother, his school headmaster, members of the police and judiciary, as well as several other unsavoury and/or criminal personalities.
The transitions are fluid, and each of the characters seem both familiar and, at the same time, unique; this is as much a testament to Hercules' insightful writing, as to his acting ability.
When we initially meet Mike, he is a callow 12-year-old, getting bullied by fellow class-mates and older brother alike. However, due to a car accident (one which renders him hospitalised for six months), Mike soon gets drawn into a downward spiral of bad school-attendance, bad company, and (finally) bad court judgments. Sentenced to two years in a youth detention centre, he finds that the best way to spend his time is to embrace his surroundings.
Upon release, his new-found 'swagger' leads him to reacquaint himself with former girlfriend/muse 'Samantha', before becoming embroiled in a money-making scam that soon escalates into violence. At this time, he is (erroneously) charged with kidnap, use of firearms, and robbery, and is sentenced to twelve years in prison.
Needless to say, 'Mike' does not take this well and transforms himself into 'Bullet', a hot-headed, prison-enforcer/fixer. He quickly earns himself a formidable reputation amongst both fellow inmates and prison-staff alike, becoming embroiled in one dangerous situation after another. This section delivers the most harrowing sequences thus far; surely there is no turning back?!But 'come back', he does!
After being freed from the penitentiary, Mike/Bullet becomes a door-man at a local night-club and, identifying a huge potential profit, starts selling drugs to the punters. Alas, not adhering to the cardinal rule ('don't get high on your own supply'), Mike/Bullet soon becomes a junkie, before getting savagely beaten by a competitor.
Prison Games is a rich, intensely focussed, solo 'tour-de-force' ; 'Breaking Bad in Bradford', if you will(!)
At this point, he has an epiphany, changes his ways, and then… all is resolved(!) The piece has a great deal going for it; not least, the performance(s) of Marcus Hercules. His physicality, charisma, and emotional range are laudable. However, having carefully constructed this story, depicting such a 'vicious cycle', it's a shame that so much good work is undone by a weak third-act resolution. It would appear that important people in our protagonist's life (e.g.; 'Samantha', his absent father) have been unceremoniously sidelined (perhaps as a result of injudicious editing). I would suggest that the reintroduction of these characters might have lent the protagonist's final 'Damascene moment' an emotional honesty that is, alas, merely hinted at here. As a result, there is a sense of having witnessed the marrying of a simplistic 'final sermon' to a skillfully crafted set-up.
We might like to revisit the oft-told story of 'a young black man escaping the clutches of corruption, seduction, and self-destruction' but (as with most character studies), if the (re)actions are not strongly supported by the narrative, this all-too-familiar tale can easily feel compromised. Having been introduced to some interesting new characters in unfamiliar settings, it seems a shame that this particular piece's perfunctory ending robbed us of the necessary catharsis, finally taking us down the path of least resistance… 'cultural wish-fulfillment'.
Certainly, the subject-matter (as well as Hercules' fine acting and strong character-writing) deserves a more interesting denouement; perhaps a specialist director or dramaturge might help. I wish Marcus Hercules all the best with this piece and, indeed, anything else he chooses to do; with the right vehicle/guidance, he's a (much greater) star in the making.
Info: Prison Game was at Talawa Studios on Friday, June 27th.
Related links
Review – Have Mercy on Liverpool Street
Review – Q&A with Roy Williams
Review – No God No Girls
Karla Williams – interview, No God No Girls