​Perseverance Drive, Bush Theatre – review
Published:

Tuesday, July 22, 2014 12:55 PM

| Review by: Gillian Fisher |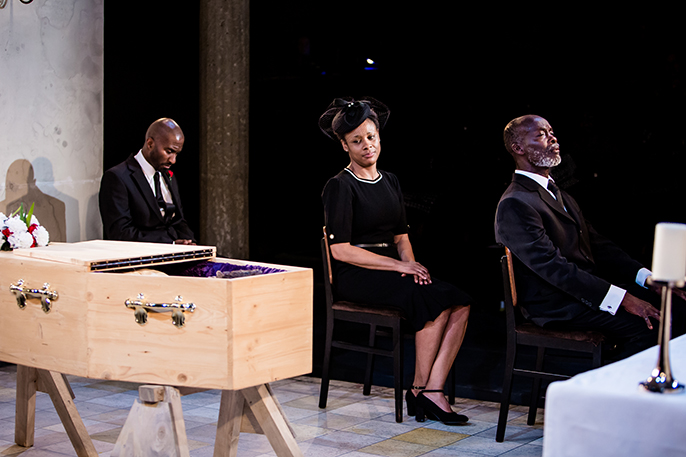 A very astute and witty play with excellent performances throughout.


Barbados. A halcyon location for a sombre occasion. In the wake of his wife's death, Eli Gillard gathers his family for the funeral. As retired pastor of the 'Christ is Risen' church in Leytonstone, it is to be a thoroughly ecclesiastical affair. As debates over flowers and coffin linings ensue, past grievances come to the fore. Sibling rivalries between brothers Nathan and Zechariah permeate every discussion and are exacerbated by stubborn patriarch Eli. When exiled son Josh materialises in the garden the cat is really set among the pigeons. In Robin Soans' diagnostic new play we observe how easily faith can be misplaced and the unyielding nature of grudges. With emotions running high, it seems that whilst the Gillard family may be reunited, they will never be reconciled.
In a largely secular society, religion is rarely touched upon in modern drama. Organised faith tends to be sneered at by intellectuals, making Soans' decision to explore it an audacious but illuminating one. Very much an ensemble piece, the cast have managed to create a fantastically authentic atmosphere of tension. First born son Nathan is clearly the golden boy. As minister of the church founded by his father, Nathan has a domineering air to him, which is well played by Derek Ezenagu. Youngest son Zechariah craves his father's attention, and pretty much everyone else's too. Kolade Agboke looks like a Daz advert in his luminous white attire. His obsessive need to paint himself as holier-than-thou takes precedence over everything, even his own mother's funeral. Madani Younis directs with great precision. The sensationalist nature of some scenes (involving speaking in tongues and the possibility of tambourines) presents itself as controlled chaos in this tightly choreographed piece.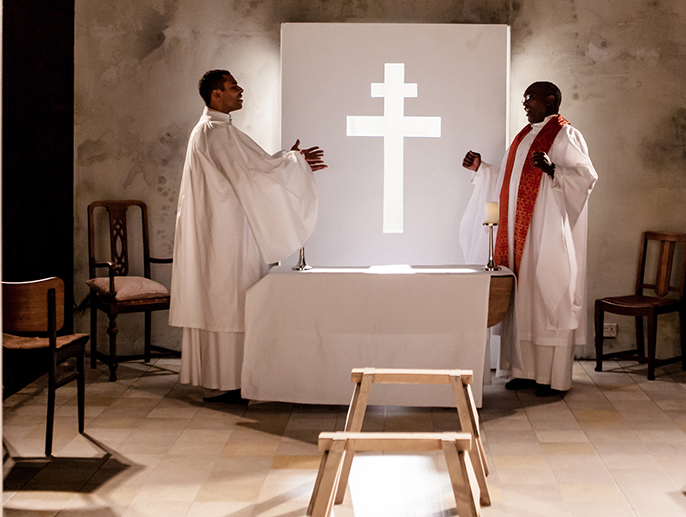 Despite the subject matter, there are numerous laugh out loud moments. The comedy comes largely from pariah Josh, played by Clint Dyer. As the prodigal son and only Gillard not involved in the church he is able to cut through the pettiness and affectation with a shrewd remark. Dyer plays the role with a natural buoyancy and an underlying desire for acceptance. Ray Shell's portrayal of Bishop Clarke is wonderfully pompous, with plenty of disapproving glances and wafting of hankies. Rather than being a simplistic tirade against religion, the Gillard's story exposes how interpretation can lead to a dichotomy of loyalties. It also demonstrates how living by absolutes can easily result in preconceptions. Issues of marriage, fidelity, sexuality and paternal expectations within a Pentecostal schema are all cleverly explored.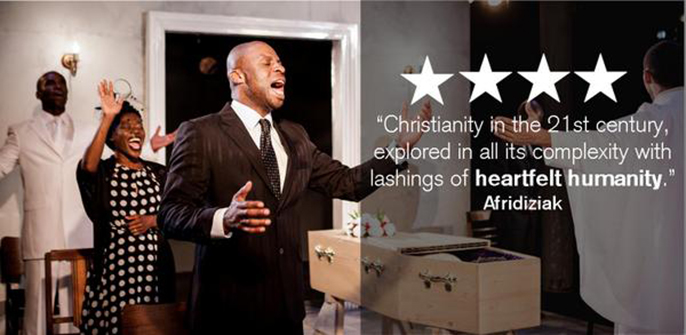 Christianity in the 21st century, explored in all its complexity with lashings of heartfelt humanity.

Both women in this production are outstanding. Aika Henry plays Zechariah's wife Joylene. Having been snubbed as a divorcee, she has her own agenda of levelling the playing field. Ruth is a more subtle and much put-upon character, played sensitively by Frances Asham. Each character has their own intricate story. Most poignant for me was the journey traversed by Eli as the head of the Gillard clan. Leo Wringer gives an incredibly moving performance. With old age being a great leveller, we see his judgemental piety give way to reflection and acceptance. A very astute and witty play with excellent performances throughout. Christianity in the 21st century, explored in all its complexity with lashings of heartfelt humanity.
Info: Perseverance Drive is at the Bush Theatre until August 16, 2014 / book tickets​
Related links