Intimate Apparel – review
Park Theatre
Published:

Saturday, July 12, 2014 8:22 AM

| Review by:

Gillian Fisher

| Afridiziak Star Rating: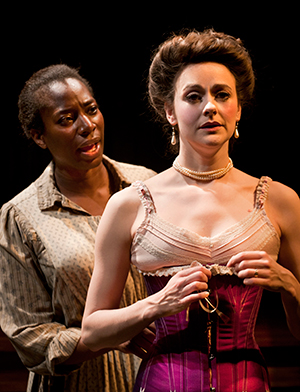 From a faded sepia photograph a stern faced woman in Edwardian dress gazes out from the curling brown edges. A moment frozen in time for future generations to regard and wonder what lies behind the formal pose. In Lynn Nottage's play Intimate Apparel we go beyond the whoosh of the flash lamp and into a ladies' boarding house in 1905 New York. The whirr of a sewing machine fills Esther's solitary room as she sits absorbed in her work. Having watched 22 women come and go, Esther longs for marriage and motherhood but fears it is too late. Comfort arrives in the form of a letter from Panama. George Armstrong is a Bajan labourer building the Panama Canal. As he woos Esther with his words, a future life together blooms in her imagination. With her heart full of hope we wonder if the reality will live up to the calligraphic fantasy.
Located firmly in boom-time New York, this is a production infused with dreams. Immigrants hoping to make their fortunes or unhappy wives long for independence. And Esther is a patron of fantasy; crafting exquisite pieces of seductive lingerie to evoke lustful escapism. As well as her yearning for love, Esther aspires to found her own coloured beauty salon, in this new century where anything is possible. The play is incredibly intense; direction by Laurence Boswell has created a constant tension of palpable longing. Esther's 'Panama Man' seems the answer to her prayers. Appearing in a tunnel of light to deliver his letters as eloquent monologues there is a touch of salvation about his presence. Tanya Moodie plays Esther as naïve and eager. There is a childlike quality to her character as she responds quickly and emphatically in her dialogue. Her face lights up when she visits the fabric shop run by Romanian-Jew, Marks who appears like a haberdasher on the roof. Played tentatively by Ilan Goodman, the joy shared by the two as they run their hands lovingly over the cloth is touchingly intimate. Despite her savvy determination as a businesswoman, Esther's patent need for approval makes her easy to manipulate.
As the story unfolded and arced like a bolt of fine satin I was rooting for their success and terrified of their failure.
What makes this production so insightful is the full formation of each character. Painting a vivid picture of 1905 New York, Nottage presents us with uptown socialite Mrs Van Buren. Sara Topham plays the socialite as affectedly buoyant but desperate for affection. Resigned to a golden cage by her gender. We also journey downtown to the Tenderloin, where prostitute Mayme played feistily by Rochelle Neil practices classical piano between clients. The set designed by Mark Bailey is a wonder of transformation. The backdrop opens in sections to reveal the chandeliers and gilt mirrors of 5th Avenue, or the be-tasselled and satin draped boudoir of the saloon. When the scenes end the characters are closed up in their abodes, making them seem like dolls to be played with later. The eagerly awaited George Armstrong is played by Chu Omambala, who gives a highly skilled performance of duality.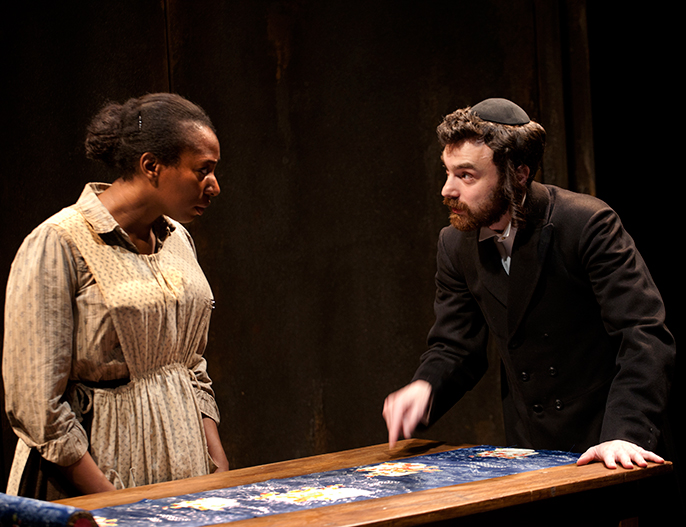 A wonderful play stitched together from memory and imagination.


The premise of Nottage's play is a fascinating one. After finding a photograph of her great grandmother she wrote this play to establish a dialogue with her ancestors. The playwright's own desire to understand her family history makes the 'American Dream' era of the piece all the more poignant. I found myself thoroughly engaged and invested in the characters. As the story unfolded and arced like a bolt of fine satin I was rooting for their success and terrified of their failure. A wonderful play stitched together from memory and imagination.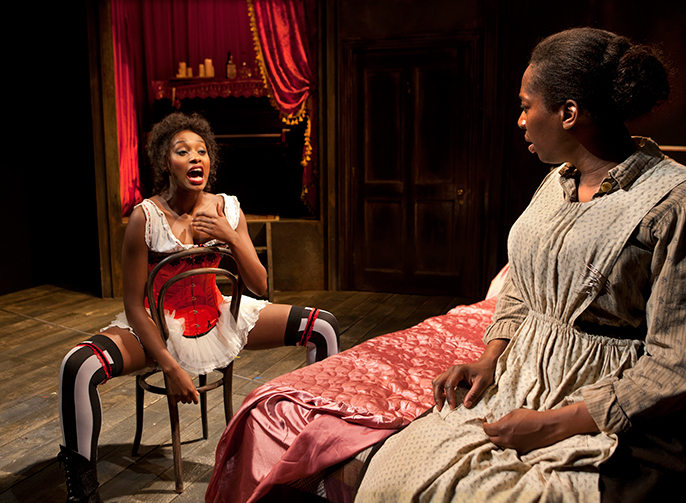 Related links