Lost Nation – review
Published:

Friday, July 26, 2013 2:45 PM

| Review by:

Ronke Lawal

|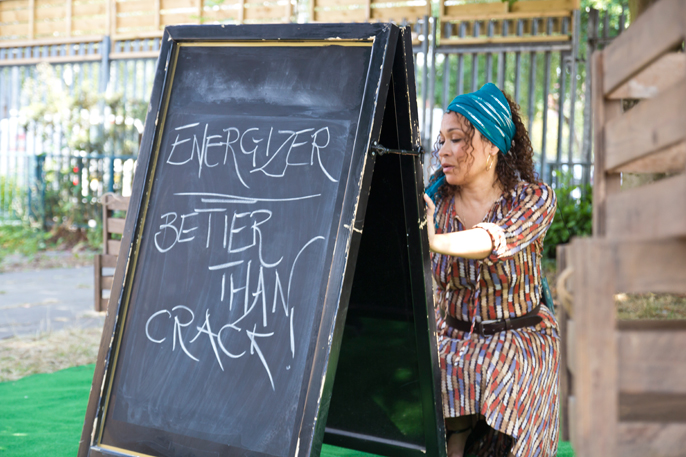 I wasn't sure what to expect from The Red Room's Lost Nation, we were informed that it would be an experiential production and upon entering the film screening room we were treated to a lovely soothing violin performance which seemed to add to the general ambience of the venue.
The film portion of the production which is filmed in the London Borough of Brent, gives us an insight into various levels of the societal inequalities caused by benefit cuts and unemployment. We meet a range of individuals who have been affected by these aforementioned issues, who share their stores and experiences of the benefits system. I was particularly moved by the story of a woman whose housing benefits was cut and the ensuing impact on her family. Issues of unfairness, the London living wage and the impact of unemployment were dealt with poignantly and sensitively within the film. It is also where we meet the inspiration for the theatrical portion of our experience - Monique, a homeless woman with a social enterprise juice bar. I enjoyed the film documentary which tackled issues that I have always been passionate about with regards to economic development. One of the participants of the film quotes Rosa Luxemburg who once wrote that society will eventually experience a "transition to socialism or regression into barbarism" due to the influence of capitalism on experiences of equality. By challenging the audience to deal with our prejudices and ideas of those who have to "sign on", it is a moving insight into the complexities of the benefits system.
I would recommend going to see The Red Room's - Lost Nation, if only to challenge your own perceptions of economic empowerment and the benefit state.
The next part of the experiential part of the production leads the audience to take a walk along Kilburn High Road where we meet Monique played by Martina Laird. Monique is a great example of what social enterprises are established, making money is not her ultimate aim, her ultimate aim is doing good for the sake of empowering others. She serves as a reminder of how money and business does not have to create capitalist monsters out of us all, in fact despite being homeless Martina Laird's depiction of Monique is one of genuine happiness. Despite all the troubles that she has to deal with her enthusiasm for life and her social enterprise, aptly named "Punch and Juicy" is un-wavered. Martina Laird plays Monique with a natural fluidity which makes the audience feel as though they are listening to a new friend talk about her life.
There was no back story build-up (though elements of her past are touched upon) and her monologue was quite extensive though I still found myself a little detached from the experience. Perhaps I was expecting more depth from the theatrical piece or perhaps it was because at times the monologue seemed to drag out with no particular point or purpose. I was not as moved with the performance as I was with the documentary, though Laird gave a believable performance I could feel empathy towards Monique. There was so much that could have been done with the monologue, so many questions left unanswered.
I would recommend going to see The Red Room's - Lost Nation, if only to challenge your own perceptions of economic empowerment and the benefit state.
Related links
Roger Griffiths, Lost Nation – interview
Lost Nation – trailer
Lost Nation – Afridiziak e-newsletter special