The Trojan Horse at The Scoop
Published:

Sunday, July 15, 2012 21:58

| Review by:

Gillian Fisher

|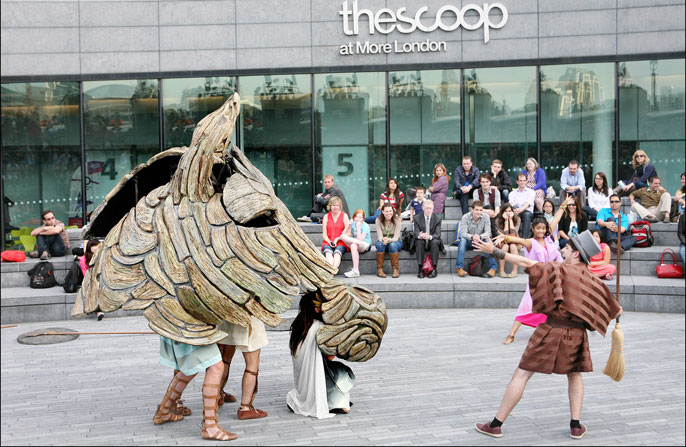 In ancient Greece, during a time of heroes and epic voyages Princess Helen must select a husband from a mob of eager suitors. Her hand is won by robust Spartan soldier Menelaus and a joyful married life seems imminent. However, jealousies are rife in the Greek court and amorous Prince Paris seeks to satisfy his desires by kidnapping Helen and claiming her for himself. Acting on the advice of goddess Aphrodite, Paris returns to Troy with the princess, leaving a furious Menelaus bent on revenge and aided by his brother Agamemnon plans are made to wage bloody war on the villainous Trojans.

Based upon the Oresteia Trilogy of Aeschylus this tale of passion, betrayal and celestial meddling has been brought to life in Phil Willmott's adaptation of the Greek classic. Reborn as a musical this tongue in cheek production delivers the Hellenic legend through a flurry of upbeat songs and quippy puns. Awash with pop culture references and rather suggestive allusions to Greek pastimes this is a highly animated and engaging play.

The cast are a game bunch, willing to embrace all things silly in the name of classical drama as they prance around the stage in period dress. Helen's slave Sinon acts as the narrator, played with disapproving campness by Nicholas Corre he is good enough to offer Odysseus the use of his rubber dingy. His mistress Helen is played by Latoya Lees, though vivacious she is thoroughly unimpressed with the advances of Jordan Lee's Paris, who struts around with a riding crop and whips out his hand mirror at any available opportunity. Soothsayer Cassandra is played by Ruth Pickett; frequently graced with divine messages from the gods she convulses dizzily as she delivers her prophecies from on high. Added to the mix are Helen's envious rude-girl sister Clytemnestra, an optimistically humble Menelaus, a war hungry Agamemnon and his ingenuitive friend Odysseus. The gods even descend from on high every now and then wearing diaphanous robes and sunglasses with lightning bolt laurels. Each player contributes essentially to the labyrinthine plot to create a dynamic and elaborate narrative.

Celebrating its tenth season at the Scoop, Steam Industry Free Theatre could not have chosen a more ideal location for their production. Sitting on the tiered stone steps of this amphitheatre beside the Thames I felt I ought to be nibbling grapes whilst being fanned by a toga clad servant. With such a grand location little was needed to set the Spartan scene; a striking mask like sculpture and a few suitably Greek props such as shields and spears served perfectly. The costumes on the other hand were fantastically detailed; each actor was kitted out in billowing chitons of various colours and designs and the look was completed with gladiator sandals and greaves. The horse itself was highly effective, divided into separate pieces strewn around the arena to be assembled when the time was ripe.

With lively songs, audience participation and bawdy humour this production had more than a slight feel of panto but still managed to be educational and present a fairly accurate rendition of the classic legend, although I doubt Apollo ever advised daubing Old Spice to aid seduction. The writing is incredibly witty, luckily some of the more risqué jokes are obscure enough to go over the younger members of the audience's heads, making this production entertaining for children as well as engaging for adults. Highly appropriate considering the capital's current frenzy over a certain upcoming athletics tournament, this was a Greek classic with a distinctly British twist.

Info: The Trojan Horse is the first instalment of Steam Industry Free Theatre's Trojan War and Peace Trilogy. It is showing Thursdays to Sundays at the Moor London Open Air Scoop Theatre until August 5, show starts at 6.30pm.