Cape Town Opera's The Gershwins' Porgy and Bess, London Coliseum
Published:

Monday, July 16, 2012 23:18

| Review by:

Lindsay Johns

|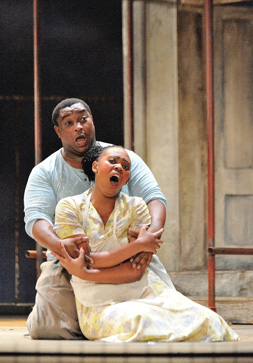 From the music of Billie Holiday and Ella Fitzgerald to jazz supremo Miles Davis' stirring 1959 homage, via the opening scene of 80s Hollywood classic comedy Trading Places, when Eddie Murphy's street hustler protagonist Billy Ray Valentine, pretending to be a blind, crippled beggar, accosts a female passer-by and, tugging at her dress plaintively cries, "We can make it baby! Ain't you seen Porgy and Bess?" Gershwin's famous "black opera" has thoroughly permeated the Western popular musical and cinematic consciousness.

So the welcome return to the UK of Cape Town Opera's 2009 passionate and heartfelt production of this classic 1935 tale of female Circean charms, tragic, unrequited love, murder and the pursuit of happiness amidst deprivation is a genuine delight to behold from start to finish. This production, directed by Christine Crouse, is taught and beautifully acted, never dragging despite its 2hr 45 min running time or, more importantly, our deep familiarity with iconic anthems like Summertime, I Got Plenty of Nuttin', I Loves You, Porgy and It Ain't Necessarily So.

The opera's eponymous protagonists are by now very much part of our cultural DNA: Porgy, the cripple whose blind, all consuming loves for Bess knows no bounds; Bess, the fickle, former good time girl who leaves her brute of a lover Crown after he commits murder, shacks up with Porgy, duly cheats on him with her ex, then eventually leaves for New York with sleazy drug dealer Sporting Life.

Transposed from its traditional 1920s Charleston, South Carolina setting to an apartheid-era black South African township, this bold decision works perfectly for the majority black South African cast, with whom a strong sense of identification with the story is readily apparent. With the help of a terrific set by Michael Mitchell, Catfish Row is brought alive as a squalid township; complete with dilapidated tenements, dingy shabeens and corrugated iron shack barber shops.

Both Xolela Sixaba and Sibongile Mngoma as the male and female leads possess astonishing vocal power and hauntingly emotive voices which augur remarkably well for the company. American Victor Ryan Robertson is both captivating and charming as the salacious Sporting Life. An amazingly strong ensemble cast, playing fishermen, gamblers, washerwomen, pastors, nuns, church goers and policemen, make for an arresting visual treat on a stage replete with action.
Conducted by Albert Horne, exemplary musical accompaniment from the Orchestra of Wales and superb choreography, with lithe men and buxom women shimmying across the stage with jollity, panache and charisma, this production has few, if any weak links.

Yet in this sensitive interpretation, the fatal flaws of the human psyche are also plain for all to see. Gershwin's generous dose of amorous psychology is perennially relevant. Does love ennoble and embolden or enfeeble and emasculate? Love for Bess is a divine madness. She is besotted with an animalistic passion for Crown, which leaves her helpless, at odds with her desire to be faithful to and remain with Porgy. Love for Porgy is also a madness, which makes him receptive to the charms of a loose, fickle, drug-taking woman, care for her whilst being aware she has cheated on him, duly murder her vicious ex to protect her and subsequently leave for New York in pursuit of her, once she has finally betrayed and abandoned him.

This timeless classic, memorably interpreted here by the Cape Town Opera, is a poignant, graceful and thought-provoking production, which provides a glorious, modern take on a sublime, hardy favourite. This dose of Gershwin in a South African style is a bona fide triumph and deserves to be tremendously successful.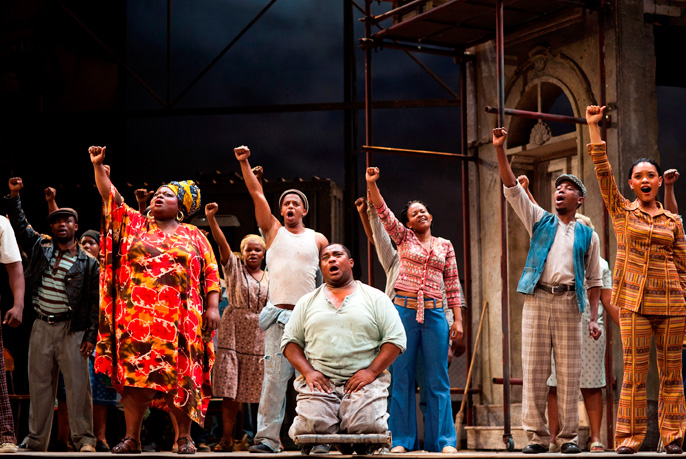 Related Links
The Gershwins' ® Porgy and Bess premiere of Cape Town Opera's production is on until July 21, 2012 at the London Coliseum