Mr Kolpert, Kings Head Theatre
Published:

Tuesday, July 31, 2012 9:54

| Review by:

Gillian Fisher

|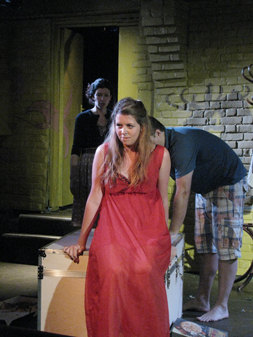 Modern life in the bustling metropolis has left Sarah and Ralf solvent, cultured and painfully bored. In an attempt to break free from monotony they invite loose acquaintances Edith and Bastian Mole over for dinner, an act made slightly awkward by their having murdered business colleague Mr Kolpert earlier that afternoon. During strained chit chat recent bloodthirsty events are dropped into conversation and the Moles are left unsure whether their hosts are making a particularly macabre joke or are in fact harbouring a corpse from accounts. The evening quickly descends into debauched food throwing chaos as the true natures of this urban foursome are plainly revealed.

This black comedy satirises modern living in a farcical explosion of confrontations, social niceties and double bluffs. Originally penned by German playwright David Gieselmann the script has been translated by David Tushington to cleverly reflect British middle class dialogue. The tense atmosphere of laboured dinner party small talk is strikingly familiar and only serves to exacerbate the mystery surrounding the ominous trunk in the centre of the set. The production is only an hour long but each one of the sixty minutes is filled with outbursts, revelations and absurdity making this a production that remains constantly on the boil.

Ralf and Sarah are very aware of the common protocol involved in playing hosts, padding breezily around their grand piano and offering drinks. Ralf played by Edward Fulton is particularly deadpan; matter of fact comments concerning his recent murderous exploits are made with offhand politeness. Perhaps subtlety isn't my strong point, but it took me a few minutes to recognise Kate Sawyer's portrayal of Sarah as an exaggeration of a social cliché as opposed to poor acting. Once I'd grasped her character she is wonderfully flamboyant as the lady in red who finds being tied up and held hostage thoroughly titillating.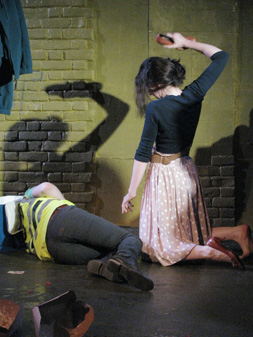 Damian Lynch is superb as the confrontational Bastian. An attention hungry control freak his response to a suspected body in a trunk is only marginally more frenzied than his to reaction to the wrong pizzas being delivered. Laura Freeman rather steals the show as Edith. Girly and submissive she appears the most placid of the group with her sing song voice and smiling attempts to restore order. However, her eventual surrender to her primal instincts reveals a passionate and depraved hellion determined that decency is just something other people made up.

A hugely chaotic and corporeal play; throughout the proceedings tiramisu is flung, blood is spattered and pizza is thrown up. The characters debate morality and the normality of murder in the 21st century as they deal out punches and attack each other with shower heads. The blatant reference to Hitchcock's film Rope gives the production a wider context and the fast pace keeps the audience on the edge of their seats, wondering and slightly dreading what will happen next. The farcical elements are very well done but they do prevent the sense of urban ennui and detachment from reality being more poignantly explored. There is undoubtedly food for thought but there is more of it on the floor.

You will not encounter anything like this production; a very exciting and completely outrageous 60 minutes.

Info: Mr Kolpert is at the Kings Head Theatre until August 5, 2012