Knight Watch by Inua Ellams
Published:

Thursday, July 5, 2012 11:55

| Review by:

Uchenna Izundu

|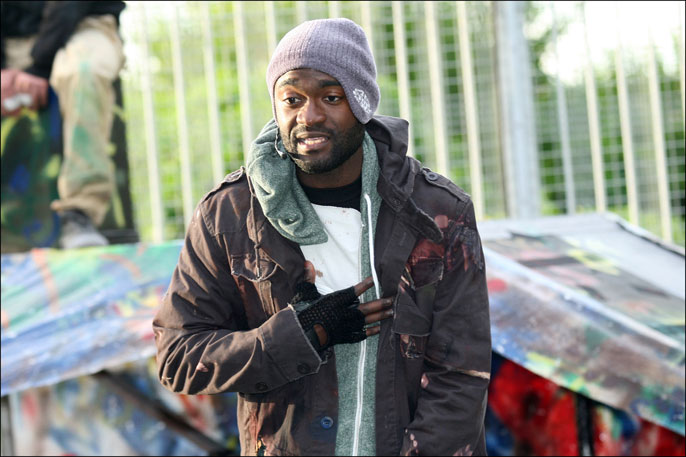 Poet and performer Inua Ellams presents a quirky and unique insight into two warring gangs in south east London using outdoor spaces that become a live background to his magical realism tale.

In Spa Fields Park in north London seeing policemen walking through as he performed, I couldn't help but wonder whether gang tension was rife in this area and what on earth I had let myself in for. However, aside from the rank smell of piss in the shed where the audience was seated, Ellams and his musicians delivered an entertaining and thought provoking performance where it became easier to feel the disconnect that so many youth have with their urban environment nowadays.

Knight Watch is about Lou and Michael who accidentally become friends although they are from different gangs – leading to Michael's death when he tries to stop his gang from harming Lou. Dressed in a grubby hoodie, Ellams is vivid in the imagery in his poetry, which occasionally rhymes in verse and pulsates in its incantations. Bubbling along, occasionally accompanied by the playing of a wooden flute, he offers different perspectives from the main characters in the 40 minute performance – giving each their own distinctive linguistic style through blending hip hop, spoken word, and traditional poetic structure.

Ellams drew inspiration for Knight Watch from last year's riots and drummer Aki Fujimoto and flautist Mikey Kirkpatrick create a disturbing soundtrack that catapults the audience into an Alice in Wonderland world where musical instruments gain magical powers in freeing characters from gang violence. The dirty, gritty feel of an estate is recreated through the wildly colourful graffitied seats and tarpaulin that Fujimoto hides in. At points it is hard to buy Michael's resurrection as he survives being hit by a bus and toppling over a bridge with his skull shattered. However, considering that there are elements of magic realism, this becomes a necessary device in using this sudden, shocking moment to find some way of initially reconciling the gangs and testing loyalties. Ellams will be popping up in outdoor spaces around the country with his national tour – it's worth experiencing.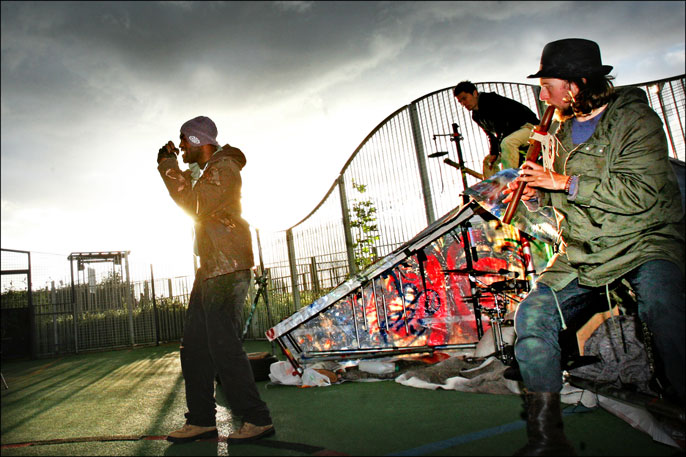 Related links