'Birthday' by Joe Penhall, Royal Court Theatre
Published:

Monday, July 2, 2012 15:09

| Review by:

Harriet Thompson

|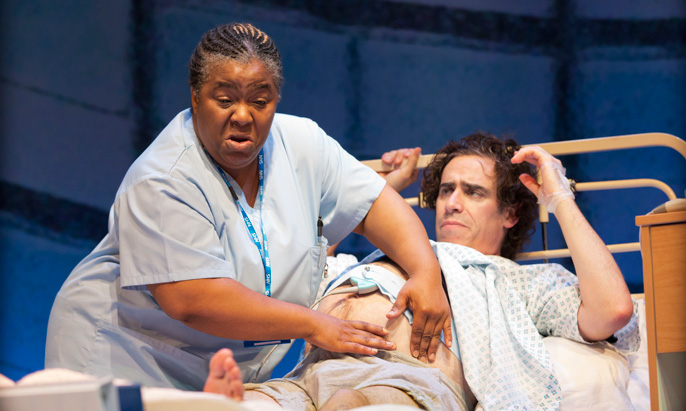 Picture a world where medical progress has resulted in a strange new procedure, which allows men to give birth, through a caesarian section of course. Joe Penhall's new play 'Birthday' is a dark comedy that presents a surprisingly believable depiction of a married couple that, after the traumatic birth of their first child, agree to reverse nature's roles with damaging consequences.

Despite the interesting premise of the plot, Penhall's play fails to pack the punch that it deserves. The set is a clinical hospital ward that sits on a revolving stage and spins dizzily around during the numerous unnecessary blackouts. As the couple is forced to wait an inordinate length of time, ignored by the incompetent NHS nurses, Ed (Stephen Mangan) becomes increasingly distressed whilst his wife Lisa (Lisa Dillon) remains unsympathetic, irritated by his complaining and unable to cope with his newfound 'hormones'. Although this gender role reversal was central to much of the play's comedy, I found it presented a rigidly stereotyped view of male/female behaviour. Ed narrates the monotony of his maternity leave and moans that his wife doesn't appreciate him, whilst Lisa focuses on her career and fails to pay her husband the attention he craves. It was an unimaginative retelling of an archetypal situation. In addition, the inclusion of a hapless African nurse (Llewella Gideon) was a desperate attempt to win laughs at any cost.

Stephen Mangan's confident portrayal of a traumatised father was the saving grace of the performance, striking the right balance between comedy and tragic hysteria. Indeed, there were even some poignant moments, such as Ed's burst of post-natal depression in which he confesses to Lisa his wish that he were dead. However, it goes without saying that an original script alone doesn't make a successful play. Personally, I would have liked to see a more inventive and surreal staging to reflect the intensely raw emotion that accompanies childbirth.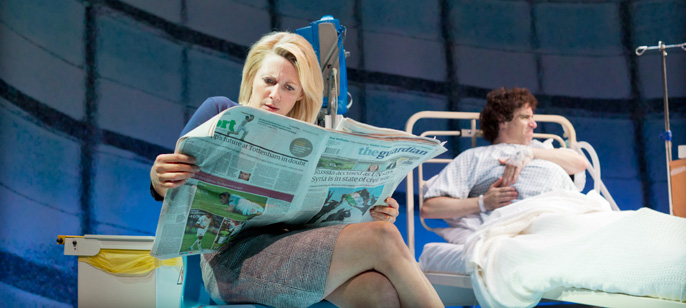 Related links
Birthday is at the Royal Court Theatre until August 11, 2012