Six Rounds, The Lost Theatre
Published:

Monday, July 4, 2011 6:09

| Review by:

Shari Bollers

|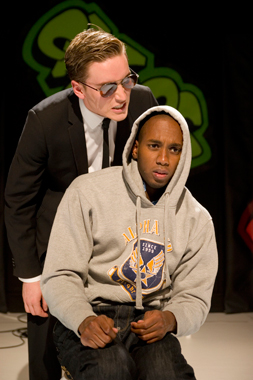 In the opening sequence we are introduced to our half naked protagonist, Ace (Anthony Vander). Easy on the eye he starts his soliloquy by sharing his various reincarnations through the ages through six different stages or rounds.

His story is told on stage by the six rounds (indicated by a boxing bell) through monologues, hip hop narrative and dialogue. The fourth wall is removed during this production through a series of monologue spoken to the audience with direct and indirection interactions.

The cast gave brilliant performances and work hard with their characters ongoing constant turmoil and survival after the death of Ace. They successfully deliver and portray anguish, hurt and attitude needed for such characters. The dialogue isn't always funny but it grapples with important issues about surviving and living in modern day life riddled with youth crime.

I found the play a bit confusing at times because it wasn't always clear what was going on and I had to deduce some of it for myself. When Solo, Ace's brother (Anton Romaine Thompson), who is wheelchair bound, stood up and conversed, I wasn't sure why. I also didn't know who shot Ace. Was it his sister, ex or was it his brother?

In this role Anton Romaine Thompson gives an impressive performance as the embittered brother, who feels Ace's owes him big time for selling him out to the cops. Ace is trying to do good by everyone and this leads to his untimely demise.
This play tells the story of a fight, if it's not with each other; it's for love, survival or to be heard.
---
Related Link