Bussin' It, Oval House Theatre
Published:

Wednesday, July 27, 2011 14:05

| Review by:

Keji Dalemo

|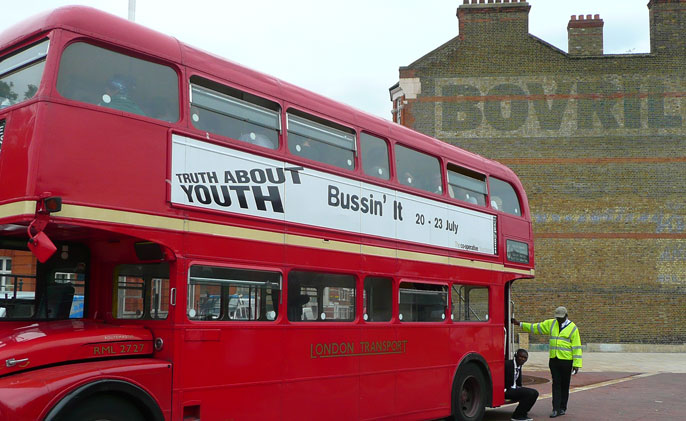 Written by the Oval House Theatre's Young Writer's company as part of the Truth about Youth project, Bussin' It looks at the burgeoning political awareness among various sets of young people, and their reactions to their treatment by those not quite respectful of their views as they approach adulthood.

This piece was a collection of diverse multiple performances, opening and closing with a poetry monologue, with the pieces in the middle showing young people in a pre/post WWII Britain and then in 21st century Britain.

Every performance was delivered confidently. The actors never seemingly intimidated or phased by the intimacy of this slice of promenade theatre that was set on an old school red double decker bus which meant that they sat among and next to the audience.

The strongest parts of the production were however those set in present day Britain, where the cast spoke directly to members of the audience. Kraig Blake's ticket inspector cruised the aisle of the bus asking for "ticket, can I see your ticket?" Expecting an answer and prepared for the varying responses from a game audience.

Ben Cawley once again displayed his talents for delivering monologues in poetic verse which can so easily run the risk of being cringesome. Not here however. Cawley was charming and affable. He consistently made direct eye contact with members of the audience when he accosted them, effortlessly incorporating the initially surprised and embarrassed reactions into his performance. At one point, Cawley cheekily brushes a hand across the face of an amused audience member.

Sofia Stephanou's mouthy Alice was another performance of note. Alice formed one of three brash know-it-all school girls sprawled out on the top deck of the bus like they owned it. A particularly memorable scene being one we have all seen at some point; when she climbed one of the bus seats, leaned over an audience member, banging the window, shouting and yelling, while trying to get the attention of one her mates on the street below - brazenly delivered and very funny.

While the all the various performances did not fit or necessarily make sense as a whole production, individually they were all enjoyable, an hour well spent.