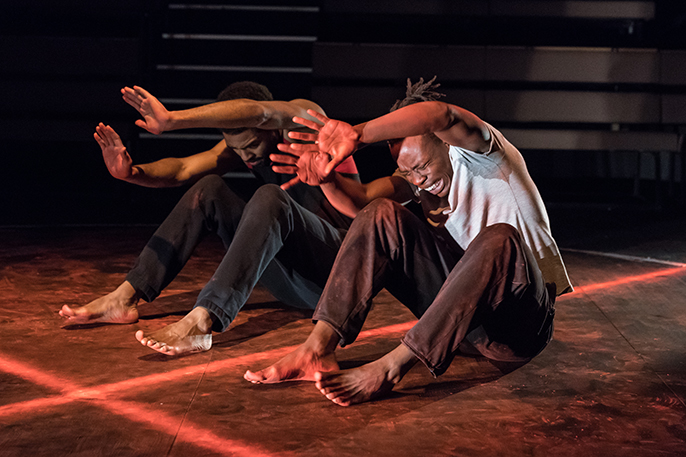 One of the best nights in the theatre I have had for a long time"


Let me start this review by stating, quite unequivocally, that watching THE BROTHERS SIZE was one of the best nights in the theatre I have had for a long time.
See listing for THE BROTHERS SIZE
To create the necessary pre-show atmosphere, multi-instrumentalist Manuel Pinheiro, sitting 'courtside', skillfully utilises live percussion, interactive loop-pedals, acoustic guitar, and programmed 'soundscapes'. This continues as the three male actors enter.
Using chalk and a length of string (for the required tension), one of them draws a wide circle, within which the action is played out. The chalk and string are the only 'props' used throughout the play, as the trio proceed to converse, monologue, sing, lay, stand, strut, prowl, and dance in the bare round.
Set in modern Louisiana, in America's 'Deep South', the play tells the story of Oshoosi Size, a 20-something year old ex-convict out on parole, and his older brother, car mechanic Ogun. Their mother having died when they were young, Ogun has - over the ensuing years - assumed the role of 'his brother's keeper'; it is a role that both defines him, and threatens to consume him.
Oshoosi - staying at Ogun's home - is haunted by dreams of separation; from his mother, his brother, and his recently released former cellmate, Elegba.
At the same time, he has a desperate desire for freedom; to break from the constraints that the penal system, racial targeting, and his own brother have placed upon him.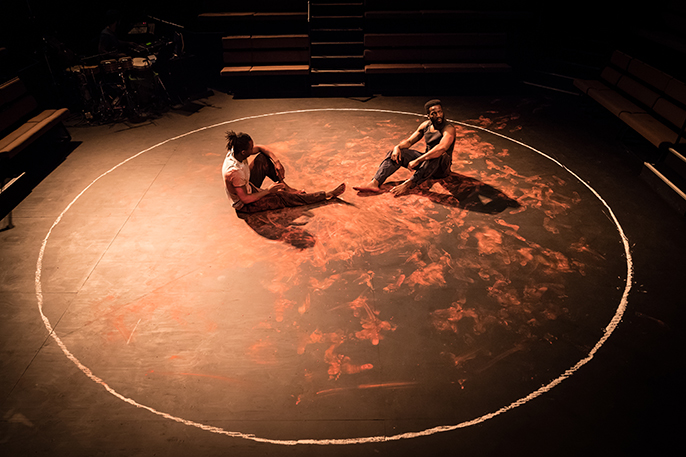 Director Bijan Sheibani, with minimal props has conceptualised and created a wonderful piece of minimal – yet complex – theatre.
The car he requests, from both his real-life and his surrogate brother, is a symbol of both his desire for release, as well as the comfort and dependency he has become accustomed to (and hooked on).
Elegba, meanwhile, is a distant - almost mythic - figure. Using his verbal articulacy and directness, he is here to remind Ogun – and us – of the precarious nature of Oshoosi's fate. In a clearly Mephistophelian role, he vies for Oshoosi's soul (if not his heart).
The actors are uniformly excellent. Jonothan Ajayi's Oshoosi is funny and spontaneous; the implied precociousness of his arrested teenage development constantly threatening to counter his fear and self-loathing – but never quite succeeding.
Anthony Welsh (Elegba), always charismatic, is in enigmatic form here. Whether singing, reminiscing, flirting, or blankly accepting his route back to prison, he is never short of superb.
But it is Sope Dirisu as Ogun who – like the steady lynchpin he portrays - holds things together. In a role that could have been a little 'one-note', he imbues his performance with just the right amount of fragility, humour, distilled rage, and – finally – regretful (yet loving) resignation.
Director Bijan Sheibani, with minimal props, bells and/or whistles, has conceptualised and created a wonderful piece of minimal – yet complex – theatre.
Aline David's Movement Direction is superb, allowing the performers to truly play. The use of movement to highlight, reinforce, and exaggerate the voiced stage directions is often hilarious, but also effective in creating subtle – and much-needed - emotional punctuation.
Again, 'Live Sound' performer/orchestrator Manuel Pinheiro deserves huge plaudits for being part of the 'Fab Four' [no 'Ringo' allusions to be had here – this man's soundscapes and instrumental backings are effortlessly creative, tasteful, resourceful and collaborative].
With more than a passing nod to the 'Black Lives Matter' movement, this play is a moving testament to the power of sibling and familial love, and to all those who grow up 'poor and black' in America.
Subtly critiquing USA's long tradition of de-humanising its African-American citizens, it reminds us of the Theatre's power to connect, through empathy.
It is to writer Tarell Alvin McCraney's credit that his often poetic script refuses to go down certain expected narrative routes. Save for a brief (near) seduction scene, there is little reliance on the familiar 'gay prison romance' set-up.
After the Oscar success gained by the filmed version of his play 'In moonlight black boys look blue', McCraney is showing himself to be a willing and capable explorer of 'the black man's complexity'.
The Brothers Size is a superb play, well-staged, and with great performances. Go see.
As a result, we see varying dramatic shades of dark-skinned men, without reliance on cliché/racist stereotyping (e.g. softness without camp; rage without violence; criminality without evil intent; love without sex; fear without hopelessness). Indeed, if this were a theatrical discussion on a 'broader' section of society – or Shakespeare - we would be expected to use such words as 'universal', or to glory in the 'flawed humanity' of its central characters.
McCraney simply points out what most already know, what many choose to act upon, and what some others choose to ignore:
Black Men are as infinite in their complexity as the stars in the sky, and as rich in their possibilities as the rough diamonds on the ground.
His work, especially here, seeks to remind all 'brothers' that they should not be defined by their exploitation, marginalisation and mistreatment at the hands of others – but instead, seek to be refined.
In this, and other respects, McCraney is an important modern-day playwright, and a worthy successor to August Wilson.
'The Brothers Size' is a superb play, well staged, and with great performances.
Go see.
Info: THE BROTHERS SIZE is at the Young Vic until 14 Feb 2018 / see listing