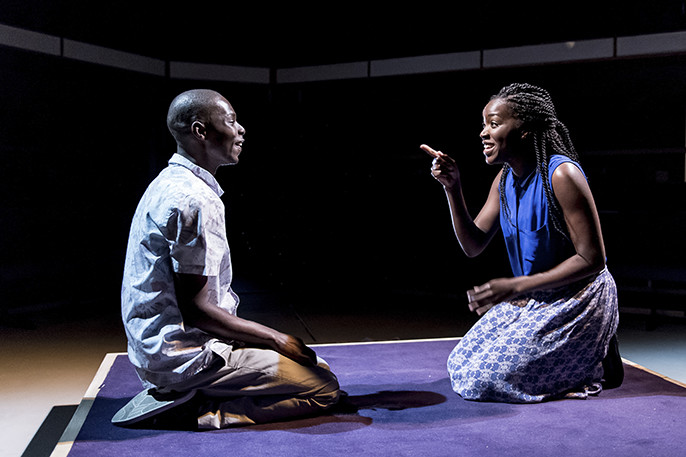 All of the six cast-members are superb



This theatre production makes me want to want to do away with writing a review, other than to say… just go, see it.
The Rolling Stone, set in present-day Uganda is – to all intents – a contemporary 'Crucible', replacing witches with homosexuals (or 'kuchu'). Its title comes from a newspaper circulated in Kampala, Uganda in 2010, in which men and women believed to be gay were 'outed' publically. Several people whose pictures, names, and addresses were printed were killed or persecuted. How's that for stakes?
It starts off with a 4-way acapella reading of "Nearer My God to Thee"; not only is this a simple and effective use of the actors' lovely voices, it also sets the tone for the characters' world.
Almost immediately, we are present at a 'date' between 18-year-old 'Dembe' and 'Samuel', a mixed-heritage doctor from Derry, Ireland. It is a simple nighttime conversation by a riverbank but – as we can already tell – it carries huge significance to both parties.
The conversation is, at once, awkward and free-flowing – just as first dates should be.
However, the stakes for the fledgling couple, are soon made clear when, in the next scene, we are introduced to his older brother 'Joseph', his female twin 'Wummie' and – representing the wider – community - their neighbour, 'Mama' and her daughter, 'Naome'.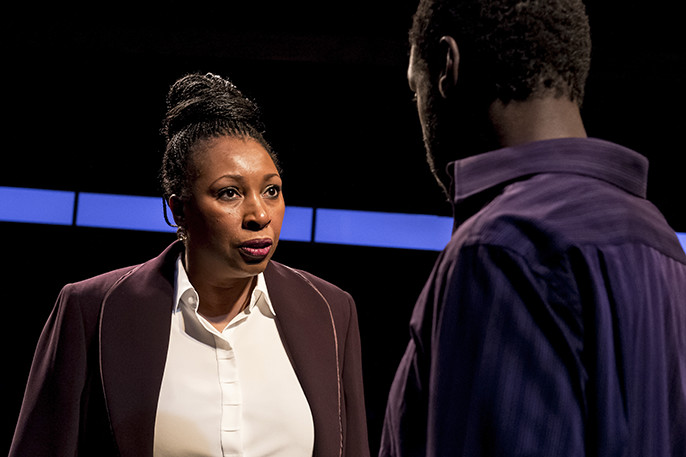 This theatre production makes me want to want to do away with writing a review, other than to say… just go, see it.
Dembe, Joseph, and Wummie ('the family') are in a state of transition. Their lawyer father having just died, Joseph is now the head of the household and is in line to be the new church pastor; meanwhile Dembe and Wummie are hoping to go to college in September. However, as money is tight, the only way to build revenue is by increasing the numbers coming through the church doors; the only way to do this is – not only to be seen to have impeccable 'moral standards' – but by demonizing any who do not reach these same (impossible) heights.
Needless to say, this is fertile ground for gossip and innuendo. In steps Mama, a pious ball of moral and religious rectitude – a cross between The Crucible's Reverend Parris and Hyacinth Bucket. It is she that informs the family of Joe's ascent – with her help - to the position of local church pastor, and she who lets us know of the various homosexual 'outings' – and subsequent persecutions - whilst justifying these atrocities by citing her devotion to 'God'.
As the story unfolds, Samuel and Dembe's relationship develops in the shadow of fear and self-loathing, and we see Dembe having to (almost) split himself in two in order to remain true to his family, and his feelings.
As the other characters tell their stories, we hear revelations and confessions aplenty; that they often surprise us - by arriving in the middle of 'throwaway' conversations - is a testament to Chris Urch's superb storytelling. Wummie's monologue about 'the nature of a woman's love' is a particular highlight, as is (the hitherto mute) Naome's wordless, anguished howl.

Indeed, Joe's 'fire-and-brimstone' sermon-rehearsal - for a prayed-for church congregation – could have turned to parody, but not for some wonderful acting by Sule Rimi.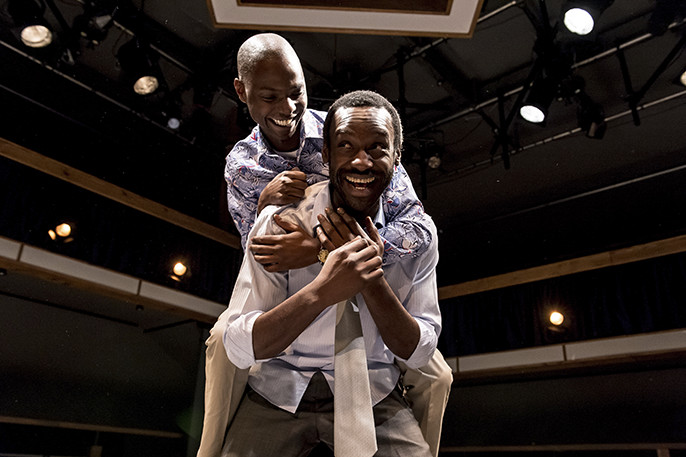 If you can get to see this play, do so – run.



All of the six cast-members are superb, but special mention must go to Fiston Barek for his portrayal of 'Dembe', a young man caught between many different worlds – boy and man, gay and 'straight', European and African, religious and… not (!) – and communicating the balancing act(s) with skill and charisma. Also, Faith Omole, as 'Wummie', gives a nuanced portrayal of a sibling who loves her brother, but who is also fearful for - and of - him.
Plus, she possesses a stunning voice!
Ellen McDougall's direction is superb; the transitions between scenes are seamless, the tempo shifting as-and-when necessary. The in-the-round staging is also unfussy, intimate, and highly effective, and David Norton's subtle sound design works superbly well alongside/underneath the dialogue to enhance the drama.
This production touches on many deep issues.
How much of oneself belongs to the individual, and how much belongs to the family or – indeed - the wider community? How much is the combination of religious/fascistic dogma, alongside harsh economic and political uncertainty, an excuse for relinquishing one's basic human empathy? How long must the casual sidelining of girls and women within many patriarchal cultures continue, and - as said females do whatever they can to retain their sanity, dignity, position, and (self) respect - what are the repercussions?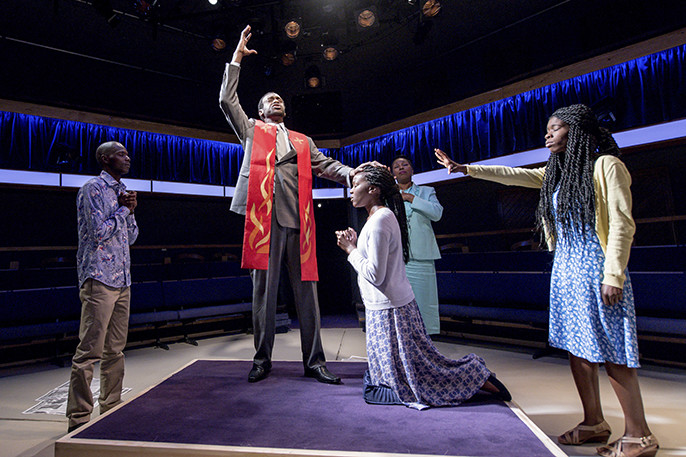 And, finally - is a society that tears individuals and families apart in order to bind a community together, sustainable – or even one to be desired?
In an open-ended finale, it is fitting that 'the family' get to pray together – no matter how fleetingly - for their own answers.
If you can get to see this play, do so – run.
Info: The Rolling Stone is at the Orange Tree Theatre until February 20, 2016 / book tickets
Related links
Get £15 tickets to see The Rolling Stone