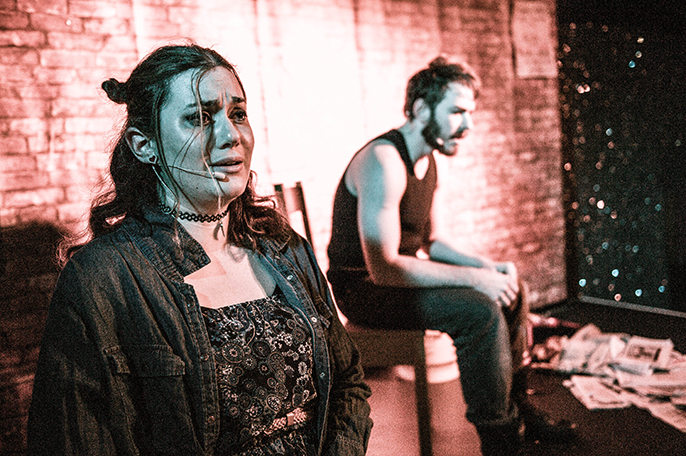 All-in-all, kudos must go to 'TwoBox Productions' for bringing this piece to the stage once again, and for director/choreographer Rachael Blaney, and her creative team for bringing energy, passion, and some fresh ideas to the table – or 'catwalk'
Those who know "Rent, the musical", will be all-too familiar with both the on-stage narrative(s), and the show's colourful, tragic, and (ultimately) celebratory journey into the public's conscious ess.
Based loosely on Giacomo Puccini's 1896 opera 'La Boheme', the late Jonathan Larson's expansive piece focuses on the lives of various would-be artists, dreamers, schemers, contrivers, and (AIDs) survivors in New York's East Village in the 1990s.
That "Rent" is as beloved – and oft-performed – as it is, tells us as much about the intelligence of the writing, as it does about each generation's thirst to see themselves depicted honestly within the realm of (music) theatre.
That it is also probably the last huge original musical about 'modern times', tells us much about the state of contemporary (musical) theatre and its struggle for social and economic relevance.
And so, to this production…
With a cast of 16 performers and five musicians, staging and sound were always going to be major challenges – especially in such a relatively intimate space.
The production deals with the first issue by creating a 'T'-shape stage (resembling a catwalk) - literally putting the musicians to one side - and having the ensemble move around the audience. This approach - needless to say – bore mixed results.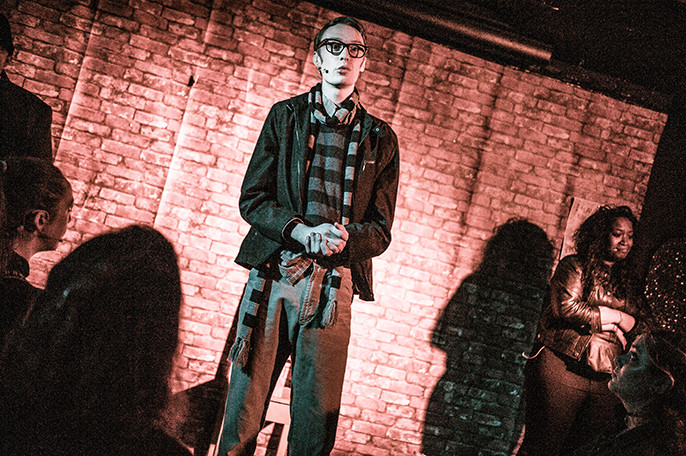 At its best, it worked well, as in show-opener "Last year's Rent", Mimi's solo/auditorium walk-about "Out tonight", and the emotional ​​"Will I" (where the audience is surrounded by the canon-driven 'prayer for the soon-to-be dying').
Duets "Tango Maureen", and "Take me or leave me" also benefit from the catwalk staging, as do more conventional set-pieces such as Maureen's solo performance-piece, "Over the moon" (with added projection), and "I'll cover you (reprise)".
Less well-served is the bohemian call-to-alms that is "La vie boheme". Here, all of the players perform on the outside of the catwalk area, ostensibly converting the stage into a giant banqueting table. Alas, what probably started out as an ingenious solution to a problem created its own issues, and the set-piece appeared to be as uncomfortable for the performers as it was for the audience-members who had their views obscured.
In summary, the need for constant 'head-swiveling' – on the part of most of the audience - meant that, those familiar with the show are obliged to work a little too hard to spot (anticipated) events, while those who do not will invariably miss much. Oh, well – such are the pitfalls of modern theatre.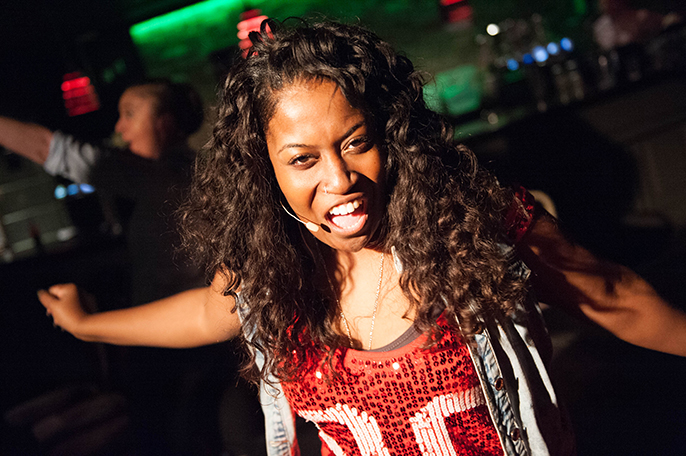 The second of these issues – "the sound" - make this review a little harder to write. First-night 'tech concerns' meant that the headset microphones (worn by all) were often under-volume, or just plain off ! Coupled with this, the band – despite use of a (more controllable) non-acoustic drum-kit - were often too loud.
With such a libretto-heavy piece, this must be as much of a nightmare for the creative team as for audience-members with limited knowledge of the text.
This having been said, the sound did improve during the performance and – I suspect - this should continue throughout the short run.
In terms of the vocal performances I could discern, I was impressed by strong ensemble and lead work by Giorgio Borghes, Mark Wickens, and Ashley Racov.
Anyone who knows the piece will recognise that, without the empathy-factor of, at least one of the romantic relationships, "Rent" is just so much sound and (literary) fury signifying… misery and impending death.
Stirling Worthy's and Derek Aidoo's depictions of 'Angel' and 'Tom Collins' respectively – and, by extension, their relationship - are therefore integral.
Worthy consistently reminds us that Angel's most enduring quality is likability and an almost child-like naivety, while Aidoo's all-round acting and singing chops make for an engaging Tom Collins.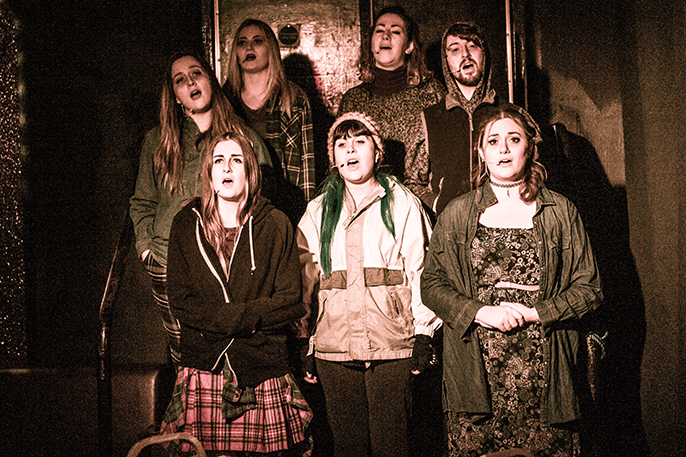 Of the remaining 'lead cast', everyone acquits themselves well (I especially enjoyed Sara Lynam as ​​'Joanne'), and it is a testament to the actors - and their director - that they maintain their focus, delivering performances full of energy and brio, despite whatever technical issues they faced.
All-in-all, kudos must go to 'TwoBox Productions' for bringing this piece to the stage once again, and for director/choreographer Rachael Blaney, and her creative team for bringing energy, passion, and some fresh ideas to the table – or 'catwalk'.
Bearing in mind our distance (in years and miles) from the original "Rent" production, I do look forward to an original, contemporary, London-based musical having similar cross-cultural impact. If the love and care taken in bringing this show to the stage - and the audiences' enthusiastic response to it – are anything to go by, there is great hunger for it, still.
"No day like today", indeed.