One Monkey Don't Stop No Show, Tricycle Theatre
Published:

Sunday, January 20, 2013 8:01 AM

| Review by:

Gillian Fisher

|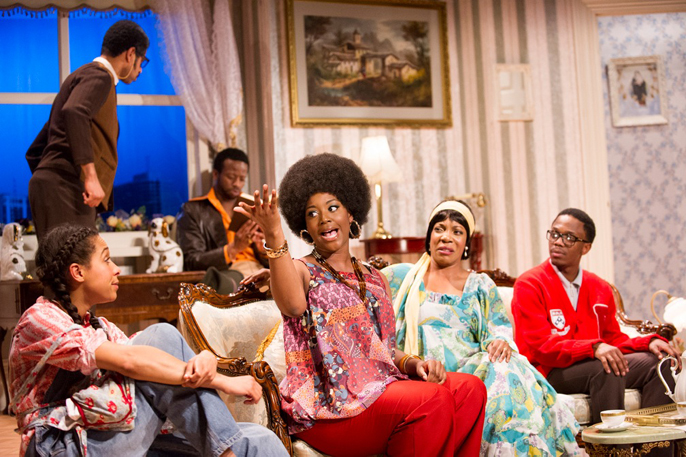 The Harrison's are without a doubt the most respectable black family in Philadelphia. Avery Harrison preaches the word of the Lord while his wife Myra keeps a stylish home and attends her bridge club. Their bespectacled son Junior attends college and is always home in time to walk the poodle. This cosy image of respectability is shaken like a Polaroid picture when their young Southern niece Beverly arrives toting dungarees and a complete lack of 'civilised ideas'. When streetwise club owner Caleb Johnson arrives to fulfil his promise of acting as Beverly's guardian, all manner of repressed longings and deep seated prejudices combust all over the antique chaise lounge. Whilst everyone seems intent on securing approval, is Beverly the only one unafraid to be herself?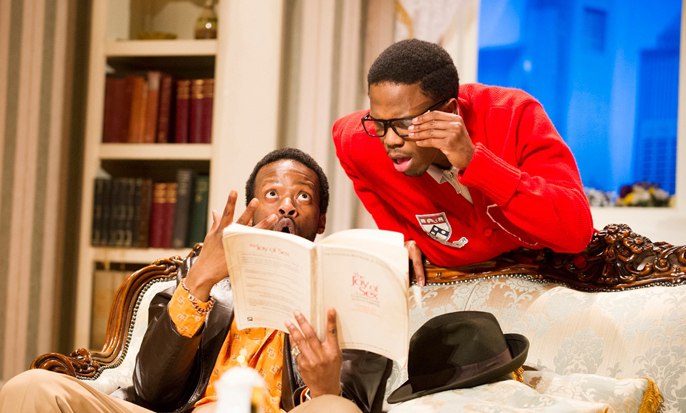 Eclipse Theatre Company's production is a canny and expansive exploration of the social pressures intrinsic to the 1970s African American community. The interplay between the Harrison's bourgeois ideals and Caleb's bohemian lifestyle raises numerous questions about imposed concepts of identity. Add to that hilarious scenes of social awkwardness and a well pawed copy of the Joy of Sex and the results are explosively engaging. Clifford Samuel plays a composed and cocksure Caleb Johnson. His raised eyebrows and quick speech give him a dismissive and inscrutable air which masks the character's need for affection. The female lead Beverly is played by Rebecca Scroggs; ever smiling and asking questions oh so innocently Scroggs portrays a strikingly intuitive country girl. At the age of 20 she is still a slave to her emotions and her tight lipped suitcase slamming and dramatic exits make her a fiery and relatable character.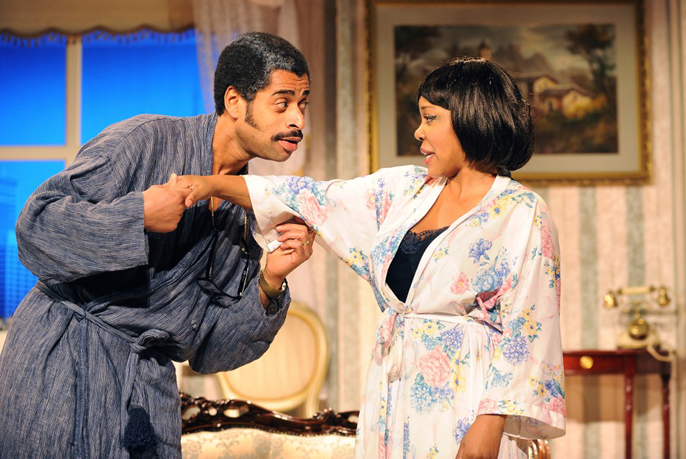 Evans' play centres around contrast. This is particularly explicit in the set designed by Libby Watson. Divided into two sections the stage represents two entirely opposing worlds; the ostentatious silk upholstered lounge of the Harrisons, and Caleb's simple red walled office above the club. The African masks in Caleb's abode are a subtle yet profound statement. Myra played by Jocelyn Jee Esien is incapable of reconciling her heritage with her social position. Her idea of sophistication is completely embedded in whiteness and chastity. Jee Esien is sensational in the role; enunciating her malapropisms with a self satisfied pout and fending off her husband's advances. The character's repressed charisma is wonderfully demonstrated in Jee Esien's bouncily physical performance.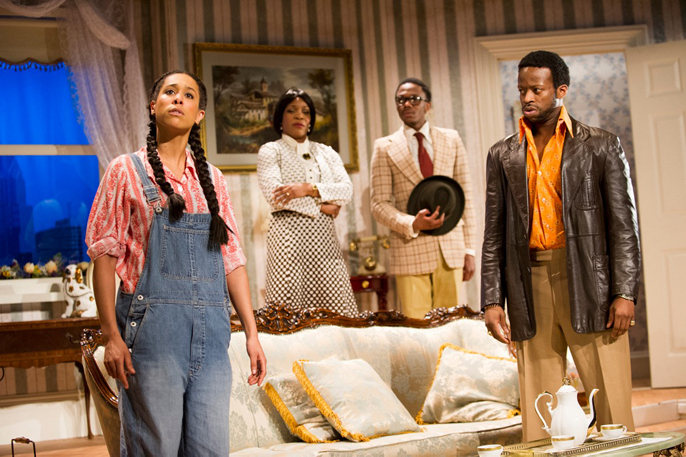 Direction by Dawn Walton is excellent; each character's direct address to the audience in confessionary tones is so self aware but so poignant.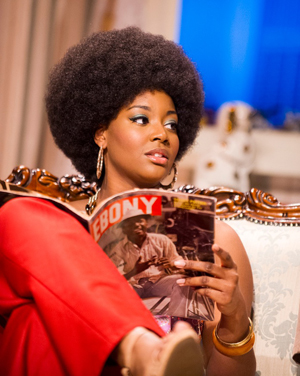 Many elements are at work here. The framing of the play as a sitcom with echoes of programmes such as 'Good Times' resonating strongly during the play's opening scene is shrewdly done. This cleverly addresses the difference between black people being accepted as part of society, and being accepted solely within the sphere of entertainment. Direction by Dawn Walton is excellent; each character's direct address to the audience in confessionary tones is so self aware but so poignant.

Despite being written three decades ago, platform shoes and flared trousers have no effect upon the significance of this piece. The play explores a period where black people were slowly becoming integrated but still being met by glass ceilings which everyone found their own of smashing though. Unfortunately this invariably means each person assumes a role, and hides behind a preconceived idea of they ought to be. This perceptive and outrageous production is no one trick monkey.
---
Related links
Get £10 tickets to see ONE MONKEY DON'T STOP NO SHOW at The Tricycle
One Monkey Don't Stop No Show is on tour until March 16, 2013
Dawn Walton, interview in 2009