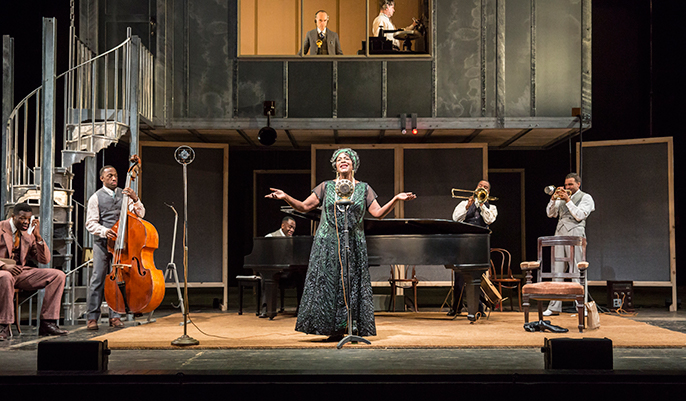 Special mention, though, must go to Sharon D. Clarke who is, at once effortlessly regal, yet burdened by the responsibility of her position as 'Queen of The Blues'.


Ostensibly, this is a tale about a recording session in 1920s Chicago, which the eponymous 'Ma Rainey' is late for. This production, a remake of August Wilson's beautifully written 1984 play, starts with her white manager trying to placate the white studio manager. As her four musicians arrive, they are perfunctorily greeted and ushered downstairs to 'rehearse' in readiness for Ma's hopefully imminent arrival.
The symbolism is clear, and is reinforced by the hydraulic set and the "No Entry" sign leading upwards. As the two white businessmen ascend to the office/control room up on high, the four black musicians are told to fend for themselves in the subterranean basement below. The only common ground between these two areas is the recording studio, where the valuable 'product' is created.
Downstairs in the rehearsal space is where most of the 'action' takes place. Here is where the four musicians tell jokes, swap anecdotes, bark threats, make enemies, solidify friendships, and offer frank admissions. Erudite pianist 'Toledo' brilliantly played by Lucian Msamati, pontificates on many matters, including African history, his definition of 'style' and even offers spelling tips.
Meanwhile, 'Cutler', a comic Clint Dyer, and 'Levee' are at each-others' throats; the former jostling for supremacy within the band, and the latter arrogantly disparaging those within it, while dreaming of a life beyond. 'Slow Drag' played by Giles Terera – much like the double-bass he plays – provides the 'glue'.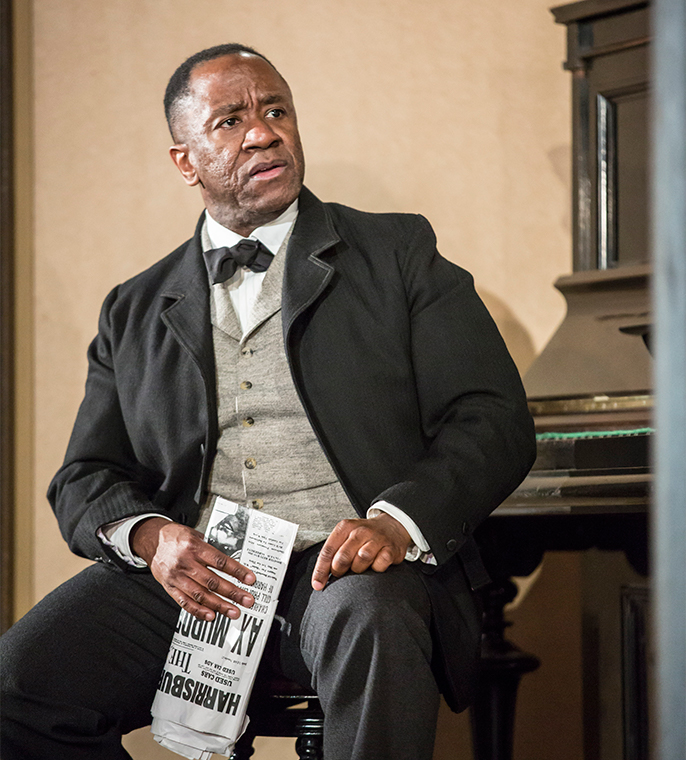 The piece comes together, though, when Ma Rainey (played by the mighty Sharon D. Clarke) arrives for the session with her nephew Sylvester played by Tunji Lucas, and her younger girlfriend Dussie Mae in tow. Despite haranguing a policeman upon arrival, her entrance initially seems understated. However, she soon starts flexing her professional muscles in the company of manager 'Irvin', and studio-head 'Strurdyvant'. One such instance is when she digs her heels in concerning a proposed arrangement of the song, "Black Bottom". Much to the irritation of the two white businessmen – and Levee, who has proposed a more contemporary arrangement - she remains adamant that the song will feature a spoken introduction by her stuttering nephew.
We find out that she isn't being dogmatic just for the sake of it. She understands that, it's only when the white 'elite' consider her to be in possession of something valuable, that they treat her like a human being, and not as a n*****. And so, she makes full use of the only leverage she has. Despite this, there are hints that her posturing obscures her intimidation when travelling north of the 'Dixie line', or while working with the new technology of a recording-studio session, as she constantly threatens to leave to continue touring down south among 'her people'.
Ma wins her argument (as she often does) and - after witnessing Sylvester bulldoze through his spoken introduction - we are finally treated to the song. After a show of strength – in which she demands payment for her nephew, and tries to delay signing the session's release clause – Ma exits with her entourage (including the not-quite-so-pure) Dussie Mae.
Having fulfilled their duties, the musicians are then dispatched back down to the (de) basement, where they are summarily (under) paid. Levee is then double-crossed/out-maneuvered by the 'white man' yet again, after having convinced himself that he had something valuable enough to warrant getting a 'leg-up'. Having found that his dreams were not to be, Levee - instead of directing his ire towards those who have transgressed against him – lashes out against those closest to him, with tragic consequences.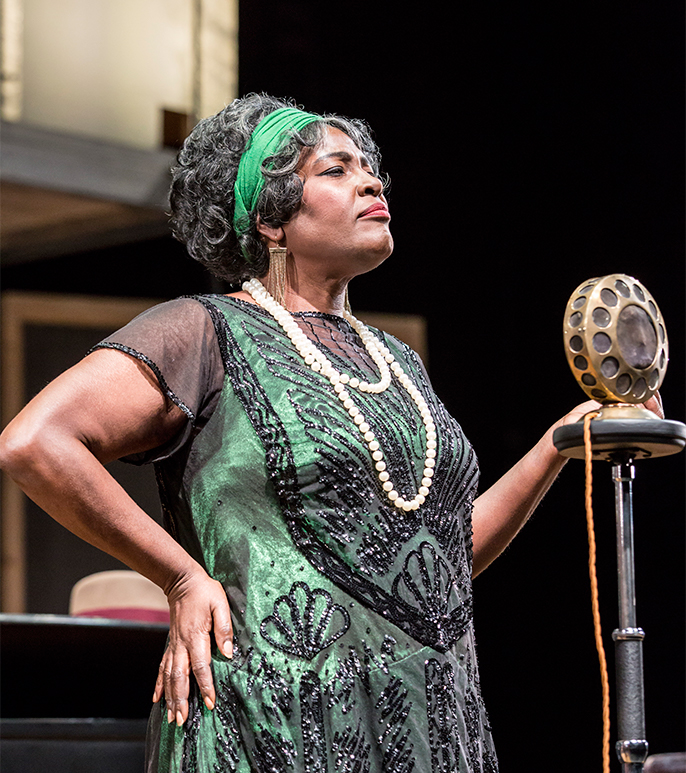 This is a solid, well-acted production.



The denouement is both shockingly violent and – in this production, at least – somewhat 'unearned'. As written, Levee's character facets are wide-ranging (e.g. proud dandy, shameless womaniser, sullen teenager, rage monster), yet O-T Fagbenle's transition seemed a little sudden to me.
Special mention, though, must go to Sharon D. Clarke who is, at once effortlessly regal, yet burdened by the responsibility of her position as 'Queen of The Blues'.
Lucian Msamati never fails to imbue his characters with wit, intelligence, and almost effortless charisma.
The direction by Dominic Cooke is strong and clear, and the music (Tim Sutton) and Sound Design (Paul Arditti) work well together to create the perfect ambience. The aforementioned set – although slightly less claustrophobic than one would imagine - works well to symbolise the 'tiered' system alluded to in the narrative.
Coral Messam's clean and effective movement direction, and Hazel Holder's Dialect work are also worthy of mention.
I alluded to the 'n' word earlier because – in the basement – the musicians use it liberally, and in many different contexts (from 'balm' to 'harm'). Of course, in the time and space where this takes place, the use of language is entirely appropriate, as is the constant talk of the 'white man' being at the root of all evil. This is a solid, well-acted, (oftentimes) politely presented production of, what seems to be, an old 'blues score'.
Related links
Ma Rainey's Black Bottom - £10 & £15 ticket offer – great seats