Radiance: The Passion of Marie Curie – review
Tabard Theatre
Published:

Tuesday, February 10, 2015 1:07 PM

| Review by: Gillian Fisher |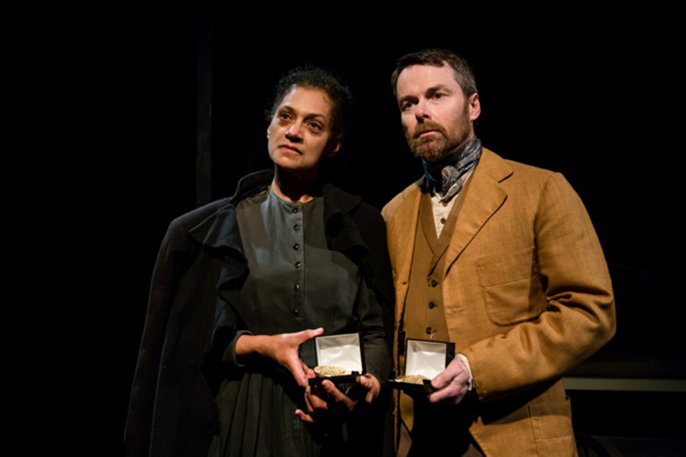 Tyson's depiction of a woman overcome by grief is compelling.


As one of the greatest minds of the twentieth century, Marie Curie has been eulogised for her work on radioactivity. Her contributions to modern medicine have canonised Curie into an almost sacrosanct icon. In Alan Alda's debut play, Radiance: The Passion of Marie Curie, we go beyond the science lab and discover the woman behind the name. Alda's play transports us to Paris in 1903; a hub of intellectual and artistic discovery. In a small maison lit by gas lamps we meet Marie. Played by Cathy Tyson, Marie is friend to her colleagues, mother to her children and dedicated wife to her husband, Pierre. Their joint devotion to knowledge is surpassed only by their passion for each other. Against a backdrop of scientific breakthroughs and media fascination we follow Marie's journey of loss, lust and love.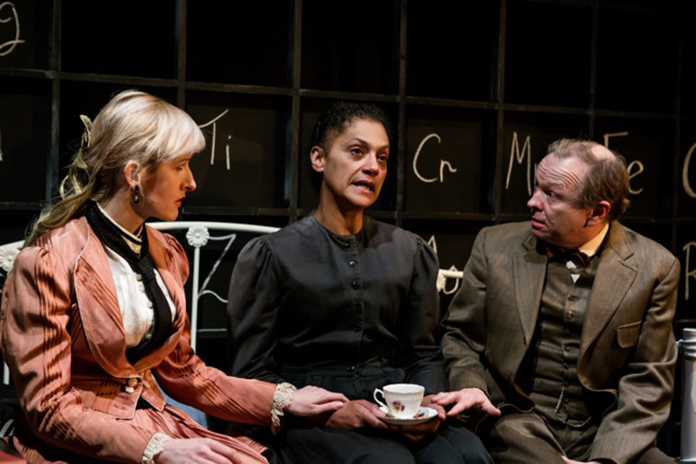 Scientific metaphor and witty rebuffs feature strongly in the script and are delivered skilfully by the cast.
Cathy Tyson leads an ensemble cast in this biographical piece. The intellectual elite of Paris is made up of novelists and scientists debating over Cabernet Sauvignon. The set is simple and effective. Designed by Christopher Hone, a desk strewn with test tubes and walls of blackboard tiles depicting the periodic table set the scholarly scene. Tyson portrays a pragmatic and self-reliant Marie. This strength of character is vital for Madame Curie; being female at the turn of the 20th coming with numerous restrictions. Social conventions meant that the Nobel Prize for discovering polonium was presented solely to Pierre. Despite the research being led by Marie, she meets this with upbeat resignation. Pierre on the other hand is outraged. Clive Moore plays Pierre as an ardent Frenchman. Impulsive and vehement, his work takes utmost priority. The onstage chemistry between the two is arresting and presents a marriage of equal ambition.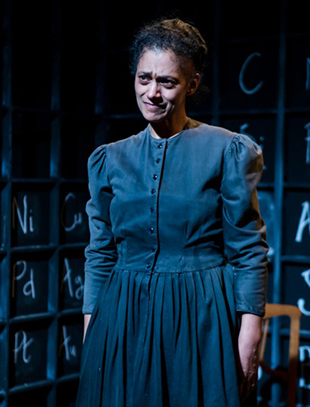 Direction by Mark Giesser is creative and emotive. In the intimate space of the Tabard theatre, swift scene changes and flashbacks are cleverly effected. The play spans a period of eight years during which Marie loses her husband Pierre. Tyson's depiction of a woman overcome by grief is compelling. Joint mourning and a thirst for science bring together Marie and fellow physicist Paul Langevin. Alda's sharp writing shows the pair irresistibly drawn to each other during a conversation about magnetism. Scientific metaphor and witty rebuffs feature strongly in the script and are delivered skilfully by the cast. Langevin is played by James Palmer - idealistic and frustrated, his marriage to a woman unable to share in his love of science is at the root of his unhappiness. Zoë Teverson plays his wife Jeanne, her dismissal of theoretical hypothesis excellently timed for comic effect. She gives a wonderfully threatening performance, the dynamic between herself and Langevin is bristling with anticipation.
This play gives an incredible insight into Marie Curie's personal life as well as the fascinating historical period. Radical freethinking was met with a counter movement towards religious fundamentalism, painting scientists as godless egocentrics. The rise of publishing meant a hitherto unknown lack of privacy for public figures. In particular Marie's relationship with Langevin was splashed all over the papers, terming Marie a 'Polish whore.' With a stunning performance from Tyson, this play explores the way in which Marie's personal life mirrored the famous dichotomy of her professional one. What inspired and drove Marie was the very thing, which led to her undoing - an expansive and enlightening production.
Related links