Boi Boi is Dead! Review
Published:

Monday, February 23, 2015 11:43 AM

| Review by: Gillian Fisher |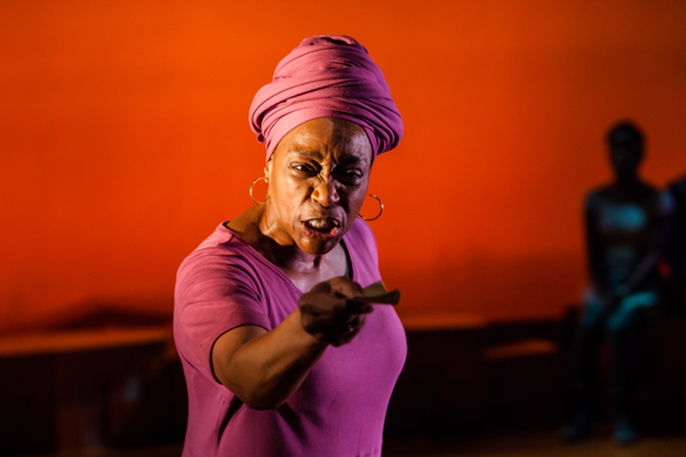 Performances from the cast are incredibly authentic as they each confront their own realities.


Zodwa Nyoni's new play is a powerful portrayal of family dynamics and the longevity of grudges. A disjointed family travels from overseas and distant villages to mourn the passing of maverick trumpeter Boi Boi. This reunion is far from unifying as shared sympathy is quickly overridden by idle gossip and old feuds. Boi Boi's partner of a decade Miriam must shrug off snide comments and being termed his 'mistress.' Though she raised his daughter, Una alongside her own son, Petu and nursed Boi through his sickness, without a marriage certificate she is merely a squatter. As she courteously attends to Boi's visiting brood, tensions rise and ulterior motives are gradually exposed. Add imperious brother in law, Ezra and ex-wife, Stella into the mix and the results are combustive. Secrets are revealed and plots overturned in this observational triumph. Punctuated by Afro Jazz rhythms the piece is energetic and astute. Boi is dead, but what does the future hold for those he has left behind?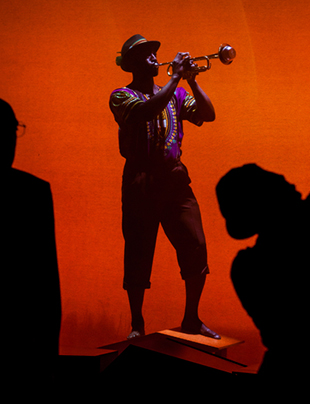 The interplay between the characters in this piece is wonderfully depicted by the ensemble cast. The underlying frictions permeate the play as the story is gradually pieced together. Angela Wynter plays the much put-upon Miriam with fantastic discipline and poise. The strength she shows as she adjusts to widowhood whilst rallying around her unwelcome houseguests is somehow regal. This is starkly opposed to Stella's exaggerated breast beating. The good time girl who can still 'Party like it's 1987'arrives garbed in lacy cocktail dress and throws herself wailing to the floor. The rivalry between the two women is palpable as Stella played by Lynette Clarke brandishes her wedding ring like a medal. Clarke plays the disingenuous hedonist with supreme physicality and comedy, later interactions showing her humanity. Director Lucian Msamati keeps the sense of brooding and veiled hostility at a constant peak. The narrative develops at a steady pace, each conversation giving an insight into the group's shared history. A particularly touching feature of the piece is the conversations Miriam has with Boi Boi. Although deceased the musician is a constant presence in the show and like all cast members is on stage at all times. The dream like sequences where Miriam reaches out to her beloved and reminisces about dancing to his music are compelling.
The issues of loss, love and the scrabbling nature of inheritance are universal, but certain factors are specific to the Zimbabwean setting. The play begins with the cast entering against a radiant orange sunset singing a stirring Mbube verse. Designer Francisco Rodriguez-Weil has created a simple yet stunning set, it comprehensively lends itself to any scenario. The play's locale is perhaps most significant for Ezra; the prodigal son, returning be-suited from England, looking like a corporate high flyer. In fact he works as a postal sorter, but the law of the diaspora awards him gravity. Andrew French plays a pompous and self-important patriarch, past regrets brought to the fore as he mourns his brother.
Zodwa Nyoni's play tells a story which resonates, engrosses and inspires.


The musical interludes make this Tiata Fahodzi production both unique and dynamic. Performances from the cast are incredibly authentic as they each confront their own realities. Joseph Adelakun plays Petu; a young man trying to build a career, but longing to take precedence in his mother's affections. As Boi Boi's daughter, Una dreams of honouring her father and is faced with difficult choices. Debbie Korley is strong and sincere in the role, her final scene is heartrending. Zodwa Nyoni's play tells a story which resonates, engrosses and inspires.
Info: Boi Boi is Dead! is at the West Yorkshire Playhouse until March 7, 2015 | book tickets and Watford Palace Theatre from 18 to 28 March 2015 | book tickets
Related Links
Tiata Fahodzi announces Natalie Ibu as new artistic director
Tiata Fahodzi says farewell to Lucian Msamati and welcomes new artistic director, new home and a new show