Sizwe Banzi is Dead - review
Young Vic
Published:

Wednesday, February 19, 2014 5:41 PM

| Review by:

Uchenna Izundu

|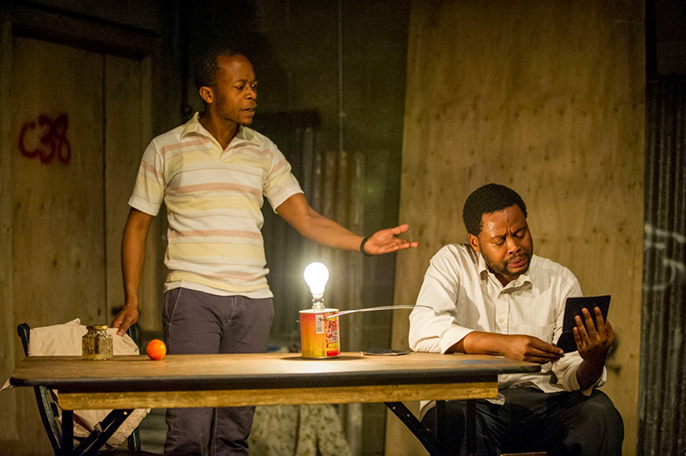 A powerful two hander, collaborators Athol Fugard, John Kani, and Winston Ntshona contrast and intertwine two very different stories of what having a pass book, the document used to regulate the movement of black people in apartheid South Africa, means for a man to have economic freedom.
Although apartheid was abolished in 1991, it is shocking how much of the play's themes still resonate today: little progress on the employment and empowerment front has been made for black people. The pictorial programme notes bulge with disturbing facts: the South African Institute of Race Relations found the median salary for black people in 2011 was 2,380 rand, while white people earned 10,000 rand. Unemployment stands at a massive 36.7%, with 69% of those out of work for more than a year. There is something painfully poignant about these dire circumstances considering former president Nelson Mandela's death in January.
Director Matthew Xia's production, which enjoyed a sell-out run last September in this venue, ensures the audience from the get-go experiences apartheid segregation as we are separated by skin colour to watch – blacks on the one side, whites on another. And in an increasingly mixed race Britain, I couldn't help but wonder for those audience members how much racial identity was a personal declaration or a societal one.
Reminiscent of the terrible living conditions of so many townships in South Africa, it is a sparse set with wooden, bland boxes graffitied by numbers that is the backdrop brought to life by the very talented actors Tonderai Munyevu (Styles/Buntu) and Sibusiso Mamba (Sizwe Banzi). Munyevu is a vibrant and comedic actor who adopts multiple personas to share how Styles left his paying job in a Ford car factory to own his own photography studio in the community, which is infested with militant cockroaches – just so that he could have self-respect as a man and provide for his family.
Styles' language, in relaying how his Ford supervisor called him and his colleagues "monkeys" that were destined only to toil for the white man and build his wealth empire, complete with the throwing of a banana onto the stage, is acutely uncomfortable to digest. But it depicts the very mental fabric of the apartheid society that robbed each successive black generation of educational and political advancement. Smaller stories within Styles' story are so moving; for example, he shows the photo taken of a 48-year-old man who is grinning from ear to ear because he could now apply for a bus boy position after gaining a primary school certificate.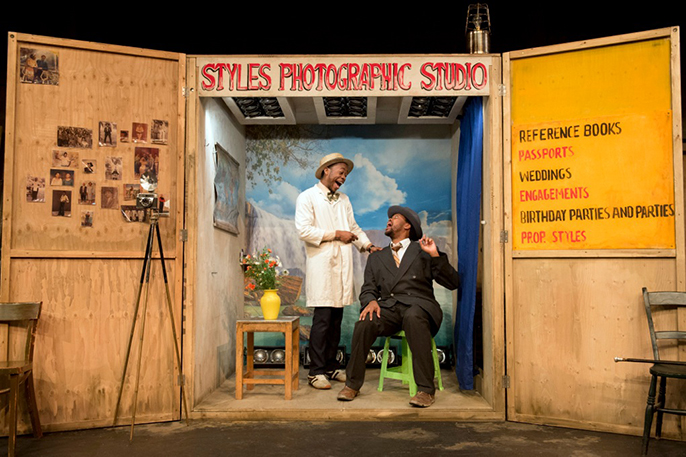 The humour in the first half dissipates with the introduction of Robert Zwelinzima, played by Sibusiso Mamba, who has an air of bumbling gaiety about him as his photograph is taken by Styles so that it can be sent to his wife and children in the village. And the atmosphere dramatically changes when Zwelinzima seems somewhat enthused that Sizwe Banzi is dead. What follows is an absurd moral dilemma as it is revealed that Zwelinzima is truly indeed Banzi: one has died so that the other can live and secure work in Port Elizabeth because of the apartheid system's rules to have a pass book to work. Banzi does not have a valid pass book, indeed, he is on the verge of being deported and is continuously reminded that he is nothing more but a number: "Your number is more important than your name." Whether at work, church, or school, Banzi must have a Native Identity number to make progress and without it, despite his children, despite his relationships, he is nothing.
Stripped down to his underwear, Banzi cries: "I don't want to lose my name! I don't want to live as another man's ghost!" Names in African culture signify the essence of being and the continuation of legacies and when these are wiped out, so too are the souls of those families and/or ethnic groups. The political parallels in the play echo illegal immigrants who often take on indigenous people's identities to gain employment in British society today. Xia and the talented crew at the Young Vic and Eclipse Theatre Company have successfully created talking points around the extent that political and societal systems can drive human beings to obliterate one identity to assume another – all in the name of economic survival.