Pre-judgement Day by Natalie Twum-Barima - review
Published:

Saturday, February 22, 2014 8:51 AM

| Review by:

Lloyd Lewis-Hayter

|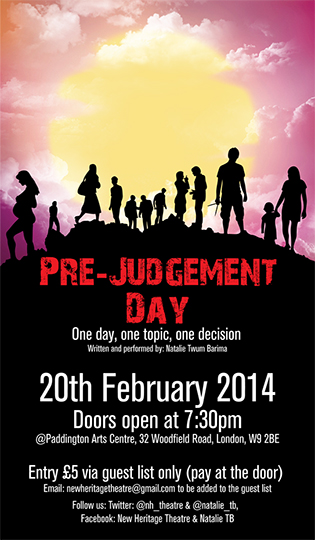 After holding one of their Scratch Nights; a friendly competition to help promote emerging talent in Writing and Acting, up and coming theatre production house New Heritage Theatre chose to work with Natalie Twum–Barima in developing her one woman show Pre-Judgment Day. Having originally graduated with a maths degree, Natalie chose to train as an actress in 2012 and has been writing and performing ever since.
Directed by founder of New Heritage Theatre Daniel Bailey, Pre-Judgment Day is Natalie's debut solo project, written and performed by herself. Motivated by her Christian faith, the play set in the present day, the day before judgment day. Using the format of a radio show as a tool to shape the piece, callers from all walks of life share their views on how they believe they will be judged and their personal stories of regret.
Moving fluidly from character to character, Natalie portrays a variety of roles from a young man in jail for killing his younger brother to an African mother anguished over her racism towards her son's white fiancé. Using only a chair and a few simple props, Natalie's raw talent shines through with natural comedic timing, and the ability to move between characters of different sexes, ages and nationalities with great ease ending with a thought provoking spoken word piece.
While the character and voice of the radio show host could be stronger, the format works brilliantly in showcasing Natalie's talents in both writing and acting. New Heritage Theatre 'aspire to produce and create ground-breaking work with new artists and practitioners, whilst offering a platform to showcase the vision of a new generation', and working with the likes of Natalie they are definitely on the right track.
With plans to create a YouTube channel called A Bit of Banter starring characters from the play, NatalieTwum-Barima is one to watch. For the chance to develop your own piece with New Heritage Theatre, follow the company on twitter @NH_Theatre for updates on their next Scratch Night and future productions.
Info: Pre-Judgement Day was performed on Thursday, February 20th 2014 at the Paddington Arts Centre