Fame the Musical – review
New Wimbledon Theatre
Published:

Tuesday, February 25, 2014 10:53 PM

| Review by:

Lloyd Lewis-Hayter

|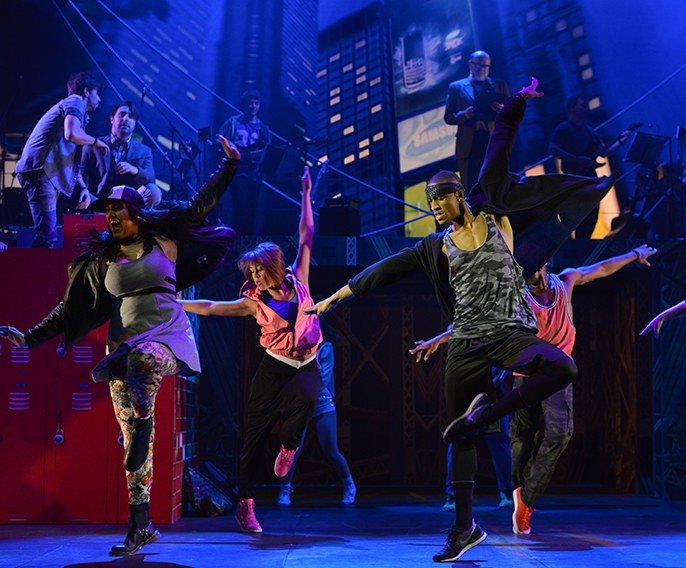 Bringing one of the biggest and most loved landmarks of 80s popular culture in to the 21st century isn't an easy job to take on, but that's exactly what Gary Lloyd, director and choreographer of the latest production of Fame The Musical has decided to do. Going on the fact that the quest for fame has become more of an obsession than ever before thanks to the likes of The X Factor, Big Brother and The Only Way Is Essex, Lloyd has attempted to reflect this in other aspects of the show.
Inserting tablets, laptops and iPhone props as well as references to Rihanna and twerking, this is supposedly 'A Fame for a new generation', and while it is impossible to completely cut away from the cheesy American script, the updated costumes and set do help slightly in making the characters and stories more relatable.
Whilst the plot and script don't offer any new thought provoking themes or dialogue, it is as it always has been with productions of Fame; the performers themselves are the stars of the show. Using the production almost as a showcase, the hugely talented cast wins over the audience one by one as they belt out big solo pieces.
Alex Thomas is the stand out performer, cast perfectly as the aspiring choreographer Tyrone Jackson struggling to complete his dance training due to his illiteracy, at times it feels like the whole production has been built around the brilliantly sharp and watchable dancer. Jodie Steele as Carmen Diaz and Landi Oshinowo as Miss Sherman also manage to silence the audience with their outstanding solos, just as Molly Stewart does with her loveably comedic performance as Mabel Washington.
As creator of the original film and musical David De Silva says of the show, 'it makes stars: it doesn't need stars to make it happen.' And this is as true as it has ever been in this production packed full of 21st century talent.
Info: Fame the Musical is at the New Wimbledon Theatre until March 1st and then tours the UK until June 28th.