Blaze – review
Peacock Theatre
Published:

Friday, February 21, 2014 8:01 AM

| Review by:

Lloyd Lewis-Hayter

|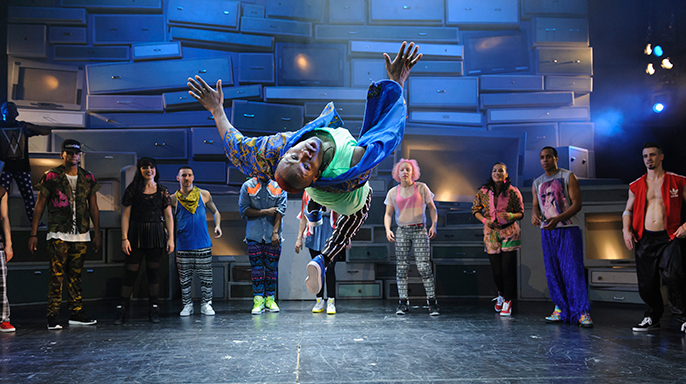 Having toured around the world after premiering in 2010, Blaze is back where it began at The Peacock Theatre. In 2010 Diversity had just won Britain's Got Talent, street dance seemed to be everywhere and apart from Into The Hoods, Blaze was the only street dance production of its scale in London. All this saw the show living up to its name, literary blazing through its run at The Peacock and then around the world through Australia, Bangkok and Berlin gaining five star reviews along the way.
Four years however is a long time in the world of hip hop dance theatre - alot has changed, but Blaze hasn't. Blaze is still very much in 2010.
Bringing together some of the biggest names in theatre such as director Antony van Laast, with some of the best stars of hip hop dance theatre such as Ivan Blackstock should work brilliantly. Instead the show struggles to impress, with just the soundtrack alone transporting us back to 2010 and the jumble of garish costumes making it hard to focus on the dancing.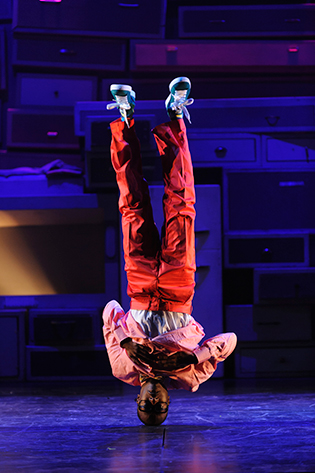 Made up of vignettes performed by 15 dancers from around the world, the show relies heavily on slapstick humor. Dancers appear on stage in tiny boxers, characters comically appear from various doors and then there's the atomic food dance. Delighting all children in the audience, everyone is asked to stand up to learn and perform the atomic food dance. A dance about food presented by an overly cheerful Cbeebies-esque Tony Mills while images of broccoli and potatoes are projected on to the set feels like something pulled straight from a children's TV channel.
Designed by the world renowned, award winning Es Devlin, the set is also rather childish. Compared to her past spectacles created for the likes of Kanye West and Lady Gaga, this simple set of piled up cupboard, drawers and fridges bares no surprises or inspiring detail.
There are of course 15 brilliantly talented and credible dancers caught up in this outdated blaze, making it all the more frustrating. Our British stars Ivan Blackstock, Kloe Dean, Sunni Brummit and Kendra J Horsburgh who also choreographed parts of the show receive great response from the audience performing on their home turf with clear comfort and confidence.
The production is a great one to keep children engaged in theatre and dance, but with shows such as Boy Blue Entertainment's The Five & the Prophecy of Prana, more recently Jonzi D's Lyrikal Fearta raising the bar and the international festival of hip hop dance theatre that is Breakin' Convention turning ten last year, hip hop dance theatre has grown up, and so has its audience.
Info: Blaze is at the Peacock Theatre until March 8, 2014 | Book tickets