A Taste of Honey, National Theatre - review
Published:

Saturday, February 21, 2014 8:30 AM

| Review by:

Gillian Fisher

|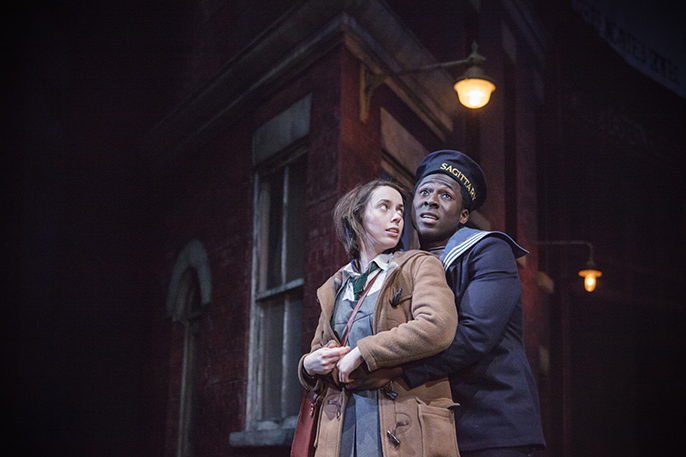 In a tumbledown flat with a lovely view of the Salford gasworks, Helen and her daughter Jo set about building a new life. But when opportunity comes a-knocking for Helen wearing a tweed three piece, Jo is left to fend for herself. Sailor Jimmie played by Eric Kofi Abrefa offers an alternative, but the warmth of her sailor's kisses soon fade leaving the cold reality of morning sickness. Shelagh Delaney's debut play is a powerful observation of womanhood in post-war industrial Britain. The constant banter between mother and daughter reveals so much but is presented with incredible colloquial humour. It is this subtlety of profound expression that is Delaney's triumph and that is so masterfully directed by Bijan Sheibani. When Helen offers Jo a belated shoulder to lean on, will Jo choose to stand alone?
With lashings of physical comedy and acerbic delivery of lines A Taste of Honey is a completely engrossing production.
Lesley Sharp embodies the late 50s era as a wannabe pin up girl. With immaculate hair and waist cinching outfits she is undeniably glamorous. She is also in need of an audience; her exaggerated posturing and wiggles express a woman desperate to be admired. Jo on the other hand is content in grey knee socks and house dresses. Kate O'Flynn's portrayal is aggressive, defensive and wonderfully spontaneous. Every comment is a snippy declaration, from a girl who's always had to shout to be heard. The dynamic the pair of actresses present is fantastically charged. Two women, close in age and each vying for the other's attention. Or competing viciously for other people's. The pair demonstrate great contrast and striking similarity; one can't help but consider Philip Larkin's most famous of verses. There is such resignation to their fate and yet a sense of optimism shining through their bickering.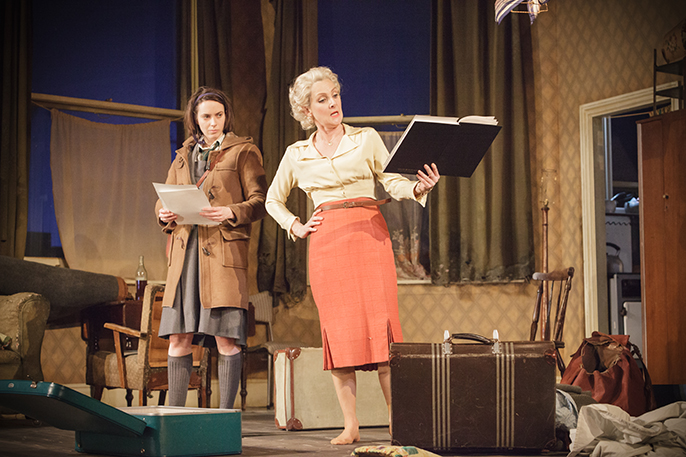 The play has an acute sense of location. Salford in 1958. This shows itself not only in the greyness of the set or the character's accents but in the overall outlook. Whilst avoiding the "grim up north" stereotype, as a native Londoner who spent four years in Lancashire, the difference a couple of hundred miles makes is undeniable. The world Helen and Jo inhabit is one which bristles with community and a desire to break free. Whilst everybody knows each other's business, there is also concern and gifts for the baby. A far cry from a world in which a smile from a stranger means they're about to mug you.

Jo's condition being gossiped about over washing lines is also symptomatic of the era. Pregnant and unmarried; a shameful prospect. Beyond jobs as bar maids or shop girls there is little opportunity open to Jo or to Helen and so both seek security from a male counterpart. For Helen this is cash splashing wideboy Peter played by Dean Lennox Kelly and for Jo it is art student Geoff played by Harry Hepple. Earnest, kind hearted and obviously channelling Morrissey (nod to designer Hildegard Bechtler) Geoff is the voice of reason who shows Jo how alike she and her mother really are.
With lashings of physical comedy and acerbic delivery of lines this is a completely engrossing production. Little touches such as heralding each new act with a 50s dance number is particularly playful. One of the first kitchen sink dramas which outside of its academic significance is still so vitally observational, so thoroughly real. A splendid production about women, about mothers and daughters, about ambition and of course, about love.
Info: A Taste of Honey is at the National Theatre until May 11, 2014 | Book tickets