Liam O'Connor album launch, Ronnie Scott's
Published:

Tuesday, March 5, 2013 2:05 PM

| Review by:

Gillian Fisher

|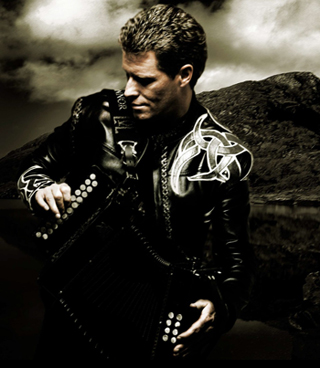 There is something about sitting in a jazz club, which makes me want to don a fedora and start addressing everyone as 'Daddy-o.' With portraits of jazz legends adorning the walls, muted table lamps and red velvet pews Ronnie Scott's embodies the chilled-out nocturnal spirit of classic jazz. Suffice it to say the accordion is not an instrument I immediately associate with this London venue.

Nonetheless, when Liam O'Connor strode onto the sunken stage he owned every inch of the floor, performing with skill and serious pizzazz. Hailed as the Jimi Hendrix of the accordion, O'Connor played a selection of tracks from his new album Tico Mystico; an innovative combination of Irish folk, jazz, blues and Latin swing. Demonstrating incredible versatility the numbers ranged from jauntily up-tempo to lilting staccato with the accordion's reedy bellow backed up by a five piece jazz band.
Having been performing since the age of four O'Connor is a seasoned showman and spun around the stage wielding his instrument like a musical sabre. Hell bent on entertaining his audience the musician dropped to his knees and invited patrons down to the floor for a sing along to Bob Marley's No Woman, No Cry. Reggae, samba and jazz are all infused with lyrical Irish rhythms and it's this Gaelic tradition which underpins O'Connor's strikingly original sound. Staying true to his family band roots the session included contributions from O'Connor's three children which was a fantastic touch. His 13 year old daughter Saoirse played the concertina as her brothers Oisin and Killian (12 and 8) provided the percussion with the drums and bodhran. Musical ability is obviously firmly embedded in the O'Connor genes.
Hailed as the Jimi Hendrix of the accordion, Liam O'Connor played a selection of tracks from his new album Tico Mystico
Listed in the Guinness Book of Records as having 'the fastest fingers in the world' O'Connor played the classic Brazilian track Tico Tico Tock which earned him his title in 2008. As the bouncy timbre of the accordion filled the room I found myself clapping along and harbouring a new found appreciation for an instrument I'd previously associated with cornetto adverts. O'Connor has created a new sound that brings Celtic, Latin and American music together in a toe tapping and unique modern rhythm.
Info: Liam O'Connor's album Tico Mystico is out now. To find out more about Liam O'Connor's music and dates for his upcoming London tour please visit www.liamoconnormusic.com