L'elisir d'amore (The Elixir of Love), King's Head Theatre
Published:

Tuesday, March 5, 2013 2:25 PM

| Review by:

Gillian Fisher

|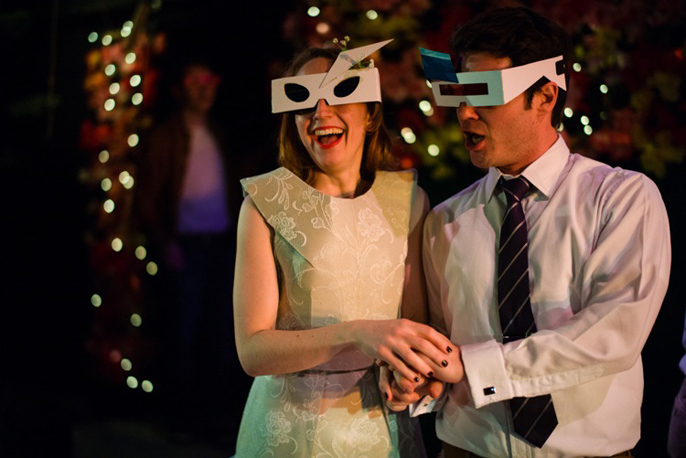 In the golden age of Hollywood glamour Adina is the screen siren whose allure has captivated pool-boy Nemorino. The starlet's aloof disregard for the domestic leads Nemorino to seek help of a magical nature. Cosmetic magician Dulcamara promises to make dreams come true but in the era of superficial glitz will his conjured concoctions prove to be anything more than fizz?
Opera Up Close has been redefining the operatic genre since 2009 and this production is a shining example of the company's ingenuity. Based upon Donizetti's eighteenth century work, director Valentina Ceschi's adaptation set in 1950s California is a retro rollick of an opera. The glamour of frilled halternecks and decadence of mid morning cocktails fit so wonderfully with the narrative's farcical elements. The cast play up to the comedy superbly, with plenty of elaborate gesturing and flourishes supporting their exceptional vocals.
Una Reynolds plays screen goddess Adina, her resonant arias beautifully extending the action as she fires water pistols and adopts pin up poses. The contemporary libretto written by Thomas Eccleshare includes plenty of pop culture references and playful takes on the Tristan and Isolde legend. In particular, Dulcamara as the carpet-bag beautician pedalling cosmetic wizardry is a fantastic innovation. Alistair Sutherland sings baritone skilfully while his darting eyes and cheeky appeals to the audience render him a loveable fraudster.
L'elisir d'amore is kitsch, intelligent and brilliant fun.


Alex Vearey-Roberts plays our hero Nemorino whose volatile nature is glibly emulated by his impressive vocal range. The hopeful ecstasy on the pool-boy's face as he gazes expectantly at the love potion is truly stirring. This production abounds with creativity and effective little details such as an ingenious optical surprise in the second act. The set designed by Kate Lane manages to incorporate a flower strewn lawn and a swimming pool with gently rippling waves. The three piece orchestra nestle snugly beneath a palm tree; the tinkling piano, soulful saxophone and bass of the viola spectacularly narrating the unfolding events.
L'elisir d'amore is kitsch, intelligent and brilliant fun. The Hollywood schmaltz and clever toying with the benefits of beer goggles make for great entertainment. The updated English libretto makes the genre thoroughly accessible, whilst the supremely talented cast capture the sentient beauty of opera - an intoxicating production.
Info: L'elisir d'amore is showing at the King's Head Theatre until March 16, 2013.