Fences, Richmond Theatre
Published:

Wednesday, March 6, 2013 12:24 PM

| Review by:

Lindsay Johns

|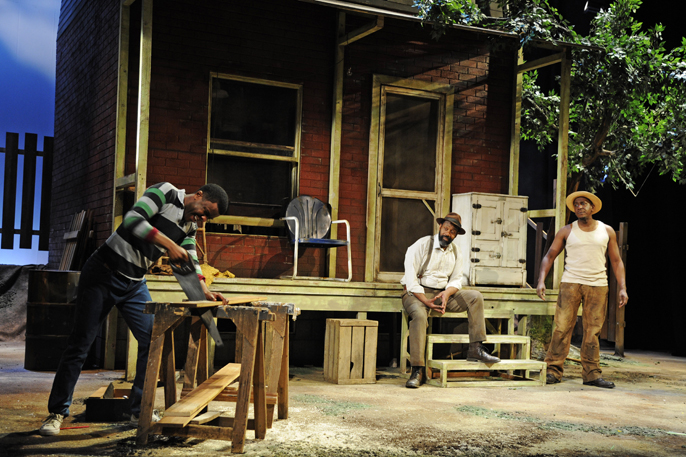 August Wilson's much lauded, Pulitzer Prize winning play, written in 1983 as part of his ten play Pittsburgh cycle, is a colossal, life-changing and viscerally emotional piece of theatre. Fully deserving of the acclaim which has already been lavished on the play in the US, this production of Fences is right up there with Jerusalem as the best thing I've seen in the last decade of theatre-going.

Lenny Henry – in a conscious (and very smart) move away from comedy which hints at a strong desire to be appreciated a serious thespian - is utterly compelling, if not magisterial as the increasingly malevolent and selfish Troy Maxson, a failed baseball player turned garbage collector, who actively stymies his son's sporting ambitions so as to perversely make up for his own failures and under-achievement in life.
To attempt to crudely pigeonhole Fences as a black American Death of A Salesman (as is often done) is to deny this play its rightful place in the American theatrical canon on its own merits.
Set in 1957, Fences is essentially about fathers and sons, the pain of frangible dreams, thwarted ambition, self-loathing and the way we embellish the truth for our own ends. In it, Wilson trenchantly skewers not only the sanctity of the family idyll, but also the very notion of the American dream itself, complete with white picket fence, two-up, two-down house and well-kept front porch (all superbly rendered in a fantastic set design).
Yet Wilson is never one-dimensional or predictable. His failed anti-hero, a man who ostensibly "could have been a contender" in the baseball leagues, had it not been for the colour bar at the time, is an enigmatic, protean figure. Yet maybe, as the play subsequently reveals, it was actually due to the fact that he was in prison serving time for murder, and thus emerged too old to play professionally, that he was unable to fulfil his potential. The truth has many faces.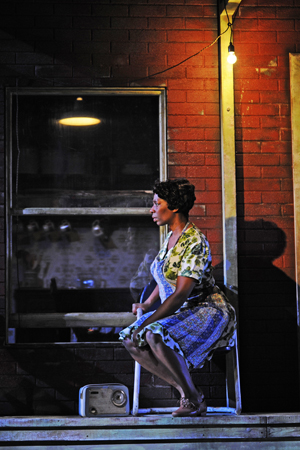 To attempt to crudely pigeonhole Fences as a black American Death of A Salesman (as is often done) is to deny this play its rightful place in the American theatrical canon on its own merits. Troy Maxson is no Willy Loman, but he does not need to be. Reminded of the immortal line from Langston Hughes' famous poem A Raisin In The Sun, "What happens to a dream deferred?", the Oedipal overtones are omnipresent in the powerful clashes between father and son.
Wilson offers a plethora of incredibly profound and moving insights into human psychology, be it about the graphic, searing pain of marital infidelity, the plight of feckless men fathering kids out of wedlock, a wife's stoical acceptance of a husband's misdemeanours or the tension of inter-generational conflict, yet is never hectoring or consciously didactic. As is the way with great writing, as much is left unsaid as is said.


Both Colin McFarlane as Troy's best friend Bono and Terence Maynard as Gabe, his brain-damaged brother (whose army pension money Troy has duplicitously used to buy his house) are superb foils for Henry's dark, prepossessing protagonist. Tanya Moodie as Troy's long-suffering wife Rose is also excellent in a very demanding role.
The crippling emotional confines – the eponymous fences of the title – within which Troy seeks to operate, imprisoning and thus duly losing those closest to him – are savagely yet beautifully depicted throughout.
With its litany of baseball metaphors, ebonics-tinged badinage and an intensely moving denouement, Fences is an outstanding piece of art. Paulette Randall's production is deft, taught and never self-indulgent or overly sentimental, yet full of warm humanity and a joyful undercutting of stereotypes.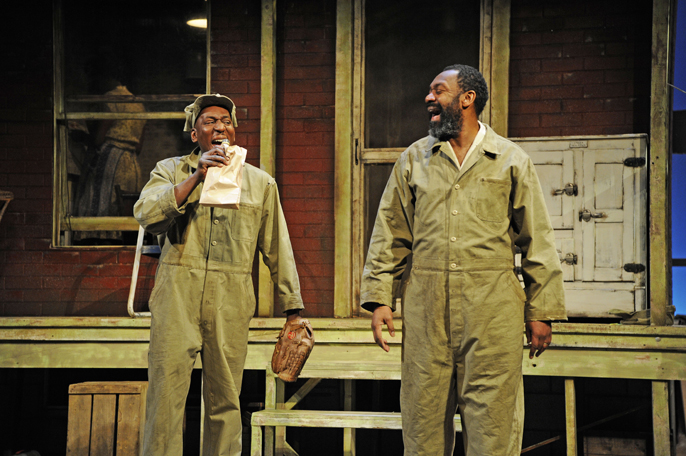 Many critics refer to this play as being about family life in black America. I disagree. This is incidentally black drama, incidentally set in black America. Fences is, quite simply, wholly universal, great human drama.
The Mayor of London can safely abolish Black History Month. He just needs to make Fences compulsory viewing for all instead. I'll wager that we can learn more about what it means to be a decent black man and woman (and moreover just a decent man and woman, period) from this play than from all the "right-on", achingly-pc lectures on Mary Seacole and Martin Luther King put together.
Related Links