Feast, Young Vic
Published:

Monday, February 4, 2013 11:24 AM

| Review by:

Uchenna Izundu

|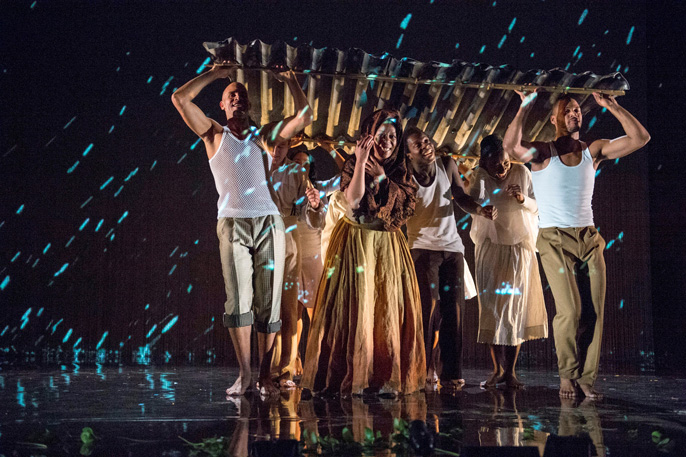 Exhilaratingly weird describes Feast, the vibrant and adventurous concoction of what the Yoruba influence, one of the largest ethnic and religious groups in Nigeria, looks like in the diaspora of Cuba, Brazil, US, and London. It is an ethereal cocktail that has brought together writers from these countries examining the tentacles of Santeria, the Yoruba belief system that survived the Atlantic slave trade – particularly in Brazil and Cuba where it was interspliced with Catholicism to preserve its authenticity.

This performance piece is part of the London 2012 "World Stages" season showcasing the diversity of cosmopolitan London. Using sliding panels, theatrical wizardry, and fabulous lighting, it opens with the trickster Yoruba deity Esu appearing as different forms in a bright red suit to school the audience in the Yoruba belief system. Sashaying with baskets on their heads to a family dinner, three sisters, Oshun, Oya, and Yemaya are at a crossroads, and when they refuse to give a hungry old man an offering, they find themselves divided and catapulted through a kaleidoscope spanning over 200 years from Nigeria in the 1700s through to Brazil, Cuba, the US, and London in 2013 only to end up at grand family feasts in each of these locations showing the continuity of Yoruba culture in the modern day.

The design and lighting by Katrina Lindsay and Paule Constable are stunning in bringing this disjointed narrative to life. Using a palette of burnt browns and dusty reds, the staging is evocative of rural Nigeria and a silver string curtain intersperses multimedia images, such as the records of slaves and the photos of campaigners during the civil rights during the 1960s. It is beautiful and moving.

Yorubas believe that there is power in the names given to their children as it shapes their destiny, meaning that each sister encapsulates the spirit of the deity that she is named after. Yemaja (played nobly by Noma Dumezweni), the deity of motherhood and childbearing, is an elderly slave woman who cannot accept the notion of being free when her slave master, whom she used to suckle, tells her to leave his plantation. Oya (played powerfully by Michelle Asante) spearheads change and campaigns during the civil rights era during the 1960s in the US by refusing to leave a restaurant until she is served.
Rufus Norris, has effectively threaded together fleeting impressions of the Yoruba footprint across the diaspora in a mystical production that leaves the audience with something to talk about.
Although the play's themes of exploitation and survival are heavy to grapple with, the dialogue is witty and sparkling: when challenged by her peers about her relationship with her white coach, Oya, a promising athlete in London, subverts the meaning of BBM from BlackBerry Messenger to Black Brothers Missing when she questions why so many black British homes do not see fathers involved in their children's lives. It is one of the more disturbing scenes underscored by a menacing live beat box as Oya is reminded: "When you're flying, you're British – when you're falling, you become that athlete from a Commonwealth country." Poetry and dialogue merge successfully when Oshun (Naana Agyei-Ampadu) slides into rap debating African American identity politics at a family feast in the US.

However, the story is difficult to follow because it is not clear after the sisters are divided at the cross roads whether it is them or their ancestors throughout the rest of the play. And neither is it that obvious what the Yoruba influence is in each era, especially Oya's scene as an athlete. And it is completely confusing and mind boggling when the three pregnant women command their shared lover to dance, which Ira Mandela Siobhan does effortlessly jumping from the ground to the table in a cascading samba style. One is left wondering: where the hell did that come from? I don't get it. Neither is the writing soft and subtle as the story veers from one continent to another, one mindset to another, one character to another.

But multi award winner director Rufus Norris, who was partially raised in Nigeria, has effectively threaded together these fleeting impressions of the Yoruba footprint across the diaspora in a mystical, diaphanous production that leaves the audience with something to talk about when they exit.
---
Related links
Feast is at the Young Vic until March 2
Win a pair of tickets to see Feast at the Young Vic