Umoja, Peacock Theatre
Published:

Friday, February 3, 2012 7:01

| Review by:

Gillian Fisher

|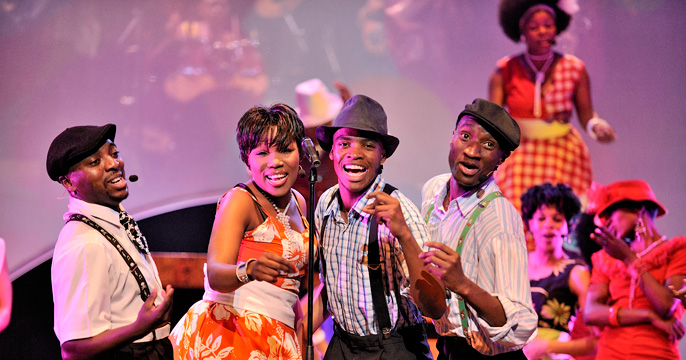 In the beginning there were the drums. Beating loud and with a rhythm that echoes the heartbeat of South Africa. As bare feet stomp the ground and hips jerk like stretched elastic we begin our journey through the evolution of South Africa's music, and the songs that even in the darkest times of apartheid and prejudice brought joy and strength to those who needed it most.

An incredible production, alive with colour, movement, and sheer spirit. As our benevolent greying narrator guides us from his village to the bustling cities we see the music change along with the landscape. Starting with tribal drums we watch the female performers in traditional Zulu dress of grass skirts and beaded bandeaus and the men garbed as warriors in loincloths and shin covers wielding shields and staffs ready for battle. The vision is powerful and throbbing with intensity as we watch ceremonial performances of the Venda Snake Dance. Using only their voices the depth and resonance of the harmony produced is astounding, usually only achieved only with a powerful synthesiser and a skilled technician.

As we move away from the villages into the 1950s cities we see white instruments mixed with black voices, cotton wraps replaced by braces and brogues as we enter the illicit shebeens where people came to drink, sing and of course dance. Lindy hop combines with traditional movements as the performers boogie to the sound of the UMOJA five piece band. Moving on, booziness turns to holiness as there is a Gospel explosion in South Africa, the performers lift up their voices in deeply moving renditions of 'Amazing Grace' and 'Happy Day'. The familiar bump and grind of modern R & B comes into play and the booties really start to shake when we move into the club scene of present day.

The development and diversity of music is phenomenal and all specific to this part of the world. As we watch the girls dressed as cheerleaders clanking their coke cans or the men drumming plastic bins we hear the sound of South Africa and the rhythm of daily life. It's there in the tinkle of the lightning speed marimba player and in the wet slap of skin against rubber during the gumboot dancing. Hugely individual and heartfelt, all of these talented performers are from the land they are singing about, and the passion they feel for it shows with every high kick.

After 12 years of touring, Todd Twala and Thembi Nyandeni's production has not lost any of its originality, energy or creativity. This show is simply stunning, not only a fascinating view into the richness of South African culture but also a breathtaking spectacle. UMOJA certainly lives up to its name, 'spirit of togetherness' and I challenge anyone to not feel united with the masses in their appreciation of this magnificent production.
---
Related links
Umoja is at the Peacock Theatre until February 19, 2012
Afridiziak Theatre News interview with Todd Twala