The Pitchfork Disney, Arcola Theatre
Published:

Tuesday February 7, 2012 1:25

| Review by:

Afridiziak contributor

|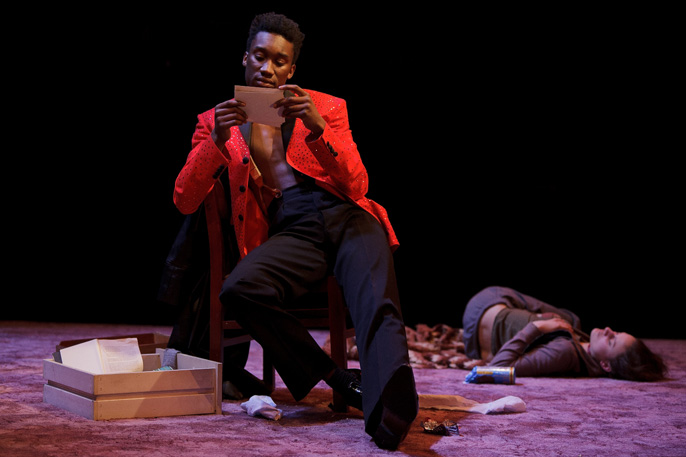 Twenty-one years after its debut, Philip Ridley's surreal drama about a pair of agoraphobic, chocolate-obsessive, medicine swilling, siblings and the shenanigans of the bizarre narcissistic character that bursts into their lives has been revived to a very different world. Back in 1991 when Presley and Haley Stray's battered living room resembling a drug den was first revealed to the London audience, with the protagonist's themselves looking like two random tramps pulled from the darkest recesses of the east London streets where the drama is based and just perched on the stage to 'do whatever', the dialogue that unfolded, being presented as theatre, was understandably 'out there'. These siblings who occupy their hours and days with elaborate, fantastical and chilling yarns about the dangers they faced when they dared to leave their four walls was subversive; the colourful brash Disney's, attitude and behaviour, in contrast was perverse; quite simply it was weird.

The delivery of the word dense visually graphic language performed by Mariah Gale (Haley Stray), Chris New (Presley Stray) and Nathan Stewart-Jarrett (Cosmos Disney) is perhaps some of the best I have seen. Without exception each of the actors own the words and deliver them with mounds of energy. The play is essentially several monologues where actual dialogue plays a secondary and less frequent role.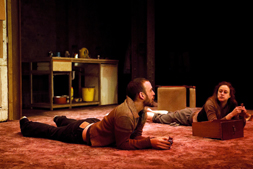 Because the language is so vivid, technically it works. Their execution of the monologues are particularly impressive due to the sheer length; Chris New seems to have some of the longest from which he never falters. Edward Dick's direction is focused and confident; for two-thirds of the play Mariah Gale lies on the stage anesthetised after having taken a dose of her 'medicine', I think a less assured director would have been challenged by this: An actor. On stage. Doing. Absolutely. Nothing?
Bob Bailey's set and costume design successfully re-creates the unkempt and, to be frank, just plain disgusting. Presley and Haley Stray's front room carpet looks like a health hazard and they themselves looked like they could have been living on the streets. Malcolm Rippeth's lightening enhances the seediness of the scenes.
This is all in all a very tight production.
Cast
Mariah Gale
Steve Guadino
Chris New
Nathan Stewart-Jarrett
Director: Edward Dick
Designer: Bob Bailey
Lightening Designer: Malcolm Rippeth
---
Related links
The Pitchfork Disney is at The Arcola until March 27, 2012
Lime magazine interview with Antonia Thomas and Nathan Stewart-Jarrett – words Chloe Thomas
The Pitchfork Disney official website