Clybourne Park, Wyndham's Theatre
Published:

Sunday, February 13, 2011 8:37AM

| Review by:

Sophia A Jackson

|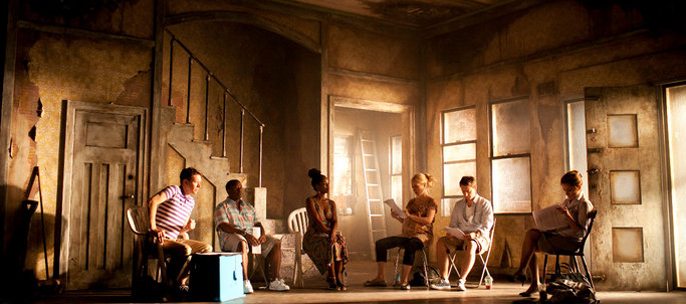 Having missed the Royal Court's production of Clybourne Park last summer I was delighted to learn the play was getting a west end transfer. Reviews have been glowing, awards have been flowing and once again tickets for the Bruce Norris penned and Dominic Cooke directed Clybourne Park are again the hottest in town. Now I'm privy to understanding that the hype surrounding this play has much substance to it.
Clybourne Park is set in Chicago. In the first act we are placed in 1959, the white middle classes rule the roost and the second act fast forwards 50 years later to 2009 and it's all set in the living room of one house. In both acts this house is symbolic as the hub of a community going through a period of race-related change and controversy as a neighbourhood not ready for the future.
In the second act we see the same actors playing different characters in the same house but the face of the community has changed – it's now predominately African-American. Even though there is a half a century difference between the two acts – things don't seem to have moved on much at all in terms of attitude. The issues remain the same – the reluctance and ignorance to embrace change and difference whether its race, sexuality or even opinions.
There is also the subplot of what happened to a former habitant of the house in question which threads the play together nicely and is the cause of some of the more sombre thought-provoking moments throughout the play.
Clybourne Park often reveals how in everyday life situations and conversations the underlying stereotypes that are ingrained in our psyche can expose our true selves if the right buttons are pushed. At times this makes for uncomfortable viewing but there is also an abundance of laugh out loud moments at the witty but often scathing interactions between the community members whatever the era.
From the awe-inspiring acting from the entire cast to the adept writing and many a gasp worthy moment makes watching Clybourne Park one of those rare theatre experiences that stays with you long after the curtains are down. If you miss it – you're missing out.
The cast includes Stuart McQuarrie, Sophie Thompson, Lorna Brown, Sam Spruell, Lucien Msamati, Stephen Campbell Moore, Sarah Goldberg and Michael Goldsmith.
---
Related links
Clybourne Park is at the Wyndham's Theatre until May 7, 2011 – don't miss it