Everybody's Talking about Jamie - review
Apollo theatre
Words by: Gillian Fisher | Published:

Friday, December 1, 2017 1:07 PM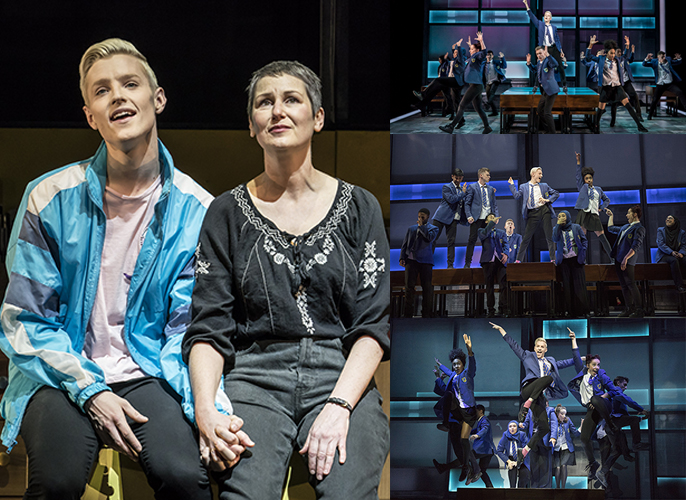 With an overriding message of self-acceptance and plenty of theatrical flair, it's plain to see why Everybody's Talking About Jamie
Spectacular glamour meets gruff Northern charm in this spirit lifting, hip swaying new musical. Based upon a true story, Jamie New is a schoolboy with big dreams and even bigger heels. This closet drag queen longs to strut his fabulous stuff onstage, but fears persecution from his peers and boorish father. Naturally Jamie's journey of self-discovery is best related through spontaneous song and dance numbers, with insidiously catchy tunes. This being Sheffield, Jamie's yellow brick road is littered with obstacles, not least the dogmatic censure from his dream quashing careers advisor. But with the unflinching support of his loved ones and no small measure of razzmatazz, Jamie sets his sights on the spotlight.
Unsurprisingly, this production directed by John Butterell, is camper than a four person caravan in leg warmers. But this doesn't stop the show from tugging at the heart strings. This is largely due to John McCrea's dexterous portrayal of Jamie as both unapologetically flamboyant and emotionally vulnerable. His urgent reactions, sarcastic retorts and tendency to throw himself about like a baby gazelle make McCrea completely arresting. Written by Tom Macrae and set to music by Dan Gillespie Sells, the show has a heart-warming authenticity. Especially when it comes to the relationship between Jamie and his mother, Margaret, played by Josie Walker. The antithesis to Jamie, Margaret is mild mannered and dowdily dressed, but fiercely dedicated to her son. Her lioness instinct to protect him is spectacularly expressed in the soulful ballad 'He's my Boy'.
Spirit lifting, hip swaying new musical"



Inspired by the life of County Durham's Jamie Campbell, the naturally hyperbolic classroom setting keeps the energy levels at an optimum level. Add to this the uniformly talented year 11 ensemble, who burst into backflips and electropop anthems at the drop of a tiara. The decision to have the cast sing in a Sheffield burr rather than the generic American accent makes the story all the more accessible. Furthermore, the choreography by Kate Prince is largely Hip-Hop inspired, reflective of the inner city setting. There are occasional reversions to traditional musical style, including my favourite number 'The Legend of Loco Chanel'. This is a classic cabaret pastiche complete with 50s microphone and magical costume changes. Phil Nichol plays retired drag queen, Hugo, the benevolent, flannel wearing Fairy Godfather intent on sending Jamie to the ball.
One can see countless influences in the show, from Billy Elliot to Kinky Boots. The scene in which three drag artists prepare Jamie for his first performance has strong echoes of 'You Gotta Have a Gimmick' from classic musical Gypsy. However, the show remains a thoroughly modern musical, in terms of staging, setting and storyline. With gender roles being such a debated topic, having a young man embrace his love of all things glittery is especially relevant. With an overriding message of self-acceptance and plenty of theatrical flair, it's plain to see why Everybody's Talking About Jamie.