Mad Hatter's Tea Party - review
Published:

Sunday, December 14, 2014 2:18 PM

| Review by: Lloyd Lewis-Hayter |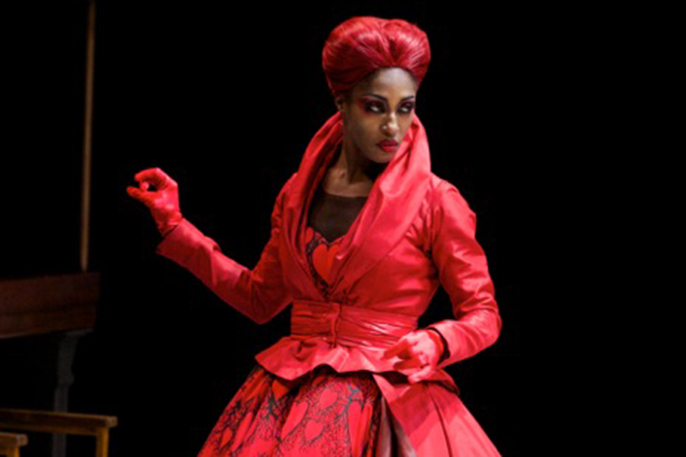 A touch of Tim Burton is present throughout thanks to a wonderfully wacky set and a narrator making use of his perfect storytelling tone
Once again ZooNation are back doing what they do best and the fairy tale they've set their sights on reviving this time is Alice in Wonderland. Reminded just before the show starts that this isn't theatre but hip hop theatre and encouraged to make as much noise as we like, it's clear this isn't going to be Alice in Wonderland the way we know it.
Lights come up on Ladrington Brook, the Institution for Extremely Normal Behaviour where we find our favourite Wonderland inhabitants locked up for being not so normal. A touch of Tim Burton is present throughout thanks to a wonderfully wacky set and a narrator making use of his perfect storytelling tone.
Handed Alice, The Mad Hatter, Tweedle Dum and Tweedle Dee, The Queen of Hearts, The March Hare and The White Rabbit as patients on his first day at Ladrington Brook, young Psychotherapist Ernest has his work cut out. In contrast to his subjects' flamboyant costumes Ernest's attire is a heap more understated as is his personality.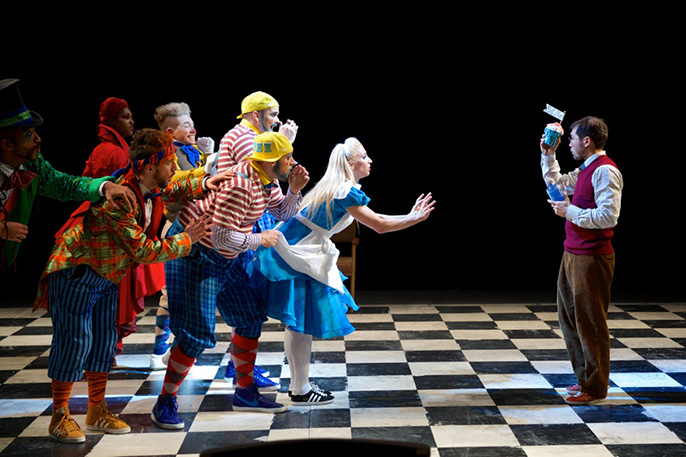 Disciplining his group as best he can, Ernest tries his best to cure each of them of their strange fixations and fears one by one with a helping hand from the magic of hip hop dance theatre. Tweedle Dum and Tweedle Dee take blows at each other during a break dance battle that prises them apart and Alice is left relieved knowing that the cake and potion which have been causing her grief now have no effect on her.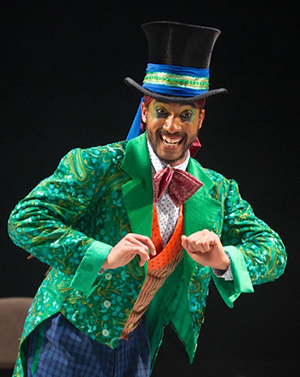 Turbo as the Mad Hatter in The Mad Hatter's Tea Party © ROH 2014. Photographed by Alice Pennefather
When all seems to be running as planned in rolls the Cheshire Cat on a wheelchair complete with straight jacket, trilby hat and ray ban sunglasses played with great comic timing by Duwane Taylor. As his signature smile appears along with a fitting Reggae tune, the cat manages to charm all of us just before he reveals his darker side. With yet another out of control patient on his hands Ernest can't take any more and ends the first act breaking down before our eyes.
As curtains rise after the interval we find ourselves in Wonderland. An even more adventurous set matches an even more adventurous second act as the civilians of Wonderland sit down at the Mad Hatter's Tea Party and try to bring Ernest back around. With the help of Isaac 'Turbo' Baptiste's fancy foot work as the Mad Hatter, Ernest eventually shows his true colours quite literally as he strips down to his multicoloured spotted boxers and joins the rest of the cast in a truly hip hop theatre style finale.
Hugely entertaining for all ages and not without some classic ZooNation style audience participation, you will leave knowing for certain as Alice has told us before; the best people are indeed entirely bonkers.
Info: The Mad Hatters Tea Party is at the Linbury Studio Theatre until January 3, 2015