Hope, Royal Court – review
Published:

Monday, December 8, 2014 10:07 PM

| Review by: Gillian Fisher |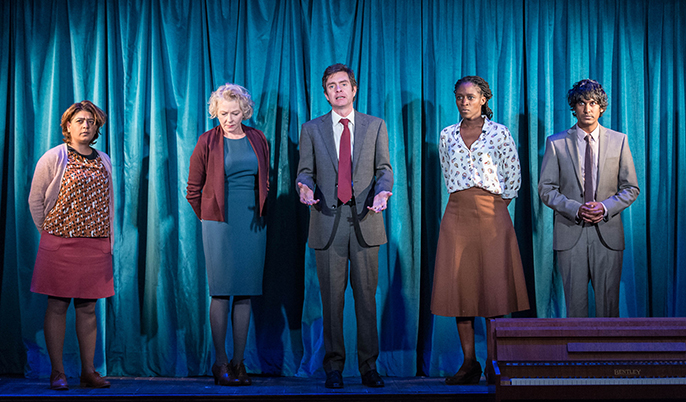 Amidst the mass of pantos and family friendly shows, the Royal Court is offering a wry political play for the festive season. Jack Thorne's hardboiled exploration of a local council's intimate mechanics is delivered with candour and dry wit. In a non-specified town, a motley crew of Labour councillors are faced with impending cuts and some tough decisions. Under the hegemony of Hilary, the Budget Steering Group must decide whether the elderly or the disabled are more worthy of funding. Loyalties are divided and petitions are signed as our civil servants ask themselves 'Why would anyone get into politics?'
The play is an ensemble piece; each character's journey impacting upon the other's which is well demonstrated by the scene change over. Directed by John Tiffany, each scene ends with the spotlight fading on one incident and lighting upon another, giving a sense of continuity and symbiosis. Mark played by Paul Higgins is the team's deputy lead councillor and is the epitome of a people pleaser. This makes his job all the more challenging, especially as his tenacious ex-wife Gina runs the day-care centre proposed for closure. Shutting the centre will leave its members with nowhere to go, such as regular Laura, played with optimistic expectancy by Jo Eastwood. But not shutting it will mean funding is cut from local Sure Start centres. This absurdist balancing act is enhanced by occasional abstract inserts where ukuleles are strummed and invisible tightropes walked.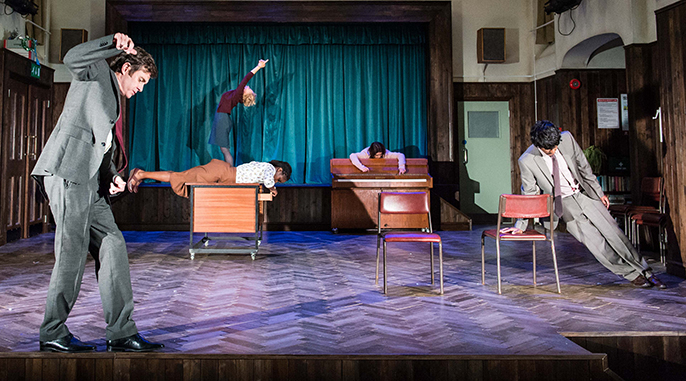 Stella Gonet plays council manager Hilary. A Thatcheresque figure with stiff hair and sensible shoes she makes a fine villain, double dealing and smiles for the cameras. But throughout the play Thorne manages to show duality in the characters and varying shades of grey. Each character has their own motivations for their behaviour, whether a personal need for fulfilment or a mother who slipped through the net of social care. The school hall set up by Tom Scutt is inspired. An old piano, stackable chairs and disused decorations make it the classic pubic authority locale. The exact location of this working class town with two dying industries is never specified. Whilst this demonstrates the universality of the demographic's situation, it can at times make it difficult to form links, especially with the various accents on the stage. Tom Georgeson plays veteran socialist campaigner, George. His worldly wise remarks and savvy observations give an echo of former patriotism and lost unity. There is a rather allusive scene between George and teenage intellectual Jake, played by Tommy Knight. Seasoned scepticism meets cocky optimism. Knight gives an authentically self-aware performance and is often the voice of reason.
By taking governmental drama out of Westminster and into the town hall, Hope makes politics relatable. It shows the complexity of our current system and the lack of provisions for worthy causes. This town can be seen as a microcosm of Britain as whole. The poor treatment of the elderly, disparate funding in areas with racial minorities, far right political groups and high levels of unemployment. All of these urgent national issues condensed down to a single district. Despite the rather stark reality of this production, it shows that when there seems to be nothing else, there is always hope.
Info: Hope is at the Royal Court Theatre until January 10, 2015 | Book tickets