Cats, London Palladium - review
Published:

Wednesday, December 17, 2014 2:24 PM

| Review by: Gillian Fisher |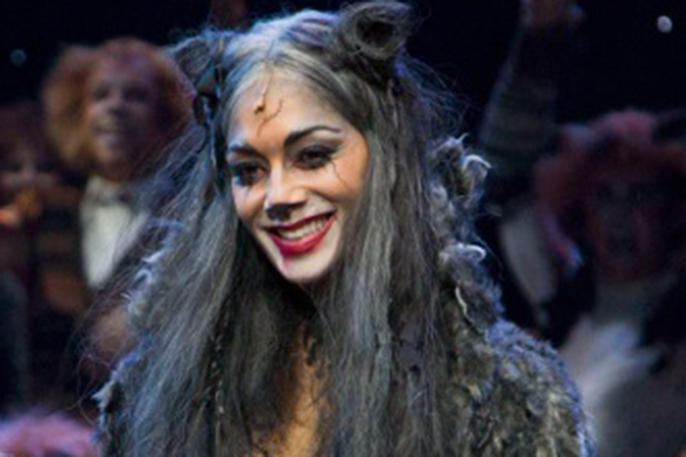 This family friendly production is the purrfect night out


After a 12-year catnap, Andrew Lloyd Webber's award winning musical has returned to the west end. The vaudeville celebration of all things feline sets the stage alight in a flurry of ballads and elaborate leotards. With Nicole Scherzinger headlining as Grizabella the show has been given a fresh and feisty edge for 2014. The production delivers on all counts of creativity, music and choreography, with plenty of catlike winding and whisker preening. As the esteemed 'Jellicle Cats' run through the aisles and jump from the scenery it is impossible to not be immersed in their ethereal world. The junkyard where the kitties are kings of all they survey.
Based upon T.S Eliot's Old Possum's Book of Practical Cats the show is a montage of the individual character's tales regaled through song. As with classical opera there are no spoken scenes, the lack of orchestra pit is another idiosyncrasy. This was designed to bring the audience closer to the action, which is meticulously directed by Trevor Nunn. From the opening scene in which pairs of orange eyes gradually illuminate from the gloom, the sense of anticipation is kept at a peak. Though framed around the annual 'Jellicle Ball' there is little in the way of formed narrative. Rather the production is a montage of scenes showcasing the lifestyles particular to felines. My favourite was the pair of cat-burglars Mungojerrie and Rumpleteazer played by Benjamin Yates and Dawn Williams. This tiger striped pair cartwheel around the stage with cockney cheekiness making them the Sid and Nancy of catdom.
The rubbish dump set designed by John Napier is phenomenal and has plenty of surprises in store. Scaled up to reflect the company's diminutive stature, I find myself sitting beneath a giant greying brassiere. The skilful use of lighting by David Hersey transforms the rubble of bean tins and tennis rackets into a magical terrain with a slight feel of fairground. Like the set the score is wonderfully diverse, including jazz, rock and some almost arial numbers. A hip-hop element has been added by the show's bad boy Rum Tum Tugger. Antoine Murray-Straughan plays the contrary-wise cat as an M.C Hammer trousered gangsta; body popping and prowling across the stage. A risky decision that paid off, the rapping style fits brilliantly with Eliot's lyrical poetry and Murray-Straughan makes his debut with bombastic energy.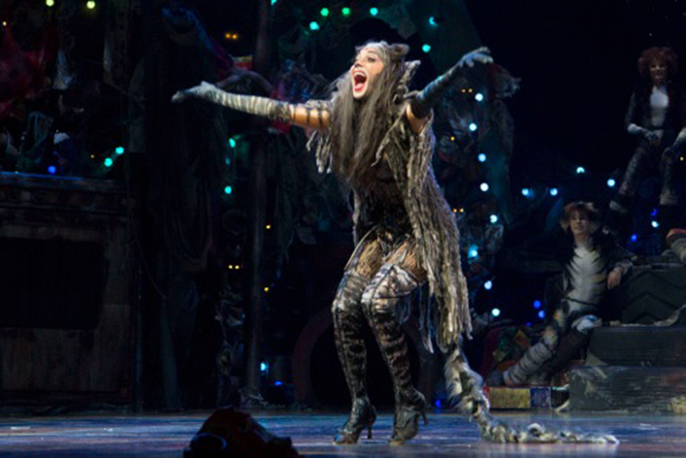 Dazzling costumes, great music and expert dancing provide sheer escapism into a mystical cat kingdom

What makes this show so engrossing is its attention to detail. The ensemble are entirely committed to their personas, sprawling, arching and stretching cattily even when on the side-lines. The choreography by Gillian Lynne is largely balletic but also includes tap and some contemporary moves all of which are performed magnificently. Mr. Mistoffelees played by Joseph Poulten is especially limber as he pirouettes regally. Nicole Scherzinger gives a stunning performance as Grizabella the Glamour Cat. As an aging grimalkin estranged from the Jellicle tribe she is appropriately sombre. Her rendition of the show's hit song 'Memories' is phenomenal as she belts out the touching lament with iron lungs. Less stylised than other characters, Scherzinger does not don the wolverine headpiece and wears her trademark boots, setting her apart as a cameo role.
Cats is the very definition of west end spectacle. Dazzling costumes, great music and expert dancing provide sheer escapism into a mystical cat kingdom. Feline fans will get an extra kick out of Eliot's spot on observations, but the show really can be enjoyed by everyone. Showing until February 28, 2015, this family friendly production is the purrfect night out.