Zhe: [noun] undefined – review
Soho Theatre
Published:

Monday, December 2, 2013 5:00 PM

| Review by:

Lola Kotey

|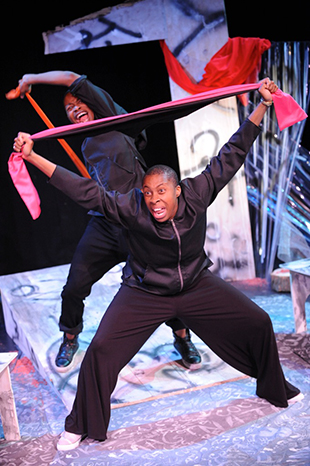 Zhe, is a touching and charming autobiographical story of Antonia Kemi Cocker and Tonderai Munyevu that will have you experiencing every emotion you have under the sun.
The actors take you on a journey covering the very gritty topics of abuse, gender identity, sexuality and ultimately the celebration of self-acceptance. But don't be mistaken in thinking this is a harrowing play. It's realistic in its portrayal that life is not perfect, also but it is also a story of resilience and what happens when you find a kindred spirit.
Zhe is a gender-neutral pronoun; it's neither he nor she. And this is the heart of the play. You feel for the characters when they have to defend who and what they are against the "normal" perception of what a man/woman is suppose to look like and be.
The actors wear neutral clothing, which allows us to see their superb acting dexterity because they both swap and play several male and female, characters, flawlessly.
The set is simplistic but I believe that adds to the storyline, and allows the audience to journey and experience things with the actors.
Kemi Cocker and Munyevu are just riveting and compelling to watch in this beautiful and courageous play.
Info: Zhe is at the Soho Theatre until December 8, 2013