Once a Catholic – review
Tricycle Theatre
Published:

Monday, December 9, 2013 11:33 AM

| Review by:

Gillian Fisher

|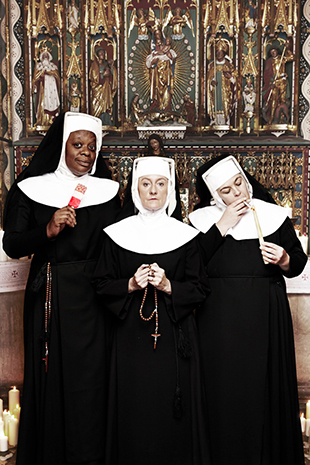 Teen years. That formative period between child and adulthood which is fraught with new awakenings and experimentation. Not at our Lady of Fatima! In this West London convent school questions are discouraged, individuality is rebellious and any girl not wearing the appropriate gym knickers is destined for doom and detention. Set in 1957, Mary J. O Malley's comedy is a wild romp through the nun patrolled school corridors of adolescence. Our three Marys from class 5A prepare for their O Levels and are left pondering. What will they do when they leave school? Will they ever fall in love? And how exactly do rabbits procreate?
Kathy Burke directs the production with expert timing and superb emphasis upon the farcical. In particular the exaggerated behaviours of the nuns are magnificently executed. Our lead Mary (Mooney) is like her friends, a first generation London Irish Catholic. Molly Logan plays the awkward girl in a home knitted cardie with abject eagerness. However her lack of experience and naivety so often finds her stumbling into the nun's bad books. Her two fellow Marys are worldlier but their whispered descriptions of the male anatomy are rather obscure. Model student Mary Gallagher has perfected the art of duality. Her immaculate pigtails and studious spectacles conceal a V-sign flicking gossip, which Katherine Rose Morley plays excellently. Each scene is greatly enhanced by the tongue in cheek set which is in a constant state of transformation. Designed by Paul Wills, the angular archways are rather like a child's painting of a church. Decorated with pop art light beams the different sections glow neon at the most auspicious moments.
Once a Catholic is a laugh out comedy, which explores the bad habits we overcome as children and the new ones we take on as adults.


This play is centred around the clashing of cultures most prominently between those in and out of wimples. Mother Peter played vivaciously by Cecilia Noble is something of a God groupie. Her accusations of heathenism often give way to girlish excitement when gushing about her favourite saint. Whilst Mother Peter is imposing, Mother Basil is downright menacing. Clare Cathcart plays the bellowing anchorite as a mass of frustration; pouncing gleefully upon any minor iniquity to hand out Hail Marys. Father Mullarkey adds to the girls' ever increasing sense of guilt as he cross examines their biblical knowledge. Sean Campion is fantastically nonchalant but also ever ready to lambast about the divine penalty for unmarried kissing. His influence is seen clearly in Mary McGinty who is the least studious of the group. Played boldly by Amy Morgan, this Mary enjoys rock n roll and mini-skirts. However a snog with her Teddy-boy beau doesn't seem worth spending an eternity in hell over.
Whilst there are astute theological debates proffered throughout the play, it is not in any way polemical. The emphasis is upon the chaos that ensues when two worlds collide, especially when one is raging with newfound oestrogen. Young love, peer pressure, first kisses and friendship all play their part in this tale of three girls approaching womanhood. Their checked pinafores and the scrape of fountain pens take the audience on a nostalgic travail; the giggling banter and covert disobedience so evocative of schooldays past. A laugh out comedy, which explores the bad habits, we overcome as children and the new ones we take on as adults.
Info: Once a Catholic is at the Tricycle Theatre until January 18, 2014| Book tickets
Related links