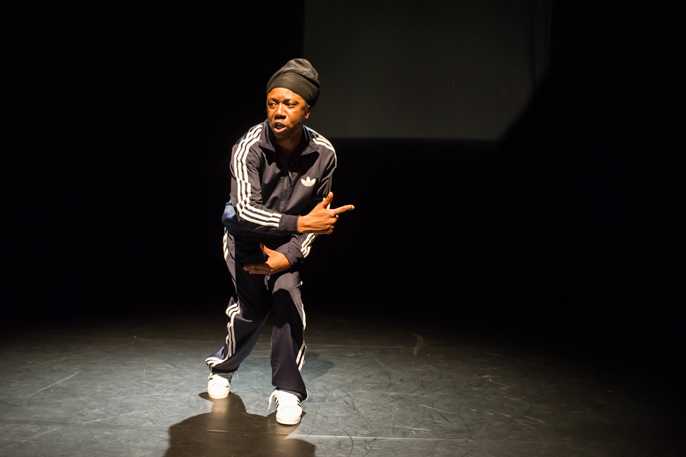 On December 9th, the Lillian Baylis Studio, Sadler's Wells, was filled, and the atmosphere expectant. As each of Jonzi D's three evenings at the venue had a different 'support-slot', this night's guest was a young spoken-word artist called Yomi 'GREEdS' Sode. He performed his three spoken-word pieces with charisma, clarity, humour, and invention. The poems outlined his journey (both culturally and physically) between Britain, and his birthplace, Nigeria, and expressed many facets of a true 'dual heritage'. The most striking of the three works was a piece outlining his outrage at Nigerian legislation which would potentially allow marriage between grown men and minors ('An open letter to Mrs. Jonathan'). Wow! 'Generating Rhymes to Engage the EnlightenDSoul', indeed! First up from Jonzi D (with Ivan Blackstock) was a piece called 'Broken Lineage'. Ostensibly, it was about the breakdown in communication between the hip hop generations - the original 'old skoolers' (as embodied by Jonzi D.), and the more contemporary 'new skoolers' (as portrayed by Ivan Blackstock).
The piece started in a square of light, as Jonzi D aka 'MC Foundation' entered, and 'froze' in a broken 'W' shape, before making his 'old skool' credentials known with a series of freezes and collapses, all to a soundtrack of buzzing, and gunshot/whip effects. He then took on the role of the 'old skool' MC by 'hyping the crowd', and reciting a series of spoken-word passages proclaiming his disappointment with the sold out/soul-doubt, MTV-literate, hip pop generation. He was joined on stage by 'Cryptic' (Ivan Blackstock), but their enactments were, initially, isolated and disconnected. The action soon shifted between the 'old skool' history-lesson-in-rhyme and 'B-Boy' moves of MC Foundation, and the more lithe, youthful, fluid, and abstract contemporary moves of Cryptic. The section ended with the MC Foundation lament: 'I've got the knowledge, but these kids ain't listening."
It was then Cryptic's turn to shine, hitting some lovely shapes whilst reciting a spoken-word piece which ended: "I need my foundation, or I won't grow no further." At this point, the two (after a brief 'battle') agree to come together and harness their skills. Initially, MC Foundation decides that he must be top dog, by virtue of his experience. He orders his young protege' to turn his cap around, as he 'can't see his eyes', and to lose the bad-boy posturing - "You're not a Gangsta, you're a dancer!", he proclaims. Cryptic initially goes along with this but, after an abortive lesson in 'waving', 'the fresno', and hip-hop history, Cryptic rebels against his elder ("Bun this!).

The two square-off into a war of both words and form. 2. Cryptic becomes a coiled spring of expressive frustration ("Where were you when...?"), and whenever words do fail him, his eloquent dancing lets us know what's going on... painfully so. MC Foundation, by contrast, becomes less assured. He expresses his personal regret, not in the young Hip-Hoppers of today, but in himself: "My nirvana was spittin' a few bars at a girl in a new car", he laments in his last verse. By the end, as Cryptic is dancing his 'rage' to the sound of cheers, MC Foundation (having lost his own) can only stand back, living vicariously through the deeds of a newer, younger version, like old footballers bemoaning the riches of the new Premiership players, while steadfastly holding on to the belief that 'they wouldn't change a thing'.

This piece goes beyond the generational disconnect within Hip-Hop, and connects on a deeper level. It is, I believe, a treatise on hope, betrayal, and regret - both cultural and generational. Kudos to both artists for taking their two characters to places that are, at once, uncomfortable and rewarding. With Co-direction from both Jonzi D and Ivan Blackstock, a wonderful soundtrack from Kwake Bass, and great lighting design from Adam Carree', I found this to be a very strong and emotional piece. This brings us to the last work of the evening: a Jonzi D solo called: 'The Letter'.
This is about Jonzi's reaction, and the reaction of others, to him being offered an MBE, and whether or not he should accept it. It starts off with just a chair, Jonzi D, and a letter, which he reads in silence. His use of mime, in this section, is exquisite, as he excitedly 'reads it to us' by imitating a typewriter. He then tries to discard the letter, only to have it (literally) follow him around the room. Thereafter, he receives advice as to his best course of action, from a variety of sources - all enacted wonderfully by Jonzi himself.
Firstly, with the aid of a voice-over, a pair of white gloves, a neck-tie, and the aforementioned chair, he 'becomes' a money-minded business advisor (for). All the rest of the characters are brought to life solely with Jonzi D's own voice - or voices. Next up, 'Darren' arrives; an amateur MC, and street-hustler who believes the extra kudos might mean some work for him (for). Next is Darren's 'dinner-lady' mother, reminding him of his formative years in Bow, East london, and expressing outrage that he might not accept the honour (for). Then, we have a camp, Nigerian acolyte at a party, who suggests that 'Mandela is free - you should stop fighting', and that, should he accept the accolade, he 'could have many 3. wives in Africa'. "Oh, you already have one - that's nice(!)" Funny (for). Then a 'militant' former-acquaintance makes his feelings known, quoting Malcolm X, Martin Luther King Jr., and Sun Tzu to push home his point (very much against). We then have a short cameo from 'John Terry' (former England captain), chanting racist expletives to the tune of the British national anthem, as the Union Flag flutters overhead (Him:for - Us:against).

The final section is a Christmas Day dinner amongst his 'nearest and dearest'. Not least amongst them is 'Ruth - the most English Black woman in the world'. Having already made his decision, he hands out the letter for everybody to read but, before it reaches Ruth, Jonzi D. tells them (and us) of his final choice. I will not spoil it but, suffice to say, the denouement is sweet, satisfying, and beautifully judged - and that's just within the piece! In 'The Letter', Jonzi D's clarity of both body and voice is wonderful, as is his use of props. His choreography and writing is lovely, the execution clean, the music (again by Kwake Bass) is subtle and effective, as is the lighting by Lee Curran. In short, I would thoroughly recommend, not just this piece, but the whole programme. Jonzi D's 'Lyrical Fearta' is at the Lillian Baylis Studio, Sadler's Wells for three performances; I would recommend anyone interested in hip hop, poetry, spoken-word oratory, or street-theatre to go and see it - either now, or sometime soon! Cheers, Dave.
Related links