Our Husband has Gone Mad Again, Goldsmith's University
Published:

Wednesday, December 20, 2012 0:43 AM

| Review by:

Ekua Ekumah

|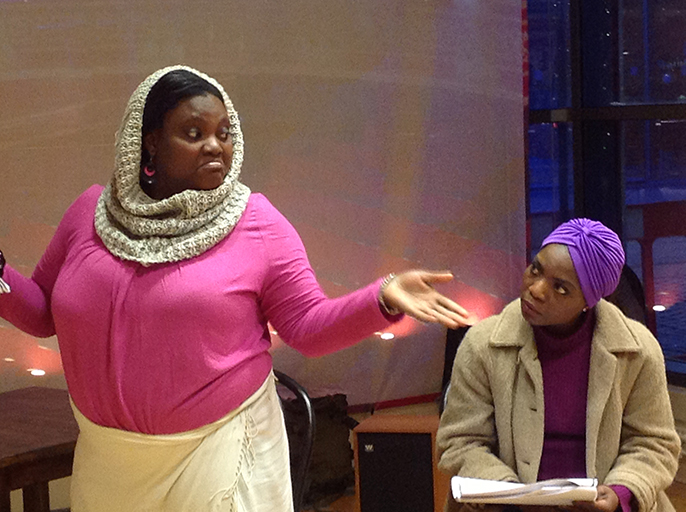 Ola Rotimi's play Our Husband Has Gone Mad Again, written some 30 years ago tells the story of Lejoka-Brown, an ex military major, who has taken to dabbling in politics so that he too can partake in the 'national chin chin'. One of his problems is that he does not have the slightest understanding of the workings of politics, relying instead on his military tactics and manoeuvres to conduct his 'surprise and attack' campaign. Even bigger problems are his three wives! He inherited the placid Mama Rashida from his late brother; the feisty and upfront Sikira was purely a strategic marriage because her mother was president of the National Union of Nigerian Market Women and their vote was vital to him winning a political post; then there is Liza, the westernised woman he married whilst fighting in the Congo. Unaware of her other 'sister's in marriage', Liza who has been studying to become a doctor in the USA decides to join her husband in Nigeria.

This play is a farce in every sense of the word, with the number of improbable situations that ensue with the arrival of Liza in Lejoka- Brown's home, especially when his plan was to keep her away from his two other wives. The rapid build up of events and revelations of the identities of the two women is comically written into this script in the first half, and played with enough gusto by all involved. The plot weakens in the second half as new ideas about gender equality; traditional and modern notions of marriage are introduced as Liza and the other two women form unexpected alliances.

My disappointment with this production however, was in how dated it came across. The play is regarded as a period piece now, therefore I felt it necessary to locate the production more effectively, to say something to a 2012 audience. The set of flats to represent Lejoka-Brown's home was very reminiscent of West African theatre sets that were prop heavy in a bid to be realistic during the 1980s -90s, yet with a farce of this nature, the energy needed to drive the scenes that were building to the dramatic culmination of the play were in most cases dropped because of the belaboured scene changes, which I felt were unnecessary. Rotimi's play is not a realistic drama, but it felt like that in moments.

I know this production has been a labour of love for all involved and the gathered audience of friends and supporters certainly enjoyed the trip down memory lane, evidenced in the laughter. It was also extremely refreshing to see work by notable African playwrights such as Rotimi being produced here in Britain.
---
Related Links
Our Husband Has Gone Mad Again by Ola Rotimi, directed by Lookman Sanusi is at Goldsmith's University until December 20, 2012
Interview with Lookman Sanusi