A Christmas Carol, Middle Temple Hall
Published:

Thursday, December 27, 2012 1:07 PM

| Review by:

Gillian Fisher

|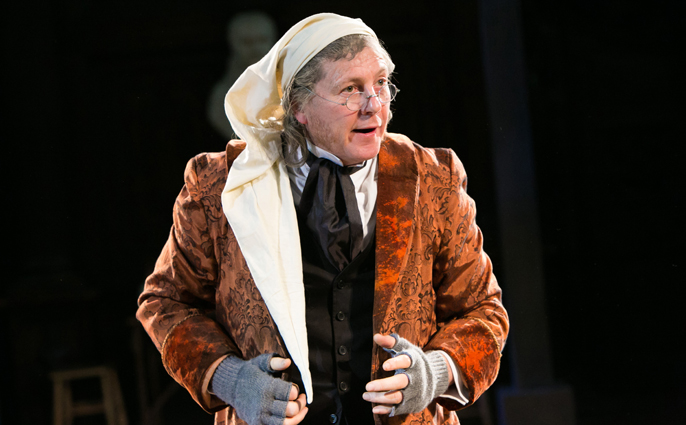 It is Christmas Eve and all of London is making merry in the season of good will. All except one; Ebenezer Scrooge. Dickens' traditional tale has been brought magnificently to life through seasonal music. Traditional yet subtly adapted Christmas carols are sung by a talented cast in Ben Horslen and John Riseboro's new musical adaptation of this annual institution. Considering the story's title, setting the narrative to music couldn't be more appropriate.

Set in the grandiose Middle Temple Hall which dates back to 1562, the market scenes and parlour games are made particularly evocative by the stately location. The wood panelling, coats of arms and colossal portraits of former monarchs place the audience squarely in a bygone age, ideal for this nostalgic production. Tony Bell plays a deadpan Scrooge, his timing excellently capturing the eloquence and comedy of Dickens' writing. His ever gracious clerk Bob Cratchit is not overplayed by Hayden Oakley, making the festive family scenes especially touching. A silver voiced Tiny Tim entertaining his kindred with a psalm couldn't fail to bring a bashful tear to this critic's eye.

The inclusion of traditional carols at once awakens those cosy, snowflake frosted memories from childhood and exemplifies the core message of the story. Do unto others and embrace the goodness in humanity. With God Rest Ye Merry Gentlemen being tweaked to include 'Bad tidings of humbug and gloom' and Ding Dong Merrily on High having a chorus of Co-or-or-or-or blimey love, Now smell those chestnuts roasting!' the songs add phenomenal humour. The singing itself is of a very high quality and chimes out around the cavernous hall. In particular Sammy Andrews who plays Ebenezer's fiancée Belle has a wonderful clear ringing range.

It is impossible to imagine a Christmas without a visit to Ebenezer's dusty old town house and for good reason. The phantasmal tale of charity and good will is both engrossing and educational, making us all grateful for what we have and just a little more considerate of those who have less. The different elements of festive cheer, philanthropy and ghostly spectres are all excellently portrayed in this creative and intelligent adaptation of a classic.