The Enormous Turnip, Jacksons Lane Theatre
Published:

Wednesday, December 7, 2011 8:09

| Review by:

Ekua Ekumah

|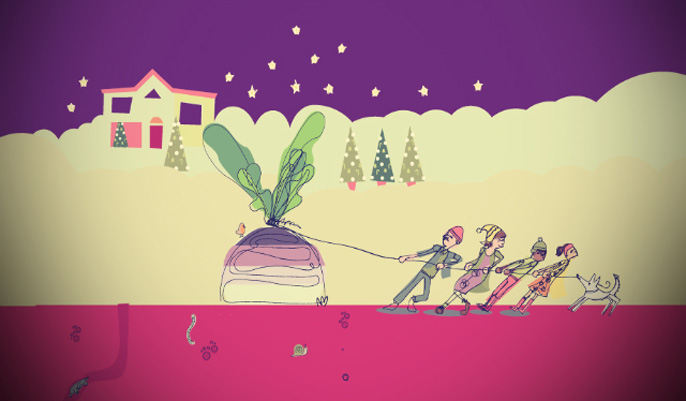 Jacksons Lane is the current home of Stuff and Nonsense's alternative Christmas family show. Based on the children's old time favourite, the Enormous Turnip tells the story of Mr and Mrs Chickweed, who live in the smallest house/shed next to their beloved allotment, where they grow their prize-winning vegetables, or should I say all talking and singing vegetables!

We meet them as they prepare to go on retirement from their gardening but cannot resist planting one last seed. The turnip seed is planted with much love, and perhaps a little too close to the house/shed!

As the couple turn in to bed, Mrs Chickweed sneaks out to sing to the seed, joined by a little worm and then a mouse who dances along to the song. When all is quiet, a rumbling is heard in the earth, something begins to sprout! By the time we return from our interval, four 'Enormous' leaves have grown out of the earth!!!

Mr Chickweed is the first to spot this growth, of course with the traditional help from the audience pointing out 'its behind you'! Double takes and slapstick abound, as Mr Chickweed wakes Mrs Chickweed to see their new addition.

The collapse of their beloved house/shed forces the couple to pull out the turnip. But Mr chickweed cannot do it alone, nor with the help of Mrs Chickweed, nor the dog, cat, or mouse all manipulated by willing children from the audience. In the end, a united effort from all of us in the audience managed to pull out the most beautiful Enormous Turnip in the world, which was swiftly carved into a Turnip caravan, which will carry the couple off on their new journey to Africa!

That is if they knew the way from 269 Archway Road. We came out of the theatre to find the turnip caravan outside the theatre and my 7 year old was able to see inside the carriage and touch the puppets too.
---
Related Links
The Enormous Turnip is at Jacksons Lane until December 31, 2011