Swallows and Amazons
Published:

Thursday, December 29, 2011 12:51

| Review by:

Gillian Fisher

|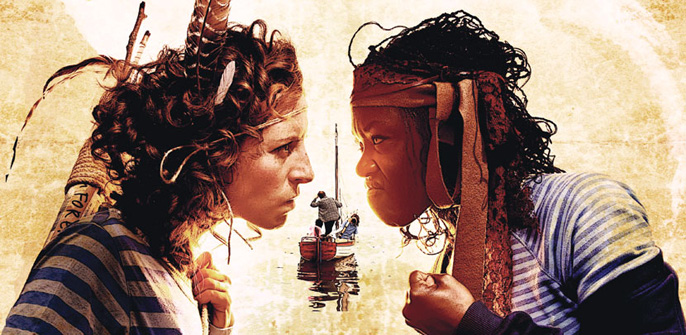 It is the summer of 1929 and the Walker children are setting sail in their faithful rowboat Swallow after which they name their crew, to seek adventure, discover new lands and wage war on the barbarian race otherwise known as 'adults'. Led by Captain John, Susan, Titty and Roger colonise their new empire, a small island in the Lake District, only to discover they are not alone. The Swallows are invaded by a pair of dastardly Amazon pirates, but after a considered parlez, the Swallows and the Amazons (otherwise known as Nancy and Peggy Blackett) unite against a common enemy, the dreaded Captain Flint. With a stolen treasure to find, a race to be won, and a full scale war ever impending, these brave buccaneers set out on their greatest adventure yet.

The first of Arthur Ransome's adventure stories encapsulates the very spirit of childhood, unchanging in its optimism, inventiveness and tenacity. Beautifully set to music composed by Neil Hannon, the ensemble don the guise of removal men in blue overalls, animating the production with live piano, flutes, violins, cellos and even an accordion while the cast burst into song. Director Tom Morris was eager to create a play 'inspired by the imaginative brilliance of children' and he has succeeded exceptionally; the ensemble flit around the stage like living scenery, using simple props such as ribbons and feather dusters to create running rivers and parrots. With an oar here and a piece of wood there we watch the cast rowing through storms, practicing their breaststroke and climbing rocks.

The cast all have specific roles coming together to form a fantastically diverse childhood gang that children can relate to. John is twelve and eager to prove himself a worthy leader, and is backed up by eleven year old Susan who loves to play house and yearns for wild parsley. Titty is a nine-year-old tomboy, the middle child who often feels overlooked, she is plucky and dreams of emulating Robinson Crusoe. Roger is nearly eight, whilst he longs to be a pirate the world is rather bewildering and he shows his frustration by lying face down on the floor. The Amazon Pirates, who grew up with only the clouds and a four bedroom house for shelter, stomp onto the stage to tribal drums and expelling war cries. Fierce, bickering but kind hearted they jut their chins and bare their teeth to perfection.

The climax of the production which comprised of a full blown war acted out in slow motion is stunning, Captain Flint is finally foiled and the audience must decide whether or not he must walk the plank. Thoroughly charming, the ingenuity of the direction and production team is boundless. Subtly educational, the script contains numerous snippets of historical and sailing information, craftily teaching the children in the audience without them knowing it. Hugely enjoyable for the adults with the nostalgic 'lashings of ginger beer' enthusiasm and fantastic for children who see a whole exciting new world unfolding on the stage before them, this was a pleasure to watch and absolutely ideal as a family Christmas show. Pack up your tuck box; don't forget your striped bathing costume and set sail for this magnificently creative production.
---
Related links
Swallows and Amazons is showing at the Vaudeville theatre until January 14, 2012 and then on tour